Moore Media Records works on independent record label
---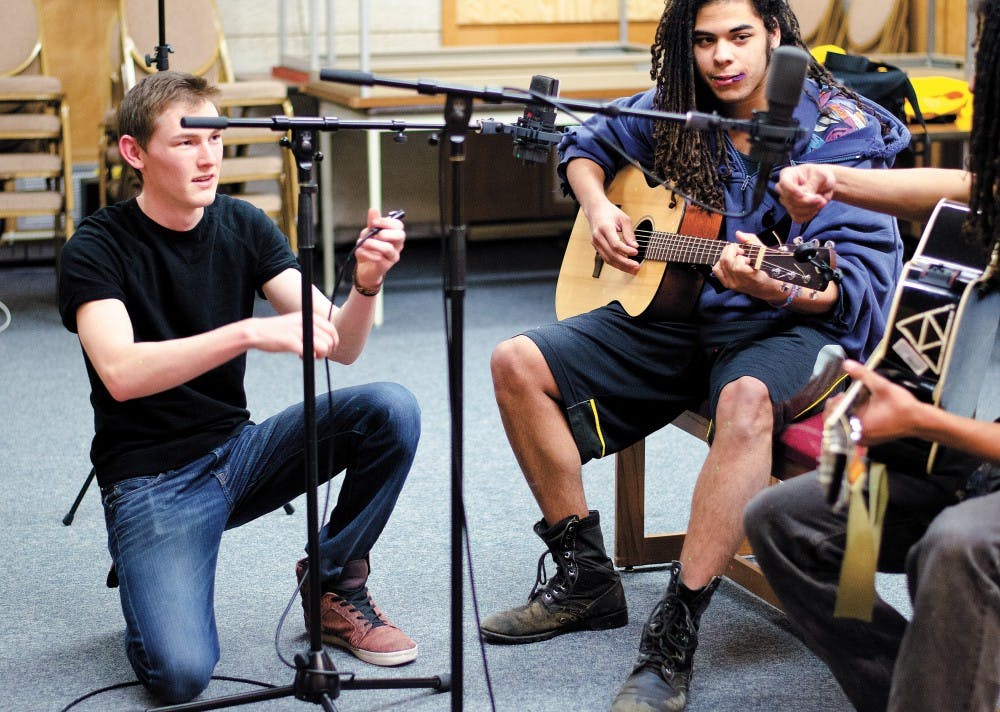 Surrounded by microphones, a Mac desktop computer and a soundboard, Patrick Budesky adjusts the levels of the recording to make sure it is balanced and that all stray frequencies are fixed.
The Novi senior is the production manager of Moore Media Records, an on-campus, independent, student-run record label that was created in the spring of 2005. The label was created to help teach students that wanted to learn what it would be like to be part of a functioning record label.
Budesky is in charge of recording and mixing tracks for their sampler CD, "Moore Media Records Presents: Social Fretworking," a compilation of four artists they put out each year. This year's artists are Bad TV from Ann Arbor, Luscious Vegetation from Mount Pleasant, Interchangeable Dad from Mount Pleasant and King Crabapple from Muskegon.
"I like the hands-on experience," Budesky said. "I had never touched a Pro Tool. I had never touched a soundboard bigger than 16 channels. I never really did any in-depth recording other than my own voice, so it's really giving me a lot of experience in what it's like in the music industry."
Last semester, the record label held a music competition and also did sound for Midwest Fest in September. They also hosted a live show at Hunter's Ale House.
The label is releasing a sampler concert in March, and holding a music competition Feb. 27. The winner will have a free recording session at Moore Media Records, said the label's president, Brighton junior Thibault Ruellan.
Recording sessions usually cost $80, Ruellan said, and these funds help the label afford to buy any new equipment. The fee includes four hours of recording and two hours of mixdown. They are also funded by the Broadcasting and Cinematic Arts program.
Grand Rapids Senior Taylor Dawn works as the promotions manager of the record label. She works with graphic designers to create posters to promote shows on Facebook and Twitter.
"We promote and after we have bands in line and hooked in with the time they're going to perform, we usually have performances at Hunter's (Ale House)," Dawn said. "We're in charge of setting up sound equipment. It's not too hard, you just have to know how to promote and set up equipment."
The label is looking for anyone who is interested in Artist & Repertoire, graphic design, recording and mixing, producing or business. Those interested can call (989) 774-1993.
"I spend a lot of time in the studio with artists, mixing and engineering them and checking their sounds," Ruellan said. "That's what I really enjoy doing and if anyone wants to do that, we're going to have a calendar put up of the sessions we do so people can come in and see how recording a band or artist works. We want more people who are hungry for music to come in."
Share:
---