SPJ Charlie Hebdo symposium draws mixed reaction from attendees
---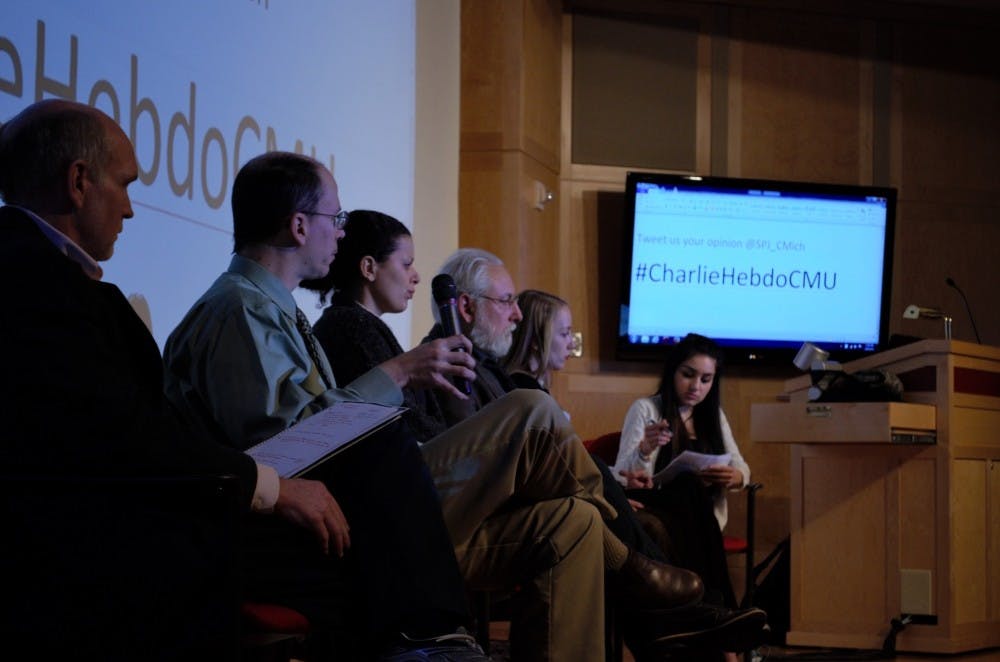 After 11 French journalists were killed in an attack on Francophone magazine Charlie Hebdo, for alleged racist satire, the national debate on free speech was brought to Central Michigan University.
Students and faculty alike gathered at the Park Library Auditorium Wednesday, as the Society of Professional Journalists held a symposium to discuss the Jan. 7 tragedy, which took the lives of 11 employees of the magazine and one police officer.
Professors Tim Boudreau, Leila Ennaili, Talat Halman, Scott De Brestian and Central Michigan Life Editor-in-Chief, Mariah Prowoznik, served as panelists at the event.
Journalism professor and SPJ adviser, Ed Simpson, opened the symposium with a recap of the attacks on Hebdo, in which the employees were reportedly killed by Muslim extremists for publishing satirical cartoons of the Muslim prophet Muhammad.
"These are not simple times," Simpson said. "The issues of free speech, free press, the right to think and the right to argue are more important now than ever. That is why we are here tonight."
The panel's first question — should news outlets refer to the attack as an act of terrorism — made it clear from the start where many of the members stood on the issue. All were in agreement that the attacks were acts of terror.
Before speaking further on the subject, Halman stopped to call out of the crowd professor Malek Abdul Jaber, to speak on what the essence of terrorism truly meant.
"To define terrorism, you have to get into this business of whether you want to use it as its operational definition or whether you want to use a definition that suits your flavor," Abdul Jaber said.
As a professor of political science with a focus on Muslim studies, and a Muslim himself, Abdul Jaber said he was personally offended by the images Charlie Hebdo published.
He explained the operational definition of terrorism, as determined by the U.S. government, is drawn from violence used to "advocate a certain ideology."
"The magazine, as I understand, has been putting out these cartoons against Muslims and against Eastern cultures for so long," Abdul Jaber said. "As journalists, shouldn't we be responsible if we publish stuff that we know will have actual repercussions on our society?"
History professor Doina Harsanyi addressed the counterpoint.
"Nobody can be insulted by seeing those cartoons," Harasanyi said. "The only people who might be insulted by seeing those cartoons are the terrorists. They are absolutely not anti-Islam or anti-Middle Eastern."
She went on to say she believes that Charlie Hebdo was one of the "most pro-immigrant," papers in the East and that it was a "cruel irony" that they were attacked for what they drew.
Back and forth arguing between Harasanyi and Abdul Jaber eventually had to be cut short by SPJ President Zahra Ahmad.
The symposium concluded when panelists were asked if, hypothetically placed as the Editor-in-Chief of Charlie Hebdo, they would publish the images.
"Charlie Hebdo was a satirical magazine," De Brestian said. "It has a different kind of audience, a different kind of self-mandate, and that may be different than other news organizations."
Share:
---