Earth Week's Eco-Talks raises awareness about environmental issues
---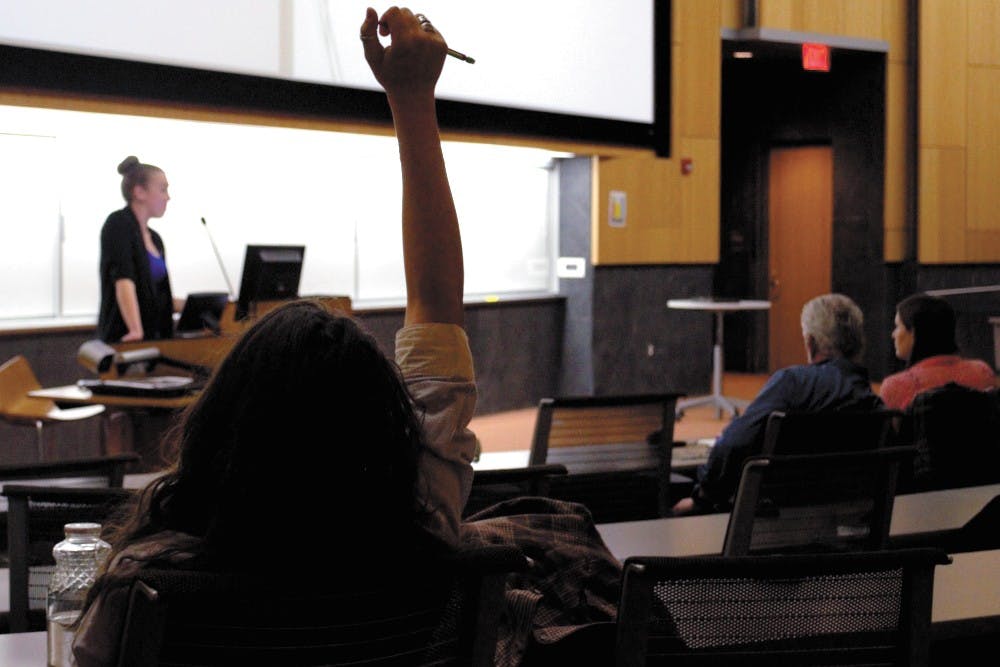 Earth Week continued Monday night with the presentation of "Eco-Talks," addressing the endangerment of the planet's ecosystem.
Armada senior Vincent Roncelli helped coordinate the event to spread awareness.
"We're here informing students, faculty and community members on environmental issues and social justice issues and how they're interconnected," Roncelli said. "(We're also) informing them on the roles these people can play on fighting these injustices."
Jay Kahn, director of facilities operations at Central Michigan University, will begin composting on campus. The program will begin in the fall to help decrease 40 percent of food thrown away in the U.S., and increase in the three percent of food waste recycled.
President and founder of Collegiate Advocates for Rights of Marine Animals Travis White said he fears the extinction of endangered aquatic animals.
"My fears will only become reality if we choose to do nothing about it," White said. "It is up to those to be the voice for those who cannot speak for themselves. It is up to us to make the change."
White said advocating is important to start social change.
"One of the biggest barriers of making some form of social change is the lack of knowledge on the issue or by not even realizing that the problem exists," he said.
Speaking from an economic standpoint, the president of Young Americans for Liberty Victoria Dennis said preservation of the environment is a market failure.
"This is something markets could not take care of or help solve, so government regulation and intervention is necessary," Dennis said.
The Director of Isabella County Materials Recovery Facility, Jake Borton, assured Dennis.
"The county of Isabella is very dedicated to recycling with the help of CMU," Borton said. "We have the county well-covered with curbside recycling."
Borton also spoke of Gov. Rick Snyder's recycling initiative to increase the percentage of recycling residential homes in Michigan.
Earth Week continued with a film screening of "Triple Divide" in Anspach Hall Room 152.The film is a documentary exploring the many different viewpoints regarding hydraulic fracturing.
Today the Earth Week committee will host the annual Earth Day Garden Party. Students can enjoy dancing, art, food and music to celebrate the earth at 6 p.m. in the Campus Grow Garden.
Share:
---