Free Comic Book Day marks 10-year anniversary for Hall of Heroes
---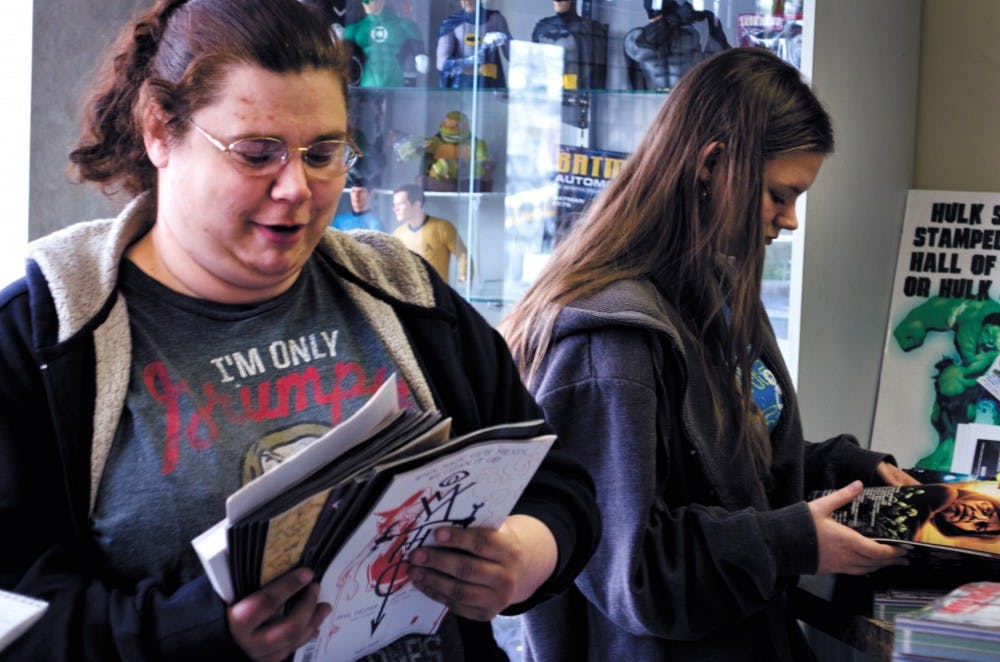 Long-time comic book fans and curious newbies can enjoy the comic convention experience on Saturday with Free Comic Book Day events at the Hall of Heroes comic book shop.
Held each year on the first weekend of May, the day celebrates the medium that brought Spiderman, The Avengers, Batman and Superman into cultural consciousness. Fans visiting local shops on Free Comic Book Day can get their fill of exclusive new titles from big name and independent publishers.
Most of the books are one of a kind and companies use the day's hype to launch their big summer story lines, said Michael Travis-Shuler, owner of the Hall of Heroes, located at 1620 S. Mission St. Suite P.
"We've got all 50 titles available that day, which DC and Marvel take big advantage of," Travis-Shuler said.
In an instance of nerdy serendipity, May 2 also marks the 10-year anniversary of the Hall of Heroes, making the day a sort of birthday party for Travis-Shuler and super fans.
"Everything in the store will be 10 percent off and we've got some super heroes who are going to show up," he said.
While free books and unique titles are fun for all readers, the day acts as a commemoration of comics more than anything else, said Jay Batnzer, 41, of Mount Pleasant.
Batzner stops by the Hall of Heroes each Wednesday after work to get his fill of new comic books — not only for himself but his wife and three daughters.
"These two books are solely for me, while this stack (of eight) are books we either share or they read on their own," said Batzner, showing off a pile of books ranging from the latest Superman offering to renewed Jem and My Little Pony titles. "It's so much fun getting them into comics because it gets my daughters into reading and understanding good story telling."
On Free Comic Book Day, he can show both of his girls what it means to be fully ingrained into nerd and comic book culture. By his account, they both are already invested.
"MJ wanted a Black Widow cake for her birthday, so we did and it was a black cake with black icing," said Batzner in between a proud smile. "Daria was reading a Catwoman book but also another book called Takio, and she came down one day and pointed out that she thought it was drawn by the same person based on the art alone. She was right and I didn't know it until I looked — both books are drawn by Michael Avon Oeming."
Central Michigan University English professor Joseph Sommers views Free Comic Book Day in the same way for his two daughters as well, and visits the Chippewa River District Library to partake in the organization's free comics celebration.
"It means a lot to me as it's this great day, this celebration, really, where my little girl can dress up like Thor or Captain America or Ms. Marvel, and I can too," Sommers said. "Comic books, as such, are a conversation. My daughter's a beginning reader, and (my oldest) will start reading them to her little sister, and she'll read them to me, in character, and sometimes I will to her in character, as well. and we'll just laugh and giggle."
Sommers won't forget the power of Free Comic Book Day for the old guys looking to take their nerd levels to new heights.
"It's a moment to talk about the big new things going on in comics, be it Daredevil on Netflix or the new Avengers movies coming out this weekend, or how cool Lumberjanes is and 'What is Lumberjanes and why haven't I read it?'" he said. "It's about community, respect and a great day to remember what it was like to be a kid again."
Free Comic Book Day events start at Hall of Heroes at noon on Saturday. Check out the Raving Geeks podcast on the Central Michigan Life iTunes channel for an exclusive interview with Travis-Shuler.
Share:
---