Schoolhouse exhibit showcases sacrifice of CMU students in WWI
---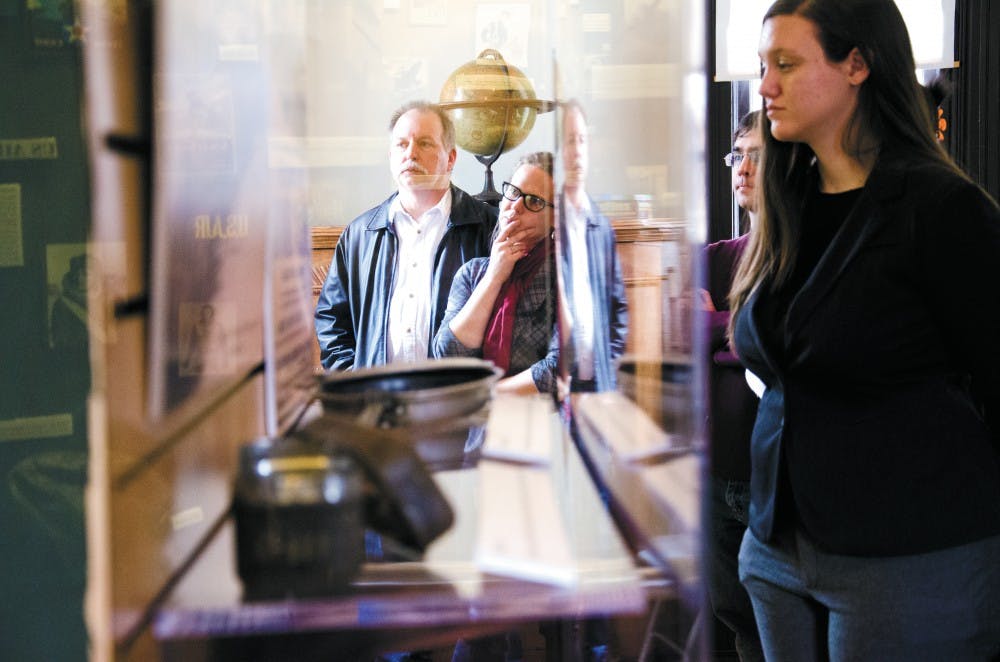 The "Sacrifice and Service: The World War I Experience" exhibit brings the Mount Pleasant community back to a time when Central Michigan University was Central Michigan Normal School, the world was plunged into war.
This exhibit is comprised of student-made exhibit pieces that detail different aspects of World War I. This exhibit opened at 4 p.m. in the Bohannon Schoolhouse, located at the corner of Preston and West Campus Drive. Some of these pieces, such as Vice President of The Cultural Resource Management Society Brad Collins' CMU's Fallen Sons, pay tribute to fallen soldiers and examine the university's involvement in the Great War.
This project displays a plaque dedicated to six CMU soldiers who died during the war. This was created in 1928 and originally displayed in Warriner Hall.
"I thought it would be a cool project, and I knew the info was out there and I really wanted to bring out CMU's involvement in the war," Collins said.
Other students, such as Mount Pleasant graduate student Haley Quinn, chose a more personal route for their display. Quinn's display case showed several of her uncle Joseph Garneau's letters home from Archangelsk, Russia. Garneau served in Company A 339th Infantry in the American North Russia Expeditionary Forces, often called "polar bear" units, that opposed the Red Army during the Russian Revolution in 1918-19.
Quinn found the letters in the Clarke Historical Library, donated by a family member, and examined the censoring process that mail sent home by troops went through.
The letters couldn't be too negative or give away troop positions, Quinn said. If they were, they were censored with a razor or withheld entirely.
"I discovered that they're generally more upbeat more than I thought they would be," she said. "It's really funny because the same humor has been in my family for 70 years."
Other students, such as Marysville graduate student Ethan Reardon, constructed exhibits that focused on more general aspects of the war, such as gas warfare.
"I saw the gas mask and I knew I had to do something with it," Reardon said.
He built an alarm bell, which was traditionally sounded when a gas attack began, to accompany the exhibit.
This work was a project of temporary instructor Keith Gill's MST 750: Seminar in Advanced Exhibit Design and Contruction. Students spent the semester researching World War I-related subjects through CMU resources, primarily the Clarke Historical Library and the Museum of Cultural and Natural History.
Oxford junior Kaitlyn Halula attended Thursday to show support for her sister Alyssa, whose project focused on nursing during the war, and learned new things about World War I through the exhibit.
"I didn't really know much about it, so reading the labels and research about it taught me about the war," Halula said.
Share:
---