Residents speak out against duplex in downtown neighborhood
---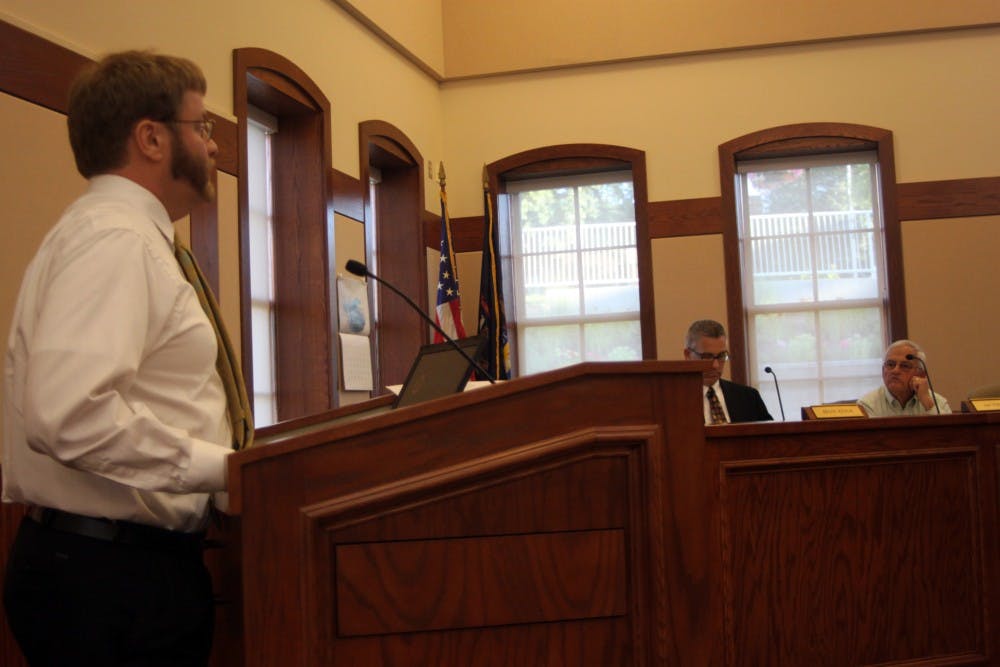 Residents vocalized their concerns about student behavior at the July 22 Zoning Board of Appeals meeting.
Though it started as a public hearing to discuss a decision made by the Planning Commission, the hearing brought up a larger concern of student housing and behavior.
At the meeting, board members were set to discuss and possibly appeal the Planning Commission's May 7 decision to deny a Special Use Permit for a duplex at 714 S. Main.
After more than five residents spoke against overturning the Planning Commission's decision, the board voted 4-1 to overturn the original ruling.
First to speak was attorney Joe Barberi, representing Rentwood Management, who wished to turn the property into a duplex. Barberi wanted the board to overturn the Planning Commission's decision, saying the commission's job is not to legislate, but to enforce city ordinances.
"If you're going to deny someone a permit, you have to say why using the criteria (in the ordinance)," he said. "When they meet the criteria, it's not a legislative decision. You have to follow the law."
Barberi said at the Planning Commission's meeting, commissioners did not specify which parts of the ordinance were keeping them from voting to give builders a special use permit. He said their ruling almost violated the Fair Housing Act, and could be interpreted as discriminatory toward students.
Eager to speak against Barberi's comments was Central Michigan University faculty Edward Clayton, who lives close to the proposed duplex. Clayton voiced his concerns about raising his family in an area that has experienced behavioral problems with students.
"Students are crucial to the well being of Mount Pleasant, but there is an increase in problems with students when there is an increase in student density," he said.
Clayton cited students violating laws more frequently as a material change that could have allowed the Planning Commission to deny the property a Special Use Permit. He said a few years ago, the neighborhood didn't see as many dumpster fires or large parties.
Others echoed Clayton's concerns, speaking about the student party culture in neighborhoods north of campus. Resident Sharon Stevenson said she became a landlord to a rental property to "save the neighborhood."
"I bought my rental because I didn't want to see the problems with students come to that area," she said. "The mix of residents and students is a primary concern. This would break that balance."
Academic adviser for CMU Christine Rowden disagreed with most of the public comment, saying the board should appeal the Planning Commission's decision.
"We need to remember that the college is a lifeline for Mount Pleasant," she said. "All students need a place to live, and they need to live close to the university. (The board) has the right and civic duty to approve this."
Board member Peter Orlik, who is also chairperson for Broadcasting and Cinematic Arts at CMU, said the Planning Commission got their original decision wrong. Orlik said using "student" to describe housing is not part of ordinance criteria the board could consider in approving or denying a permit.
"It's a valid concern, but you'd need to ask the City Commission that the ordinance be changed," he said. "I see no way the permit should not be granted."
Lisa Ferden, another board member, agreed, saying not all student renters will fall into the same patterns of bad behavior. She said it's important not to generalize.
"We need to move away from saying 'student' rentals," she said. "It's derogatory when we use it in these situations."
Ferden concluded, saying if the board didn't appeal the Planning Commission's decision, Barberi and his client could take the case to circuit court.
"The judge would take out all of the emotion and rule for the appeal," she said.
Share:
---