Behind the scenes of a theatre production
---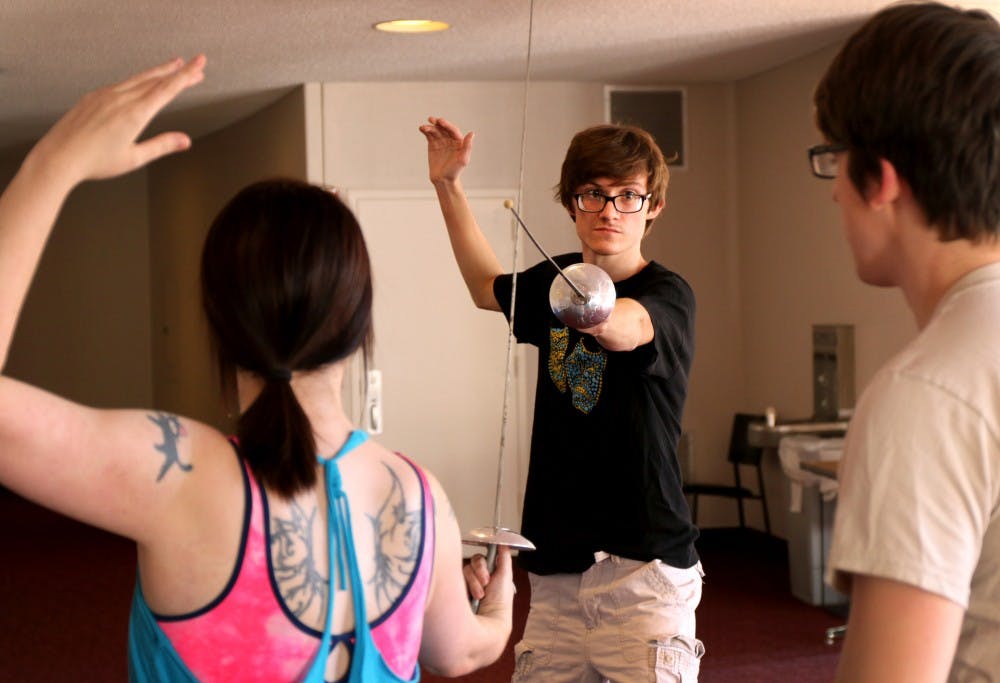 For every actor on stage during a theatre production, there are about three other people who have worked on the production that the audience never sees.
There were about 200 students involved in University Theatre productions last year who filled 500 positions because of the number of people it takes to put on shows, said Director of University Theatre Steve Berglund.
Students involved in University Theatre at Central Michigan University have many opportunities to get involved that include acting, directing, designing costumes and stage managing.
"What's really cool about theatre is how many people are involved in telling a story," said Grayling senior Damon Hunter. "There's the person who wrote the script, the director who reads it and has a vision for what they want created, then there's everyone that director works with. All these people work together to create one image that someone got from reading one script."
Main stage productions
Main stage productions are faculty-directed and usually faculty-designed, but students hold many of the roles, Berglund said.
"It's really cool to work with others from your age group, and learn from faculty, then put it into practice when the time comes (to perform) and (faculty) can't help you anymore," said Shelby Township junior Jack Valutis.
Macomb senior Marcie Herbert said people often think someone is just an actor, when most of the actors have actually been involved in productions in several other ways.
The number of people who audition depends on the show, but Valutis said he's seen between 40 and 70 people at auditions.
"I've always had nerves going into (an audition), but then you go in there you kind of just relax and have fun doing it," Valutis said.
Berglund said rehearsals are usually 20-24 hours per week, and that doesn't include the preparation students have to do outside of rehearsals. Rehearsals usually last five to eight weeks, he said.
"I like to do research on the show itself, on the character, and on the time to get a better understanding of what was going on during that time and what they had to deal with," Valutis said. "And then, as an actor, I like to make sure I get my lines memorized as quickly as possibly because then it's easier to relate with other actors when you're looking at them instead of staring down at your script."
In addition to acting, Valutis has worked backstage, which showed him a completely different side of theatre and taught him about what goes into creating sets, he said.
Hunter does sound design for some productions, including the recent production "One Slight Hitch."
"I like the way you can use sounds to tell a story; you just hear something and you create a picture in your head," he said.
Directors submit their proposals to Berglund, who discusses the submissions with a group of faculty involved in the productions. A final decision is usually made almost a year ahead of time on the schedule of plays.
They consider many factors when selecting plays, Berglund said, such as what would be good for students based on their education, number of roles, labor the plays would require and the cost of putting show together.
Once the play is decided on, Berglund has to secure the rights. Usually, there are no problems receiving them, he said, but occasionally, like when they tried to receive the rights to put on "Chicago," they can get denied which means they have to replay the season. Berglund said he never receives a reason when they're denied rights.
Studio theatre productions
Students have the opportunity to get even more involved in theatre through studio productions.
Students prepare and submit scripts and proposals to Berglund, Hunter said, who then approves or disapproves the studio production.
"These are student productions top to bottom," Berglund said. "They have a faculty adviser, but they're student directed, student designed, student acted and student stage managed."
Hunter wrote and is directing a one-act studio production called "A Good Knight's Kiss." He is also doing sound design and fight choreography for the production.
"I'm nervous because it's the first time I'll be directing a whole show by myself," he said. "I have a cast of 11 people, so having 11 people in a room staring at you, waiting for you to tell them what to do is a little nerve wrecking, but it will be fun."
Sterling Heights senior Allie Jackson has been involved in several studio shows and said it's a great learning experience. She said the shows are in smaller spaces than main stage productions and have a limited budget, but the shows also give students a lot of creative potential.
"You don't need to build an elaborate set to have an amazing show," Jackson said.
There are other areas of theatre as well, including summer theatre and Trap Door Improv, both of which provide ways for students to gain experience in various aspects of performance art.
"I love it because it's an art form and it's about other people as much as it is about ourselves," Herbert said. "It doesn't matter who I'm playing or what I'm doing, but the story is really important."
Share:
---