New city mayor, vice mayor appointed
---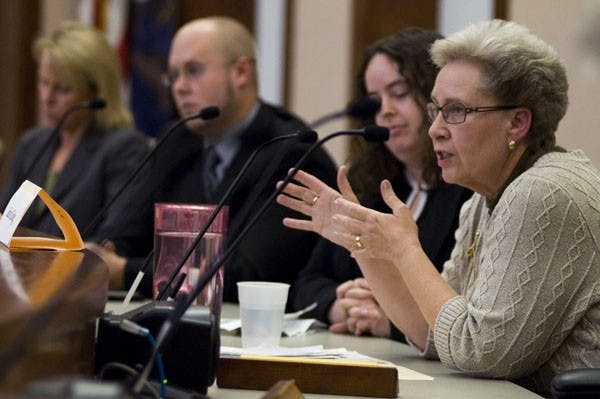 Only minutes after taking oath as one of three new Mount Pleasant city commissioners, Allison Lents was elected vice mayor.
At the Jan. 11 meeting, Lents, Nicholas Madaj and Lori Gillis each raised their right hands and recited an oath, formally beginning their terms as city commissioners.
"It was great to be sworn in with both Nick and Lori because they'll be amazing commissions and I'm happy to be serving with them," Lents said. "It's an honor that my fellow commissioners have enough faith in me and think I'm competent enough to be vice mayor. I think it's a reflection of the community who said they want something different, so I'm grateful for all the votes. I hope to bring a positive change."
City commissioner Kathleen Ling was elected unanimously as mayor after being nominated by former mayor Jim Holton. This was her ninth year serving on city commission.
Ling said the issue she is most interested in is 300 acres left over from the former Mount Pleasant Center that the city bought from the state in 2010.
"We have a lot on our plate right now," she said. "I'm hoping this is the year we will make some progress with what the city would like to see with that property and the best way to proceed forward with the development."
Other agenda items
A new pavilion at Horizon Park was voted to be named in honor of Carolynn Cosan, an 18-year-old girl who died in a auto accident in 2010. The name was supported by members of the Mount Pleasant Soccer Club.
Cosan was a soccer player, mentor and coach in addition to serving as a Girl Scout, Youth Services Cadet, youth soccer referee and AKC Junior Dog Handler. She had recently signed a national letter of intent to play soccer at Northern Michigan University in Marquette.
"She was passionate about her school, sports, her teachers, her friends and everything this community had to offer," Kip Casan, Carolynn Cosan's mother, said. "My husband and I are humbled that the club has nominated the naming of this pavilion with her. With this naming, she will live on forever, long after we are gone."
Snow removal
After recent December and January snowstorms, Lents said the driveways of many local commercial businesses had not been properly cleared of snow, creating a potentially hazardous area for pedestrians.
Most pedestrian car accidents occur in the winter months because they are forced to walk on the streets instead of sidewalks deluged with snow, she said. Lents then requested to look at local businesses.
"We could ask staff to work on the education of better enforcement and plan the date to make sure our sidewalks are clear and safe," Lents said. "A lot of our commercial corridors are very heavily traveled areas, so it's unsafe."
City manager Nancy Ridley said reeducating business owners is necessary before ramping up enforcement. This would require additional time and money to create informational materials to distribute to citizens.
Share:
---