Track teams win 10 first-place finishes at Oakland
---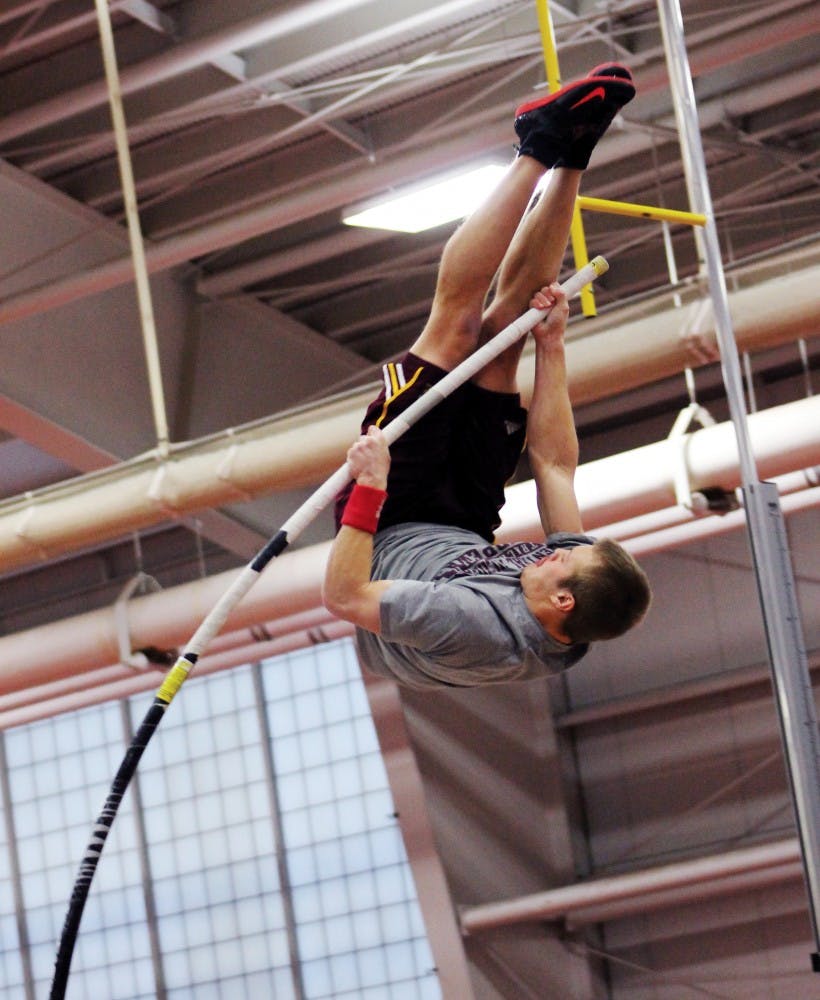 With eyes toward the Jesse Owens Classic at Ohio State next weekend, the Central Michigan Track and Field teams took home 9 first place finishes from this weekend's meet at Oakland.
The meet at Oakland was the first meet of the year that the Chippewas have had pleasant conditions. It was sunny all day with temperatures hovering between 60 and 70 degrees for the duration of the meet.
"The talent was able to come out and be seen today because you had weather conditions that allowed that to happen," Guthrie said. "We struggled the last two weeks because the weather was against us. Today, there was good weather and we started to see that we do have good talent and good athletes."
The Jesse Owens Classic will be the biggest meet of the year for the Chippewas with the exception of the Mid-American Conference Championship at the end of the season. All Ohio based MAC schools will be in attendance as well as many BIG 10 schools.
It is of course in remembrance of four time Olympic gold medalist Jesse Owens who attended Ohio State University in the 1930s. The Jesse Owens Memorial Stadium houses the Ohio State men's and women's lacrosse, soccer and track and field events.
Top Five Finishes:
Sophomore Sam Wagner (5.09 meters) and juniors Tony Armstrong (4.75 meters) and Nicholas Malliaras (3.00 meters) swept the men's pole vault, taking first, second and third. Fellow jumper, sophomore Rebekah Petty won (3.87) the women's pole vault.
Sophomore Tina Davis (24.44) and freshman Gabriella Beauvais (24.79) placed first and second, respectively, in the women's 200 meter dash. Davis (11.74) and Beauvais (12.11) also took first and third in the women's 100 meter dash.
Junior Kelsey Ross won the women's 800 meter run with a time of 2:15.40 and sophomore Scott Cousino won the men's event with a time of 1:52.29.
Senior Devene Brown won the women's shot put (15.41 meters), out throwing the second place finisher by almost two meters. Brown also took fourth in the women's discus with a throw of 44.37 meters.
Senior Kylee Dobbelaere won the women's hammer throw by over three meters with her throw of 56.94 meters.
Senior Olivia Shelton (39.24 meters) won the women's javelin throw while fellow javelineer freshman Avery Joseph (55.21 meters) finished in second in the men's event.
Freshman Jake Peister (14.93 meters) won the men's triple jump, while fellow freshman Ijeoma Agomo (10.54 meters) took third place in the women's event.
The women's 4x100 meter relay team won their event with at time of 46.27 seconds.
Senior Cole Walderzak (52.87 meters) and junior Dylan Banagis (50.37 meters) took second and third in the men's discus. The pair also took third and fourth in the men's hammer throw. Walderzak threw for 64.91 meters and Banagis for 61.20 meters. Walderzak also finished in thrid in the men's shot put with a throw of 16.12 meters.
Senior distance runner Nate Ghena (3:52.22) finished in second place in the men's 1500 meter run, followed by sophomore Joseph Emmanuel (3:58.72) in fifth. Senior Alyssa Dyer (4:32.50) finished in third place in the women's 1500 meter run.
Sophomore Ali Taha (6.88 meters) took second in the men's long jump, while freshman Kyra Harrison (5.54 meters) finished in third in the women's event.
Freshman sprinter Samantha Cuneo took second place in the women's 400 meter dash with a time of 55.19 seconds.
Freshman Benjamin Hayes (21.72) and junior Ziemowit Dutkiewicz (21.85) took third and fourth in the men's 200 meter dash.
Junior Casey Voisin took third in the men's 5000 meter run, while sophomore Hannah Davis finished in fifth in the women's race.
Junior Malik Peacock (10.89) and sophomore Jamar Hardy (10.95) placed third and fifth in the men's 100 meter dash.
Junior Esther Bell took fourth place in the women's 3000 meter steeplechase with a time of 12:12.16.
Sophomore Shane Moffo finished in fourth in the men's 110 meter hurdles with a time of 17.85 seconds.
Sophomore Kyla Walton (1:03.14) finished in fourth in the women's 400 meter hurdles.
The men's 4x400 meter relay team finished in fourth with a time of 3:25.44.
Junior Melvin Harris III (1.96 meters) finished in fourth place in the men's high jump.
Share:
---