CMU to Rio: Former Chip competes at 2016 Olympic Games, says he'll be back in 2020
---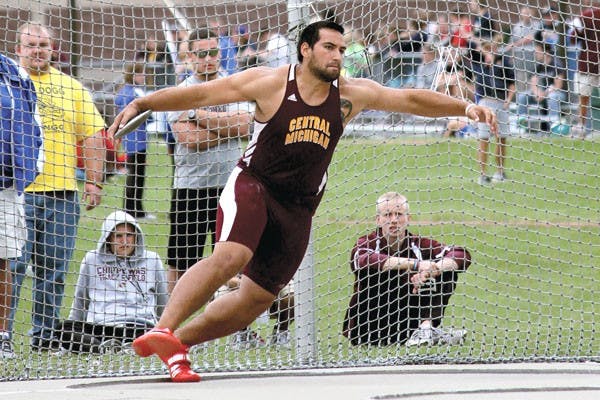 Competing in the Olympics for his father's home country of Samoa had always been a dream for former Central Michigan discus thrower Alex Rose.
He lived that dream this summer.
"Competing in front of thousands and thousands of people there, I got all this adrenaline. I had my season's best throw and I knew I wanted to be the best I can be," Rose said. "I want to be one of the guys that people look up to and model technically and try to throw like. That's kind of when I knew I had to train for the Olympics."
The 2014 CMU alumnus competed in the 2016 Summer Olympic Games in Rio de Janeiro, Brazil.
He did not advance through the first wave of competition after posting a 57.24 meter throw — the farthest of his three throws — in Rio. Rose needed a throw of 65.50 meters or more to advance.
Although he fell short of his ultimate goal of making it onto the champions' podium — a feat never accomplished by a Samoan Olympian — Rose's journey to Rio was rewarding.
Despite winning the Michigan state championship in shot put and taking second in discus during his senior season at Ogemaw Heights High School, Rose wasn't recruited by any colleges for track and field. He decided to attend CMU — an hour and a half away from his hometown of West Branch — as a preferred walk-on, declining to pursue Division I football scholarships.
During his freshman year at CMU, Rose qualified for the 2010 NCAA Outdoor Championship. He finished third in his class and 13th overall.
By the time his sophomore season ended, Rose earned an All-American honor and finished fifth at the NCAA Championships. He was the Mid-American Conference Champion during his junior year in 2012.
Rose redshirted in 2013, which allowed him to compete in international competitions unattached to a university. He competed in the World Championships at the second largest sporting event in the world — the World University Games.
The former Chippewa officially qualified for the 2016 Olympics after a discus throw of 65.74 meters — a Samoan national record. He accomplished the throw during a competition at Claremont College in California.
To make it to Rio, Rose had to be in the top 32 discus throwers in the world according to the International Association of Athletics Federations' World List. After the Claremont competition, he was ranked 23rd, punching his ticket to the Olympics.
His 65.74 meter throw was the eighth-furthest throw in the world at the time, but now sits at 23rd on the all-time list.
"Before that throw, my best throw was a 61.35 meter throw," Rose said. "It was a stretch to even hope for a chance at getting to Rio, but I trained like a madman and it all came together."
Rose dealt with adversity along the way.
While competing in Jamaica in May, Rose had "wear and tear" in his pectoral muscle. The injury kept him from throwing for a couple weeks. He had to drop a competition in Jamaica due to the soreness and remained out until June 23 when he traveled to Madrid. He said the injury disabled him from training at full capacity.
"A bunch of scar tissue built up where I had my pec reconstruction surgery in 2014," Rose said. "I hadn't been able to practice much for the past couple months because of the injury, but I was extremely confident going into the meet. I thought my adrenaline during the Olympics would sort everything out."
Although Rose was still enduring the injury during the time of his competition, he tried to battle through the pain.
"It's funny what the human mind can do," Rose said. "I had all these signs telling me that I wasn't healthy enough to compete, but I still tricked myself into thinking I would be a superhero on the day (of the competition) and shock the world. I still thought I would make it happen at the Olympic Games. So when the fairy tale ending doesn't happen, it's disappointing to say the least."
If Rose was fully healthy, he believes he would have qualified for the finals.
Rose flew to Rio alone. None of his family members were able to accompany him on his journey due expenses.
Even without his family members by his side, Rose said he still received support. He was able to connect with family and friends through Facebook and was flooded with congratulatory messages and posts to his wall.
"My family's support has been tremendous," Rose said. "I've spent many hours talking with them on my apartment's balcony at the (Olympic) village. It was very relaxing for me to just zone out and talk about things back home while watching the Olympic fountain."
Before he left for Rio, Rose trained at Aurora University, where he is a graduate assistant and coaches discus throwers on the track and field team.
As for the 2020 Olympics in Tokyo, Rose says he will be more than ready for the challenge.
"There's no doubt I'll be competing (in the 2020 Olympics)," Rose said. "Most discus throwers hit their prime in their late 20s, early 30s. I'm 24, so I'll still be improving for a while."
Ryan Warriner contributed to this article.
Share:
---