Rock Rally kicks off Homecoming Weekend, Gold Ambassadors announced
---
The sound of the Central Michigan University Marching band could be heard from a block away and chants echoed through the parking lot as students filed into Warriner Hall's Plachta Auditorium.
The annual Rock Rally kicked off Homecoming weekend events Friday night with a show full of superheroes, dancing and singing. More than 1,000 attended the event.
The Rock Rally featured dance performances from CMU cheerleaders, the introduction of the football team and announcement of the 2016 Homecoming Ambassadors. Brad Barlog, a Rock Rally coordinator, said the event is to "fire up" students for the weekend by having them cheer on their friends dancing in the event
"It's also a good thing for our alumni to come back to because we have a lot of alumni who have participated in Rock Rally (as students) and they come back and get to see what other people have done," Barlog said. "It's also a chance for the ambassadors to really have a special moment with their families."
CMU cheerleaders began the rally with a performance of game day chants, followed by a new performance from the CMU marching band. Then the real rocking began.
The "mock rock" — a dance competition between every residence hall — had each team incorporate a chosen superhero into their dance routines. From Superman to Kim Possible, the teams performed on stage in hopes to win the Maroon Cup. The Maroon Cup is an award given to the most spirited residence hall.
"It was really cool to watch all the different halls dance and how they all incorporated superheros," freshman Garrett Robinson said.
The show started with a Hulk-themed performance from the Saxe, Herrig and Celani hall., followed by a Batman-themed performance from Trout Hall residents, who placed third in the competition.
First place and the Maroon Cup was awarded to Larzelere Hall.
The contest concluded with performances from Phi Mu Alpha's jazz band and a CMU vs. Ball State Narrative depicting CMU as superheroes and Ball State as villains.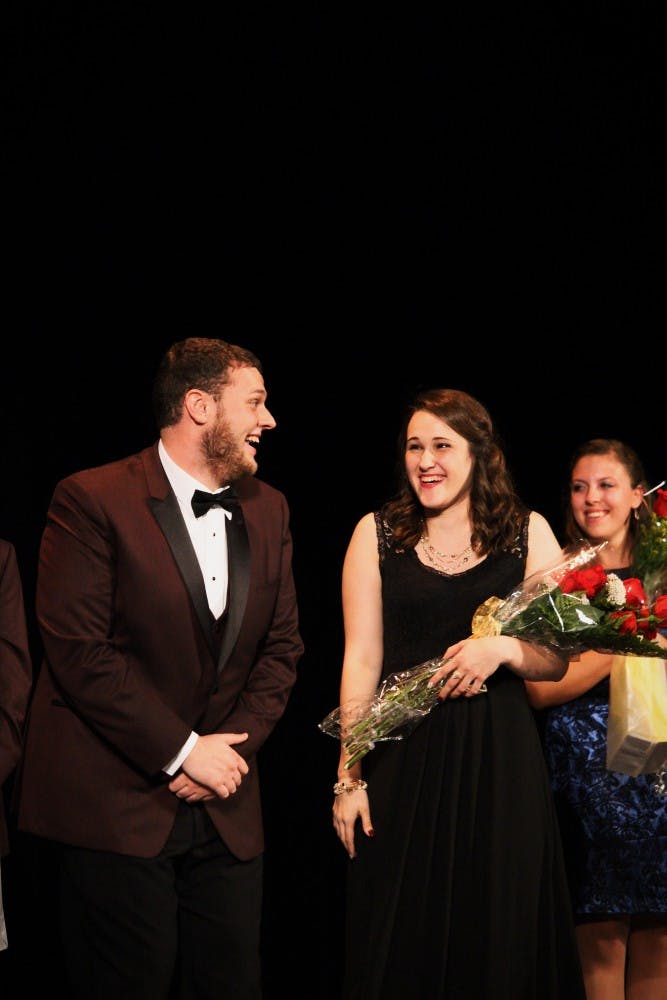 Following the Mock Rock was a performance from CMU's acapella group Fish N' Chips. The performance ended with a standing ovation, but the night wasn't ending just yet. The host stood to the side of the stage after the performance to introduce each nomineee for 2016 Homecoming Ambassadors.
As the 10 nominees stood on stage, the 2015 Gold Ambassadors walked up to announce the winning Gold Ambassadors — Brimley senior Ashley Flickinger and Monroe senior Brett Goodman.
A Gold Ambassador is a student who represents the university's student body as a whole through their involvements and values.
"A good ambassador is somebody who's involved and shows up as an advocate for involvement. They're someone people can aspire to be," Flickinger said.
Share:
---