26 student teams to participate in Make-A-Pitch 2016
---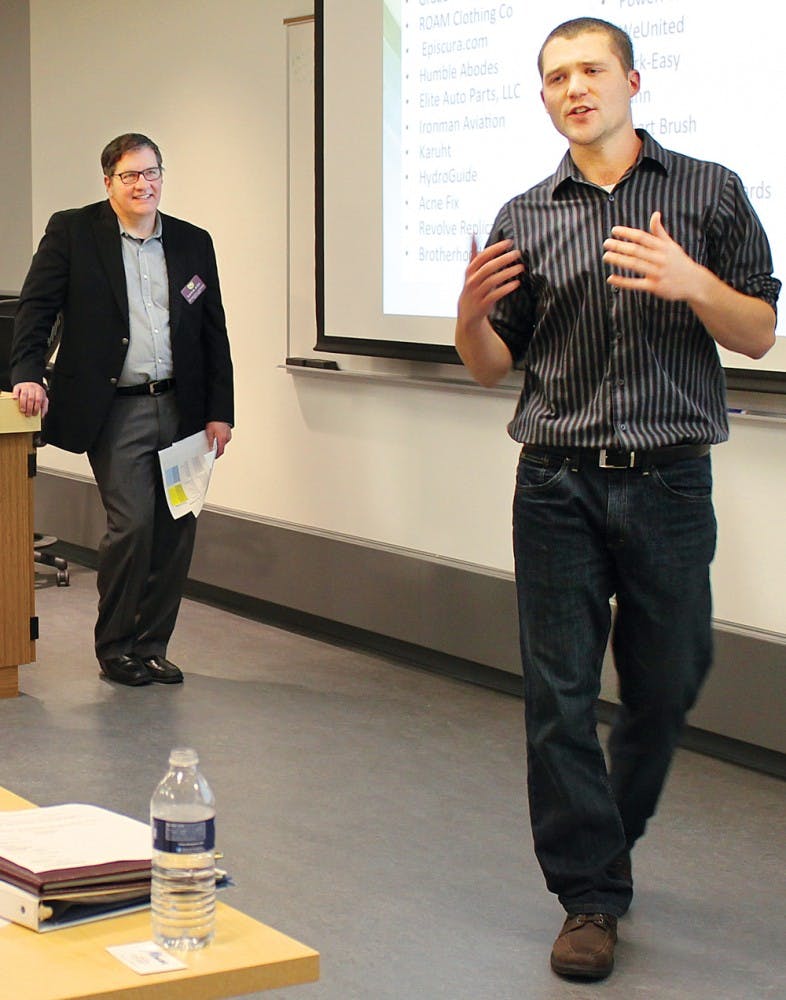 Twenty-six teams are set to present their business ideas in front of a panel of judges on Dec.1 for the 2016 Make-A-Pitch competition.
This is a slightly higher participation rate than last year, when 22 teams competed.
The competition, which is held annually by the College of Business Administration, is meant to give students interested in pursuing their own business ventures an opportunity to practice selling their ideas, and to get feedback from professionals in the field.
The event is tailored toward students in the College of Business who plan on competing in next semester's New Venture Competition, but Make-A-Pitch is open to all CMU students.
Charles Crespy, dean of the College of Business Administration, views the competition as one of the best opportunities offered by the college when it comes to students developing self-confidence in their business ideas.
"Once you get out of college, you either make the sale or you don't make the sale," he said. "The Make-A-Pitch competition helps students come to grips with the brutally honest reality that they need to succeed in the business world. You don't get partial credit in the Make-A-Pitch competition. You either win it or you don't win it."
Crespy believes that the feedback given by the judges at Make-A-Pitch differs from the guidance given by faculty within the college, as it's more honest and realistic regarding what's going to be expected of students once they enter the business world.
"It is many of our classroom activities. if you're neat and you show your work, you'll get credit," he said. "Make-A-Pitch and New Venture say the 'best, bright ideas win'.'"
Competing in Make-a-Pitch is not a requirement for students enrolled in CBA.
Comparisons can be drawn to the ABC television program "Shark Tank," off of which the Make-A-Pitch competition is purposely modeled.
During the competition itself, each team will choose one representative to present a two-minute "pitch" in front of a panel of professional entrepreneurs, who will offer critiques to each contestant before deciding which team is the overall winner.
The pitching process stresses the need to be concise and exacting with the words they use to sell their ideas.
In the two minutes each team is given, their representative will have to answer a number of questions about their service or product as clearly and completely as possible. The questions include who their target audience is, why customers should choose the team's product over the competition, how well they know the market they're going to be selling their product in, and what each member of their team contributes to the company.
In addition to the opportunities for experience and constructive criticism, the first, second and third-placed teams will receive prizes in the form of CMU Bookstore gift cards valued at $500, $100 and $50, respectively.
Share:
---