Lacrosse outlasts Kennesaw State to draw even in conference play
---
In one of the most tightly contested games of the season, the Central Michigan lacrosse team came out on top with a 17-16 win over Kennesaw State Sunday.
The teams would exchange multiple goals late in the contest before sophomore midfielder Jocelyne Lemay scored the eventual game-winning goal with 3:34 to play to put CMU up 17-15.
After Kennesaw State (5-3, 1-1 Atlantic Sun) found the back of the net to cut the lead to one with under three minutes to go, freshman goalkeeper Hope Murray made three crucial saves in the final minutes to help lead the Chippewas to the win and a standing ovation from the crowd.
"It's so nice for our players," said head coach Sara Tisdale. "Experience is a tough teacher and so we'll take this one and make sure we learn a lot from it."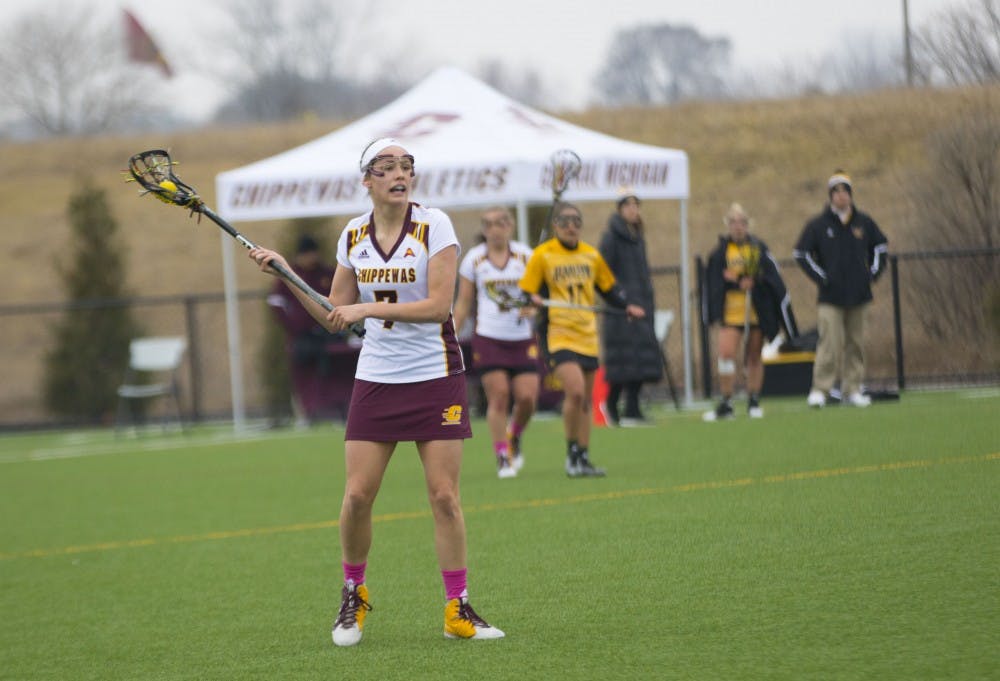 Freshman Emma Hamilton led all Chippewas with five goals. Freshmen Tyra Prince, freshman Shannon Doyle and Lemay each tacked on three goals.
CMU (4-5, 1-1 ASUN) played catch up most of the first half until sophomore Logan Halverson scored her first goal of the season to give the Chippewas a 6-5 with 10 minutes left before halftime.
Halverson saw her offensive role increased today after being a defensive catalyst for the Chippewas most of the season.
"Logan is a kid who will play 60 minutes and give you every ounce she has," Tisdale said. "You know Logan will do the right thing and follow the game plan."
CMU outscored Kennesaw State 4-3 the rest of the half to give them a narrow 10-9 lead at the break.
The Chippewas started off the second half with sophomore Riley Huda and Hamilton each scoring goals, but Kennesaw State would respond with two goals of its own.
Haley Swift scored for KSU to tie the game again at 13 with 13:09 to play before CMU pulled away late.
The Chippewas will host Coastal Carolina on at 5 p.m. on Friday, March 31 at the Lacrosse/Soccer Complex.
"It'll be an evenly matched and athletic game," Tisdale said. "It will come down to who buys in from an IQ standpoint."
Share:
---