Lacrosse falls to Mercer in conference opener
---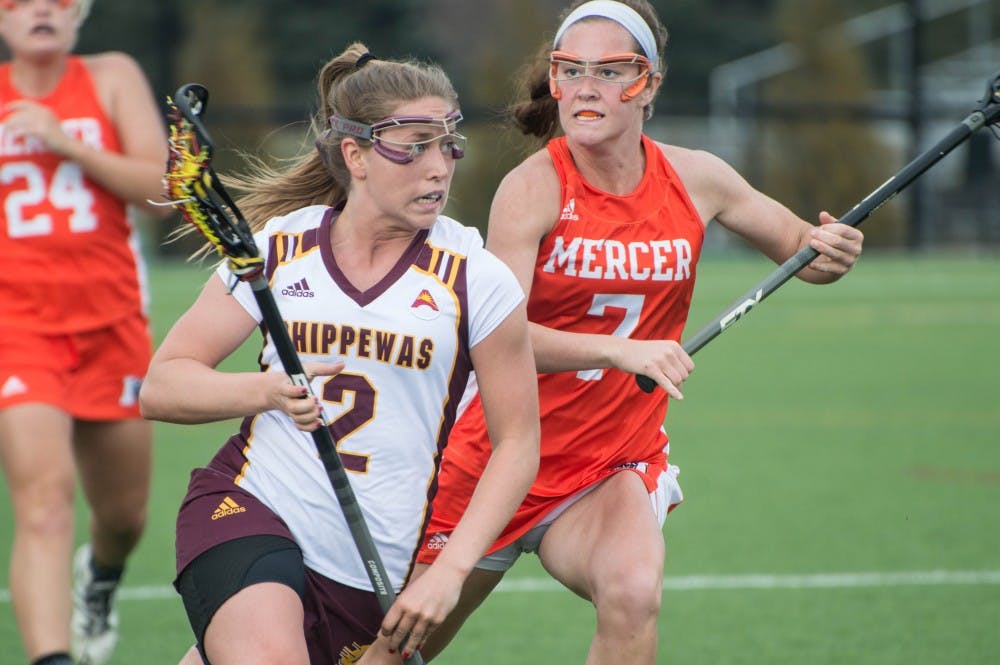 The defense was there, but offensive struggles by the Central Michigan lacrosse team led to a 15-8 loss to Mercer Friday.
The Bears took control early in the second half. Mercer scored seven goals to give it an 11-2 lead.
The Chippewas responded with a run of their own scoring the next four goals to cut the deficit to 11-6. Sophomore Jocelyne Lemay scored her third and fourth goal of the day while freshman Tyra Prince and sophomore Riley Huda scored their first.
"We all of a sudden start playing in the second half," said head coach Sara Tisdale. "We need to bring that from the very first draw and not ride the waves of intensity."
The Chippewas dropped to 3-5 on the season and 0-1 in Atlantic Sun play. Tisdale said the lack of scoring in the first half was the difference in today's matchup.
"We executed our defensive game plan, we executed our clear plan, unfortunately our offense couldn't put the ball in the back of the net,"she said. "They were playing pretty tight, pretty scared and it's hard to win games when you don't put the ball in the net."
Mercer's Erica Coyne opened the scoring a minute into the game before Lemay answered to tie the game.
After several minutes of back and forth scoreless action, Mercer rode a huge wave of moment scoring the next three goals to give them a 4-1 lead. Mercer's Meghan Segreti scored the two while assisting on another one.
The Chippewas created several scoring chances, but couldn't capitalize to close out the first half and trailed the Bears, 4-1 at the break.
CMU attempted a comeback late in the contest, but it wasn't enough. After back-and-forth play to finish the game, Mercer outscored CMU 4-2 the rest of the way to give the Bears the win.
Central Michigan will stay at home to face Kennesaw State at noon on Sunday.
Share:
---