Greek Week kicks off with speakers from previous philanthropies
---
About 1,500 members of the Greek community gathered Sunday night for the official kick-off of Central Michigan University's annual Greek Week.
After posing for the All-Greek photo at Kelly/Shorts Stadium at 5:30 p.m., members filed into the McGuirk Arena to listen to speakers motivate them to raise funds throughout the week. Speakers at the event included Greek Week beneficiaries from previous years, the Keisha Y. Brown Angel Wings Fund and Special Olympics of Michigan, who shared how their foundations used the donated money to benefit the organization.
Proceeds for Greek Week 2017 will benefit the Kristy Malter Memorial Fund and the Isabella County Child Advocacy Center.
Emily Shevnock, a Greek Week chairperson and member of Alpha Sigma Alpha, said this is the first year the week featured philanthropies from the past. She thinks hearing about the impact the community has made will motivate members to excel in fundraising.
Two representatives from the Angel Wings Fund, a foundation striving to support families affected by cancer, spoke: Stan Shingles, president of the organization and Elizabeth Ross, vice president and the wife of CMU's president George Ross.
In 2015, Greek Week raised more than $50,000 for the Angel Wings Fund.
Shingles started by explaining to the audience the importance of their efforts and how the community's donation helped support their cause.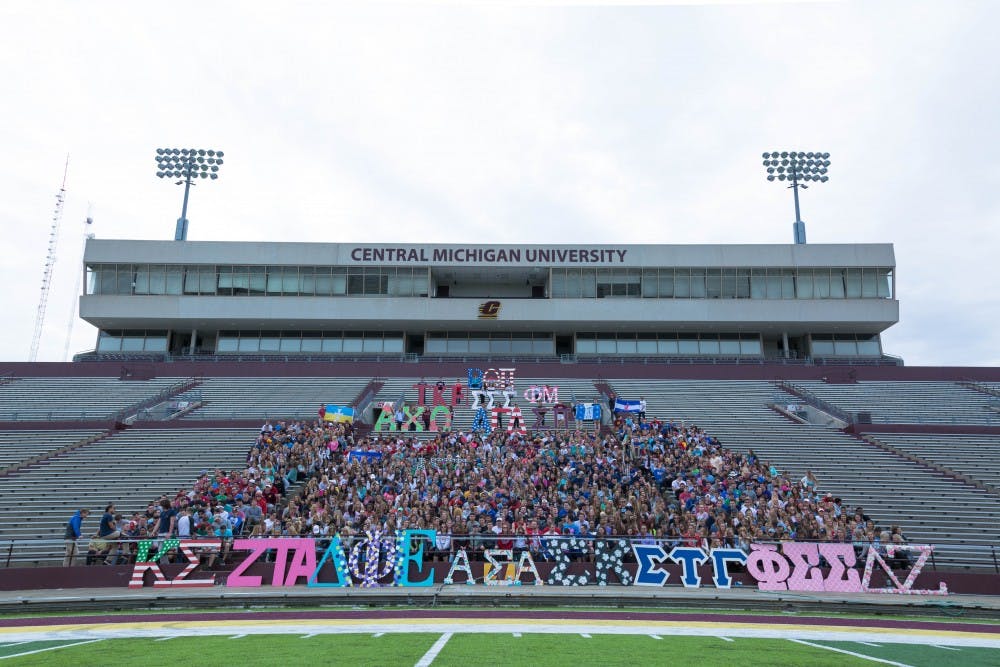 The $50,000 donation helped the Angel Wings Fund establish four scholarships, each awarded to a group or individual who showed service to help raise cancer awareness.
The four institutions the scholarships have been endowed to are:
Central Michigan University
Sacred Heart Academy High School
The Mount Pleasant Area Community Foundation
Alma College
Ross said the community's philanthropic effort is both "rewarding and beneficial." After she congratulated the Greeks for raising more than $100,000 toward philanthropy in the last three years, the crowd responded with roaring cheers and applause.
The final speaker, Jenison senior Hannah Rickers, represented the 2014 Greek Week beneficiary, Special Olympics of Michigan.
The Special Olympics intern and member of Alpha Chi Omega said that with the $30,000 donated in 2014, they were able to support more than 200 athletes.
Due to the donation, Rickers said athletes participated at no cost to the family. Special Olympics could also provide health services to the athletes and occasionally could give them athletic gear.
Special Olympics goes beyond helping people through physical health. Rickers recited employment statistic of members, explaining how competing members have an employment rate of 61 percent compared to the 28 percent rate of those uninvolved.
Rickers said the Greek community has contributed more support than monetary donations.
"It's great to see Greek students at our (games)," she said. "They're always there volunteering, playing unified sports (and) helping out in any way they can."
Share:
---