City Commission discusses snow removal ordinances
---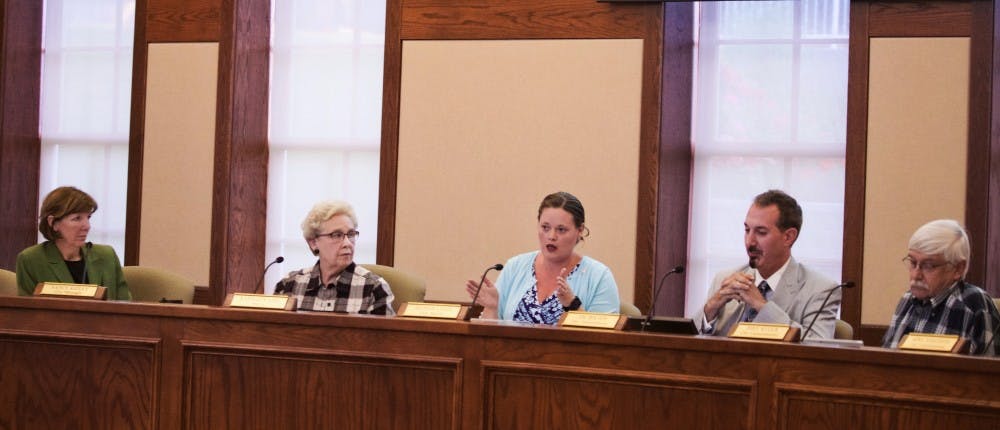 Mount Pleasant city commissioners met in a work session Aug. 28 to discuss sidewalk snow removal and making snow shoveling on the outer sidewalks a requirement for multi and single-family homes.
Commissioners discussed ordinances Monday with Assistant Fire Chief Michael Dunham and Street Department Superintendent Matt Weaver.
Assistant Mayor Allison Quast-Lents has been urging the city commission to pass ordinances requiring snow shoveling from all property owners.
"It feels to me that we are one of very few urban communities that do not require snow shoveling coordinates," Quast-Lents said.
Quast-Lents said her idea would be more fiscally responsible of the city, which would be relieved of any obligations to remove snow off of more than its approximately 17 miles of public sidewalk.
Current ordinances state that commercial and industrial properties must have their sidewalks cleared within 18 hours after snow ceases.
Homeowners will be held to the same standards as cutting their grass this past summer, with a risk of being ticketed if failing to clear the sidewalk facing them.
"It's no different than the grass," said Mayor Kathleen Ling, who emphasized that snow shoveling should be a recurrent responsibility for those sharing the community. "If you own a home during the summer which is really more months than during the winter, you do have to cut the grass and it's on a regular basis."
Commissioner Tony Kulick said it would be safer for community members to promote safe street walking over sidewalk shoveling.
"You have a lot more people having heart attacks when they're out there shoveling snow," Kulick said. "It just happens all of the time."
Quast-Lents said these ordinances can attract students from Central Michigan University and the Office of Student Activities and Involvement to volunteer with residents in need of people shoveling snow.
"We have this great opportunity," she said. "We can coordinate volunteer opportunities here where people who have the ability, (particularly) young students who need volunteer hours can partner with property owners who have a difficult time."
If new ordinances are to come into effect this year, they need to be passed by early November.
Ling decided that the commission prepare a report on communities with successful shoveling guidelines by late September before any amendment is established.
Share:
---