Father and daughter work together to coach hockey teams
---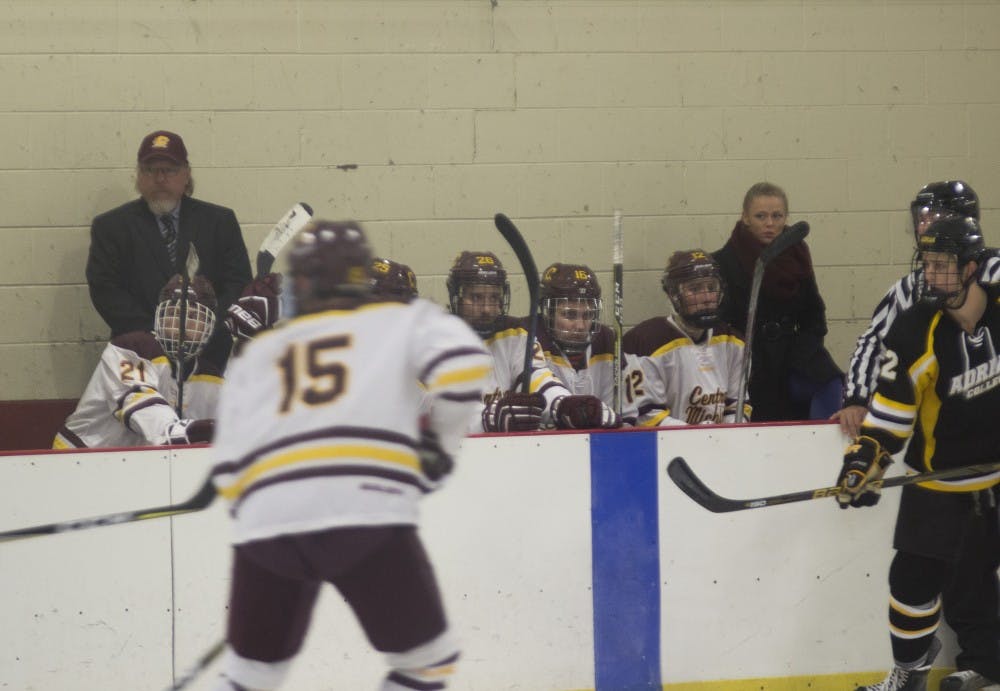 Most athletes play sports as a child because their parents want them to. Some play because they are good.
Some play because they love it.
Brittany Knopp was a product of these factors as a kid. She was great at hockey and was happy to tie up her skates and enter the rink.
Brittany is now the head coach of the Central Michigan University women's club team.She also works as an assistant coach for the CMU Division II men's team.
She has a particularly close relationship with the men's coach: her father, Brian Knopp.
Brian has been the head coach of the DII team for the past four years. He needed an assistant coach last season and decided his daughter was the best fit for the job.
Brittany started playing hockey when she was five with her parent's help. The Knopp family played hockey, including Brittany, her father, her mother, her brother and her older sister.
Brittany and her siblings still play in adult leagues.
Brian has coached all of his kids at hockey, but coached Brittany all the way up to college. She played at Findlandia University and picked up coaching after graduation.
For Brittany, it was not just what her dad taught her on the ice that she remembers, but the lessons off of it.
"My dad has taught me dedication," she said. "In life if you really want something, it will not be easy so you have to try your hardest to go get it and he showed me to stand up for what I believe in and go for your dreams."
One moment Brittany will never forget while playing hockey for her dad was at a tournament in Canada. She was recognized by a scout at age 14.
Brian was speechless and had no idea at the time that his daughter was being recruited nationally.
Brian is happy to have his daughter by his side and is proud of her accomplishments.
In the first home game against Lawrence Tech University this season, Brittany was at an away game with the girls' team and was unable to be with her dad for the men's game.
Brian couldn't find the practice pucks for his team to start warming up with before the game. He was forced to call his daughter and she let him know where they would be.
"She would have had the pucks sitting there ready to go if she was here," Brian said.
The father and daughter have a main goal of uniting CMU hockey and taking the programs to new heights.
While they both coach two different teams, they continue to learn different techniques about hockey that they can share together.
"(When) both teams are playing at the same time and I am unable to be with him, all I do is worry," Brittany said.
Share:
---