Homegrown Hockey: Chippewa Hockey Network develops hockey fanbase at CMU
---
Being in the middle of the crowd at a Central Michigan University hockey game is like being in an audience watching its favorite rock band.
The Oct. 8 home opener for the Division II men's team against Lawrence Tech was so loud, it made it difficult to hear the person next to you.
That game was at noon on a Sunday.
CMU is home to three hockey teams: Division II men's hockey, Division III men's hockey and women's club hockey.
With no NCAA Division I team on campus, one would think hockey would be an afterthought in Mount Pleasant. It's anything but.
The Isabella County Events Arena is packed with hockey fans for each team — no matter the time, day or matchup.
"Division III hockey is packed for most home games and is still growing," said sophomore Ashley Kaplin, reporter for Chippewa Hockey Network. "It is amazing seeing how many people come to the games. I love seeing new people come and seeing the regulars."
Fans have been dedicated to the sport, even when Division II hockey was unable to participate in the 2015-16 season due to lack of players.
While the hockey teams don't receive the notoriety of a Division I program, they have one thing most schools and teams don't.
That's where the Chippewa Hockey Network comes in.
Starting Out
"We quit our jobs, drained our bank accounts, just so we could start something for a club hockey team," said Chippewa Hockey Network co-founder Shawn Bednard. "My mom likes to remind me I did that all the time."
Bednard and Tyler Marcotte started the Chippewa Hockey Network in 2015. The two friends started covering the Division III hockey team and added the Division II and women's teams shortly after.
Now with a full broadcast team, they are able to cover one of the three teams on the road and another at home in Mount Pleasant during the season.
Bednard, a broadcast and cinematic arts major and media sales minor, grew up in Flint and attended Davison High School.
When the semi-professional Plymouth Whalers, from the Ontario Hockey League, moved to Flint in 2014, Bednard did everything he could to be involved with the broadcasting team. However, the team said he lacked experience.
He attempted to do a hockey radio show for Central Michigan's radio station — 101.1 The Beat.
His application was denied, due to not fitting the station's format at the time. Bednard finally found success when he applied to become the Division III team's public address announcer.
He earned the job, but was craving more.
Bednard met Marcotte, a former hockey player from Northville. Marcotte played hockey at a young age and continued through high school.
With dreams of being a broadcaster, he started as a hockey reporter for Sports Central, a programming opportunity from Moore Hall Television that offers students a chance to cover CMU sports as a reporter, anchor or cameraman. During his sophomore year, however, he wanted to broadcast the games himself.
Bednard and Marcotte worked with the athletic department before going for hockey. After the two met and started talking, the idea suddenly came to them.
"I knew Tyler wanted to do video and I was looking for anyway to start broadcasting hockey games," Bednard said. "So I thought, 'why don't we do something more.'"
After starting out with only video highlights, the duo added audio and slowly produced a full-functioning network.
Building a Brand
Chippewa Hockey Network started as a two-man show in 2015. It has grown every season since.
The network now has 14 crew members, who each work around class and work to chip in.
"After us, it quickly changed from 'do we have a hockey team' to 'when does the hockey team play," Bednard said. "The moment I realized how big we were was the season opener against Hope College last season. The stands were packed and people were around the glass watching."
After the season opener, Bednard looked back in awe of the growth that has happened in just a few years.
"After the game I realized this is what all the hard work and sleepless nights are about," he said. "That's when I realized we were helping promote Central Michigan hockey. We got the word out of this brand of hockey."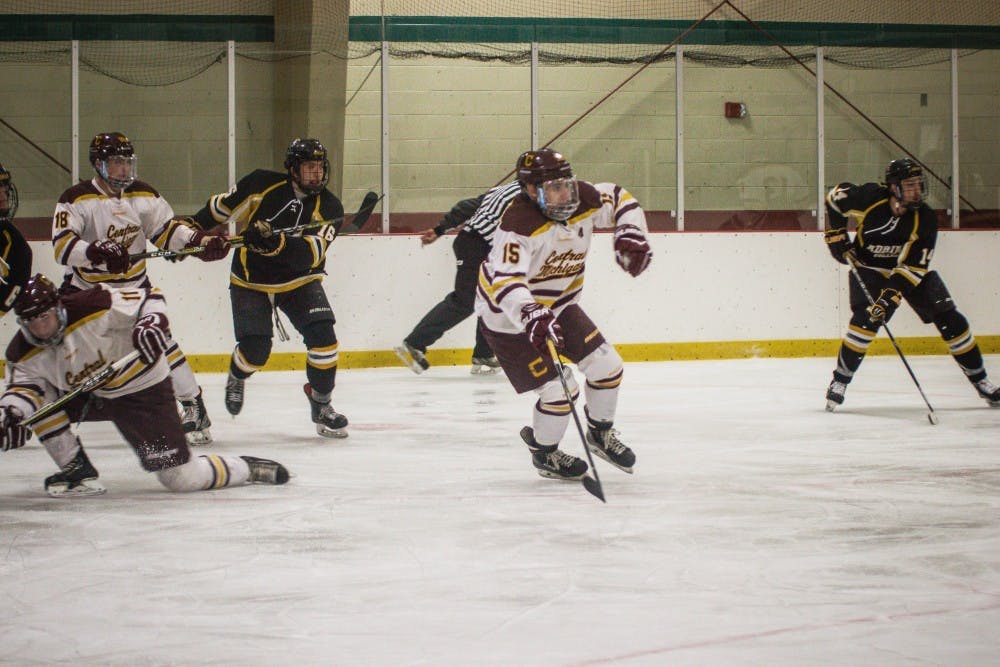 For Marcotte, he felt the change during his sophomore year. It had nothing to do with what happened on the ice or popularity, but making a difference.
The network held a fundraiser for a player in the league. The player "shattered mutiple vertebras" in his back after an accident on the ice in Flint. The neworked raised $1,500 for his recovery.
"It was really cool seeing the impact we were able to make," Marcotte said.
All three hockey programs have benefited from Chippewa Hockey Network's creation two years ago, said former Division III coach Tyler Cataline, who expressed his gratitude to the Chippewa Hockey Network.
"More people started to realize who we were as a program because of them," he said.
Bednard and Marcotte both dream of longevity for the network. The two graduate in May and will hand over their network to the next pair of students.
Senior Jake Piper and junior Nick Dallesandro will take over the network next fall. Piper has been the assistant director of video since Chippewa Hockey Network started. Dallesandro has worked as the assistant director of media content.
Both have a goal of working in professional hockey later in life — Bednard as a broadcaster and Marcotte behind the scenes.
"We do not call this a club sport," Bednard said. "We treat this like our jobs."
Share:
---