"Caffeinate with Care" raises money for hurricane relief
---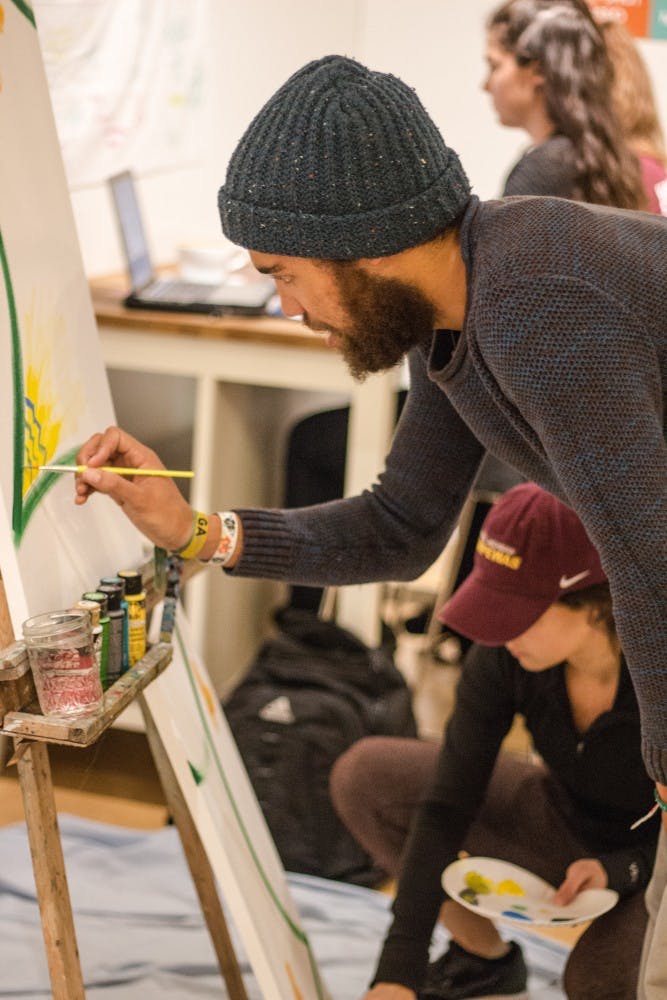 A half-hour into the Student Government Association's "Caffeinate with Care" event, the entire audience consisted of two students. By the end of the open mic, attendees were crowded onto the floor due to full capacity.
The Dreamer Coffee Shop hosted the "Caffeinate with Care" event on Nov. 15, organized by SGA to benefit communities affected by hurricanes in Houston and Puerto Rico. A portion of every beverage sold will be donated to relief efforts and the event also provided canvases and paint for attendees to create art for the same purpose.
SGA Vice President Derek Sturvist told the audience creativity and caring are synonymous, noting many times after tragedies, communities will come together, create art and discuss how the tragedies affect people.
"It's important for us to recognize how important these things are," Sturvist said. "It's easy for us to get caught up in, you know, college and day-to-day life and sometimes it's easy to forget you have to (make an effort to care) about things."
Vassar senior Maxime Groen who attended the event, said she recognizes her own privilege and prioritizes service because of her privileged identity.
"I'm at this event because I've always believed helping the underserved, underprivileged or those affected by natural disasters are one of the most important things you can do," she said.
Students presented original poetry during the open mic. Topics addressed sex, anxiety, relationships and daily tasks. Between performances, audience members socialized, greeting people as they walked in and painting on the canvases.
Pineapple Psychology, a local alternative band, closed out the night, playing an hour-long set of covers and original songs.
Onondega senior Ty Bugbee attended the event because he enjoys open mic nights and their ability to let the community acknowledge local musicians and poets.
"It's really cool, you know, raising money for hurricane relief. The areas that were devastated need all the help they can get."
The Dreamer donated 15 percent, ultimately $18, of proceeds to hurricane relief efforts.
Share:
---