Discussion of police brutality, Hijab Week and the first amendment during "Courageous Conversations"
---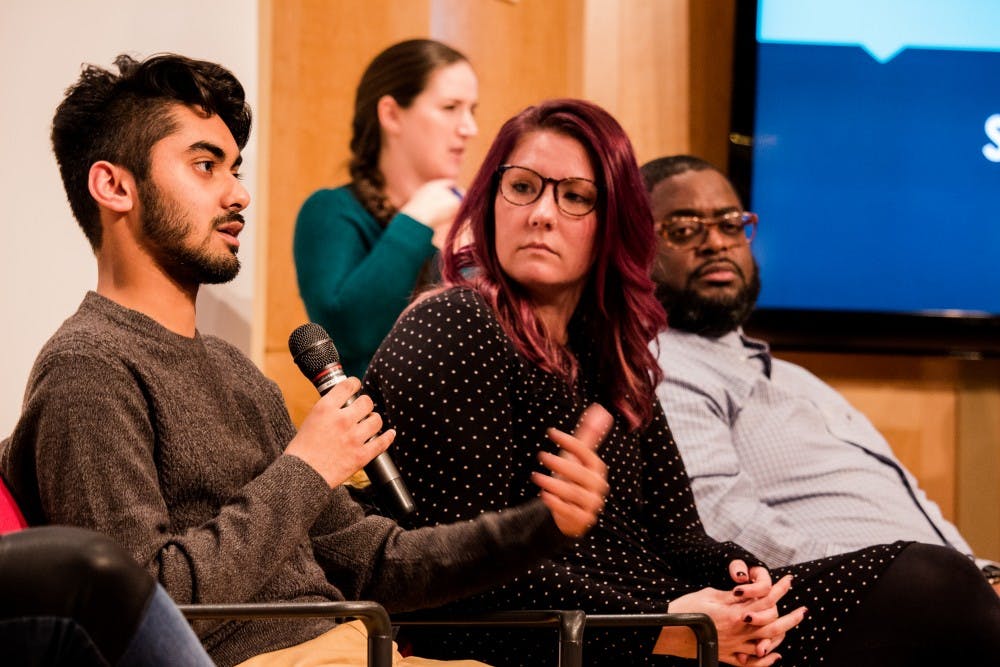 The Central Michigan University Student Government Association's Diversity Committee embraced controversy during its Diversity Week event, "Courageous Conversations" in the Charles V. Park Library Auditorium Nov. 8.
From 7-9 p.m., a student-and-faculty led panel discussed disputable topics with the audience.
About 20 people attended the event, moderated by senior Brianna McCrary, chair of the Diversity Committee.
Panelists included:
Jabriel Johnson, president of CMU's NAACP chapter
Mateo Savedra, co-founder of the registered student organization A Mile in Our Shoes
Muniz Hakin, Muslim Student Association SGA representative
Mariah Ashley, Diversity Committee vice chair
Shannon Jolliff Office of LGBTQ Services director
James Span Jr., academic advisor
Grand Rapids junior Sienna Higgins voiced her concern over the event's conflict with the CMU vs. Eastern Michigan University football game. However,
"The smaller size made it so we were able to have discussions that were more candid, and where more people felt they were able to participate," Higgins said.
Mention of former San Francisco 49ers quarterback Colin Kaepernick's controversial protest of kneeling during the National Anthem before football games elicited comments on patriotism, silencing tactics and the law.
"Patriotism is not just having love for your country," Muniz said. "It's also a willingness to make your country adapt and be even better than it was before."
Audience members addressed the way the political administration has framed the issue.
"When you accuse someone of disrespecting something we hold in high esteem, it covers up the main point," Higgins added. "It's not about the flag. It's about police brutality."
Johnson elaborated on this sentiment, citing the U.S. code regarding respect for the flag.
"Wearing the flag as, like, a swimsuit, is disrespectful," Johnson said. "But you don't hear anyone talking about that."
Lebanon graduate student Mariam Saad spoke out during the panel's discussion on the honor program's "Hijab Week" that occurs annually.
"The program is not perfect, but we have to start somewhere," Saad said. "(The program) hosts Muslim girls who wear the hijab to talk about what it means, what it represents, how to wear it properly (and) what are the manners that accompany hijab."
Johnson who brought up the topic of Hijab Week, responded by mentioning a disconnect between students and a willingness to ask questions. She said students are pushing away the ability to connect by being quick to call it "cultural appropriation."
The panel also discussed first amendment rights following moderator McCrary's prompt regarding the "Unite the Right" rally that occurred in Charlottesville, VA. The rally protested the removal of Confederate soldier Robert E. Lee's statue from Emancipation Park.
Big Rapids junior Timothy Vanhala, responded to President Donald Trump's statement considering "fine people on both sides," similar to saying "the chemotherapy is fine, but so is the cancer."
SGA's Diversity Committee is considering the continuation of similar events once a month, exchanging themes of race, gender, sexuality, and intersectionality.
Share:
---