Cross country finishes season at Great Lakes Regional
---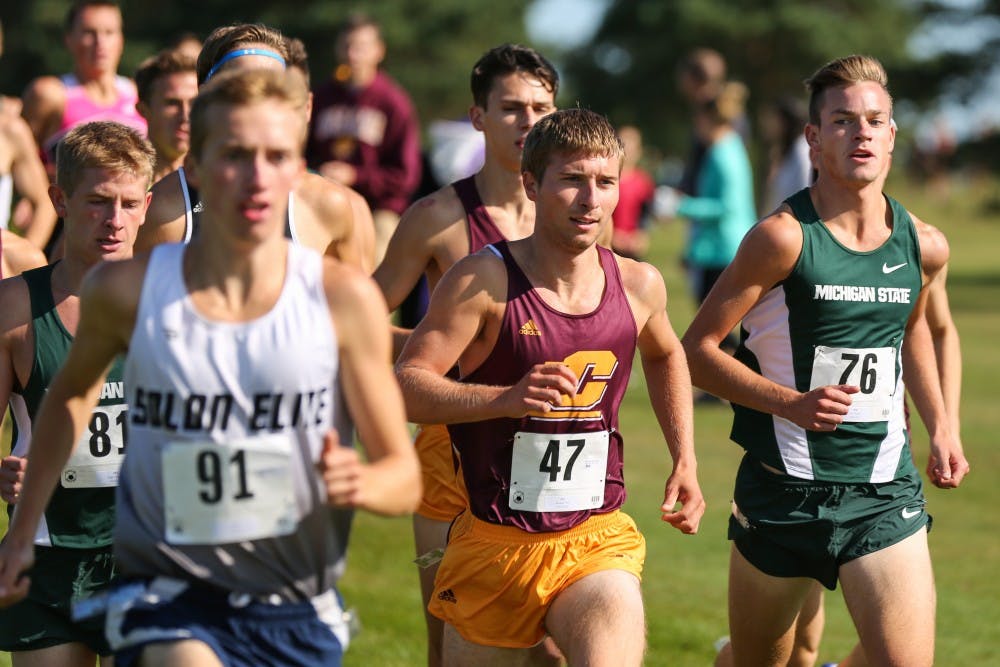 The Central Michigan cross country team failed to earn an automatic bid to the NCAA Championships in two weeks at the Great Lakes Regional in Terre Haute, Indiana.
The women finished 18th of 31 teams, while the men took 16th of 26. To automatically qualify, CMU had to record a top-two finish.
Though the team wasn't able to secure a bid to Nationals, head coaches Matt Kaczor and Jenny Sweiton have been stressing the importance of season-to-season improvement to their young teams.
After coming back from back spasms at the Mid-American Conference Championship, Logan Kleam failed to bring back the magic he'd been showing all year. He failed to lead the Chippewa runners for the second straight meet after doing so the rest of the season.
Kleam (32:47.1) said he has never run a 10K in grass before the meet, which may have put him at a disadvantage. He still managed to finish 82nd of 187 runners. He led CMU through the first 5K.
Women's results
All-Conference junior Megan O'Neil (21:31.3) led the Chippewas, taking 48th of 223.
Senior Taylor Aguillon (21:58.7) wasn't too far behind, finishing 70th. This was her slowest 6K finish of the season.
Aguillon's times have been steadily dipping since the beginning of the season, a fact that head coach Jenny Sweiton attributes to the cold weather.
Fellow senior Hannah Davis (22:20.6) rounded out what has been their typical top three, taking 93rd place.
Freshman Alexis Grandys, who surprised with a career-best 22:02.9 at the MAC Championships two weeks ago, regressed by over a minute (23:08.2) for 142nd.
Sophomore Natalie Beaulieu and juniors Samantha Allmacher and Erin Zdrosewski fell within fifteen seconds of each other.
Allmacher (23:33.9) finished 163rd, Zdroweski (23:44.4) was 170th, and Beaulieu (23:47.8) was 173rd.
Beaulieu's time was a career-best by almost half a minute, while Zdroweski's time was only 24 seconds off a career-best set at the MAC Championships.
Men's results
All-Conference sophomore Luke Anderson (32:16.6) led the Chippewas, finishing 60th.
Sophomore Mark Beckmann (32:29.6) took 70th place. Freshman Conor Naughton (33:05.8) narrowly edged sophomore Bransen Stimpfel (33:09.3), with a mile split of only half a second apart.
Senior Alec Omell (33:20.4), whom head coach Matt Kaczor said has been having his best season since his freshman year, took 109.
Rounding out the Chippewa runners was freshman Kenny Goolsby (35:00.2) at 161st.
Share:
---