Paws in the Park brings dog lovers together for charitable cause
---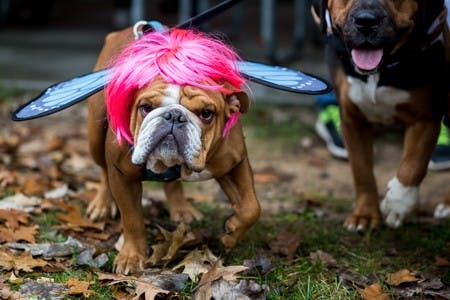 Dogs in creative costumes played with each other and searched for treats Sunday, Nov. 5 at Chipp-A-Waters Park as part of the event to raise money for the Mount Pleasant Humane Animal Treatment Society (HATS.)
The event, Paws in the Park, was hosted by a group of Central Michigan University students in the Recreation, Parks and Leisure Service Administration class (RPL 430). In the class students plan an event to benefit a local charity.
One of the group members, Croswell junior Rachel Schadd said they decided to create the event based on the group's mutual love for dogs.
The two hour event featured several games and activities for dogs and their owners. Local businesses donated items for a silent auction, dogs participated in a best-dressed dog contest and members of the group provided ladder golf, tic-tac-toe, and cornhole for guests to play.
There was also a photo station with hay bales and a backdrop with that read "Paws in the Park."
Papa's Pumpkin Patch and Robaire Bakery & Doughnut Shop donated apple cider and donuts for humans and dog-friendly "Pupcakes."
Battle Creek sophomore Olivia Franklin who is in the RPL 430 class, said the turnout was much better than expected. She said about 20 people were there with their dogs a half-hour before the event started.
"A lot of community members thanked me and said they were glad we put on the event," Franklin said. "There aren't many events for them to take their dogs to in Mount Pleasant."
A total of 81 people and 45 dogs attended.
Gina Gepford and her 10-year-old daughter Elizabeth of Mount Pleasant brought their cocker spaniels, Lily and Shiloh to play with other dogs and support HATS. Lily participated in the costume contest strutting a purple plaid dress while Shiloh took advantage of the free dog treats.
Gepford bid on and won one of the silent auction items, a one-year membership to Hannah's Bark Park, a 3.6 acre fenced park for dogs and humans to run off leash.
"It's nice to give them a place to run and play with other dogs," Gepford said. "Plus, it's for a good cause."
All the money from the silent auction was donated to HATS.
Some other silent auction items included massage certificates for two spas in Mount Pleasant, dog treats and toys from local pet stores, a $25 Meijer gift card, a gift certificate to Bed & Biscuit Pet Resort and assorted items from the CMU bookstore. All items were donated by local businesses.
Canton junior Kate Valchine, another RPL 430 group member, said almost everything was donated by local businesses. The group spent less than $50 out-of-pocket.
The group charged an admission fee of $2 per person. With admission fees and the silent auction, they raised a total of $400 which was donated directly to HATS.
HATS had a table set up at the park to educate visitors about what they do. There was a bin for visitors to donate items on the Humane Animal Treament Society wish list, as well as a bucket for cash donations.
According to Valchine, Bed & Biscuit Pet Resort donated $50 to have a table set up at the event to reach out to dog owners to get more clients in the future.
The event was sponsored by Animal Health Associates, Bed & Biscuit Pet Resort, CMU Bookstore, Massage Central, Meijer, Mt. Pleasant Parks and Recreation, Papa's Pumpkin Patch, Pure Vitality, Redbird Pet Emporium, Ric's Food Center, Robaire Bakery & Doughnut Shop, Soldan's Pet Supplies and Starbucks in Mount Pleasant.
"I just hope everyone got to have a ton of fun with their dogs," Valchine said.
Share:
---