Inclusive speech presentation, upcoming events discussed at Student Government Association meeting
---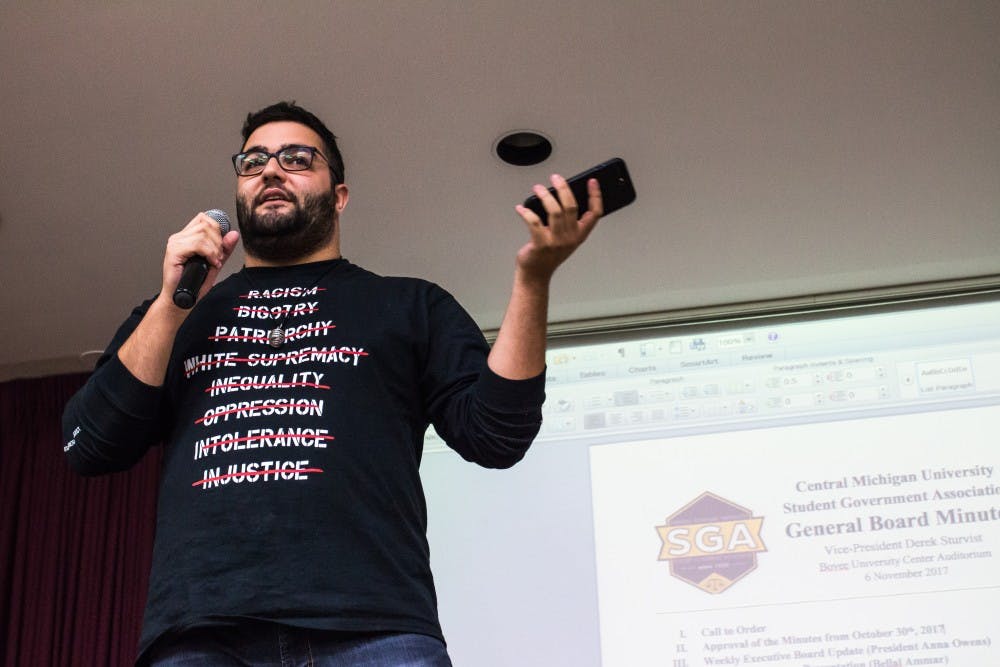 The Student Government Association addressed inclusive language Nov. 6 in the Bovee University Center Auditorium.
The Office of LGBTQ Services intern Bellal Ammar was invited by SGA's executive board to present information on inclusive language that can be used in registered student organizations.
Ammar, a Livonia senior, outlined four steps RSO's can take to make the most amount of people possible feel included in their organizations: understand that people are still learning to be inclusive, examine group policies and consider changes, apply a critical lens to your perspective, and challenge yourself to grow by seeking support.
Drake Smarch, SGA house leader, asked how to address a group of people, seeking alternative options to "Hey, guys."
"Hey, y'all. Hi friends. Hi folks," Ammar responded.
If an individual makes a mistake they didn't intend, Ammar provided insight.
"We all make mistakes," Ammar said. "Own it. Don't get defensive; we're all human. We make mistakes."
In the weekly executive board update, SGA President Anna Owens discussed Diversity Week, organized by the Diversity Committee. The week's upcoming events include "Courageous Conversations," a panel for the discussion of issues on campus, to be held from 7-9 p.m. Nov. 8 in the Charles V. Park Auditorium, and "Speak Your Peace," an open mic event in the UC Rotunda from 7-9 p.m. Nov. 9.
Owens also addressed Native American History Month, and explained that the executive board and cabinet would bring up past legislation to the Academic Senate regarding Indigenous Peoples' Day with the hope changes can be made to CMU's recognition of Columbus Day.
Owens gave credit to Senate Leader Caroline Murray and Senate Pro Tempore Jake Hendricks for organizing the upcoming Student Body Town Hall on Nov. 29.
"It's a place where the student body can voice their opinions," Owens said.
Owens, Vice President Derek Sturvist, Treasurer Mike DeGregory and Press Secretary Joshua Geary will be present at the town hall to answer questions.
Sturvist added there will be a charity event involving letter writing and painting at The Dreamer Coffee Shop Nov. 15.
"Half the funds will go to hurricane relief in Houston and half will go to hurricane relief in Puerto Rico," Sturvist said.
All senate projects have been proposed, with propositions to revise the Student Opinion Survey forms, provide better transportation for students living off campus, consider revisions to CMU's bereavement amnesty policy and work to make menstrual hygiene products free on campus.
Senate also unanimously approved the position of senior Jackie Smith as elections director.
The elections director position provides SGA with an individual responsibility for any election events happening within the organization. Presidential elections, senate elections and emergency elections all are overseen by the elections director.
House Leader Drake Smarch spoke about the Academic Organizational Review Open Forum that will take place in the Park Library Auditorium from 1-2:30 p.m. Nov. 9.
Smarch said there will be representatives from all three academic organizational review committees--focusing on academic structure, support and budget models. The forum will be an opportunity for students and faculty to actively address issues they may have with the university.
"Spirit Week", planned by the Spirits and Traditions committee will begin Nov. 13.
Committee chair Amani Johnson explained the theme for each day includes:
Monday: Pajama Day.
Tuesday: "Travel Tuesday," for students to wear items from places they've traveled.
Wednesday:"Hats off to higher education" day.
Thursday: Throwback Thursday.
Friday: Fire Up! Friday.
Share:
---