Men's basketball starts two-game road stretch against Southern Utah
---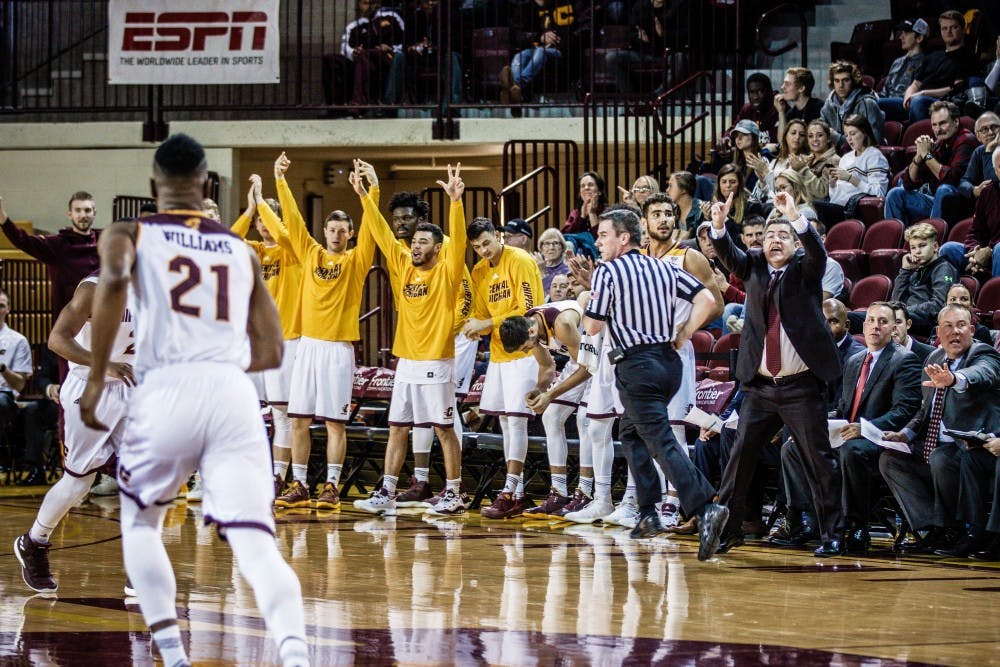 It's an 1,822-mile trek to Cedar City, but a trip the Central Michigan men's basketball team will take in order to face off against Southern Utah.
The Chippewas (8-1) and Thunderbirds (5-4) start at 2:30 p.m. on Dec. 16 at Centrum Arena.
"I would take 8-1 (to start) every year," CMU head coach Keno Davis said. "Games come down to the end and you need some luck."
Southern Utah's most recent game was on Dec. 9 against Michigan State University. The Thunderbirds held with the Spartans, cutting the deficit to five points with 12:21 remaining in the game.
In the end, Michigan State prevailed at the Breslin Center, 88-63.
As a member of the Big Sky Conference, Southern Utah's four losses this season have come at the hands of Oregon State, Boise State, UNLV and Michigan State. The Thunderbirds start conference action on Dec. 28 following games against CMU and Iowa.
Southern Utah is led by junior guard Jadon Choee, who has managed to average 17.3 points, 2.8 rebounds and 4.0 assists per game this season. The 6-foot-4, 200-pound upperclassman led the way for Southern Utah in its loss to MSU, posting 12 points, four rebounds and five assists.
The next two leading scores for the Thunderbirds, junior guard Brandon Better (13.4) and senior forward Jamal Aytes (13.1), have both played in all nine games, but have started a combined three games for the team.
As for CMU, the team is coming off a three-game home stand, which it took down Jackson State, Montana State and Tennessee Tech. The Chippewas are on a seven-game winning streak, avoiding a loss since falling to the University of Michigan on Nov. 13.
"You get injuries and bad breaks when other teams make shots," Davis said. "When those things have happened throughout the course of a game, our guys haven't panicked. I worried about that coming in because so many of these guys are doing this for the first time. Sometimes you have to go through that learning process, but our guys have been able to find ways to win."
Junior guard Shawn Roundtree has been red hot for CMU since leading his group to victory in the Great Alaska Shootout and earning tournament Most Valuable Player. He is averaging 14.7 points, 2.8 rebounds and 4.2 assists per game this season.
After bouncing back from injury to help the Chippewas top Tennessee Tech on Dec. 9, senior forward Cecil Williams will be back in action for CMU. The 6-foot-6, 250-pound athlete is a stat sheet stuffer, averaging 13.1 points, 6.2 rebounds, 3.2 assists, 1.0 steal and 1.1 blocks per game.
"It says a lot about Cecil," Davis said. "I've seen guys take a hit and then shut down, but (Cecil) was doing everything he could to get back on the court. We needed him out there for not only the numbers, but the leadership."
Williams, like sophomore forward David DiLeo, has earned near a double-double almost every game. DiLeo averages 12.8 points and 7.1 rebounds in a team-high 32.6 minutes per game. He also shoots at a 35.2 percent rate from 3-point range, which has helped pace the Chippewas to an 8-1 start to the season.
"Going up all my life, my 3-point shot has been my main skill," DiLeo said. "With new players coming in or players that didn't play as much last year, there was a big question mark. To start the season, we didn't know what to expect."
Following the game against Southern Utah, the Chippewas will play UMKC on Dec. 19 before returning to McGuirk Arena on Dec. 22 and Dec. 29 for their final two non-conference games of the season against SIU-Edwardsville and Lawrence Tech.
Share:
---