JoyRun food running app thrives in Mount Pleasant
---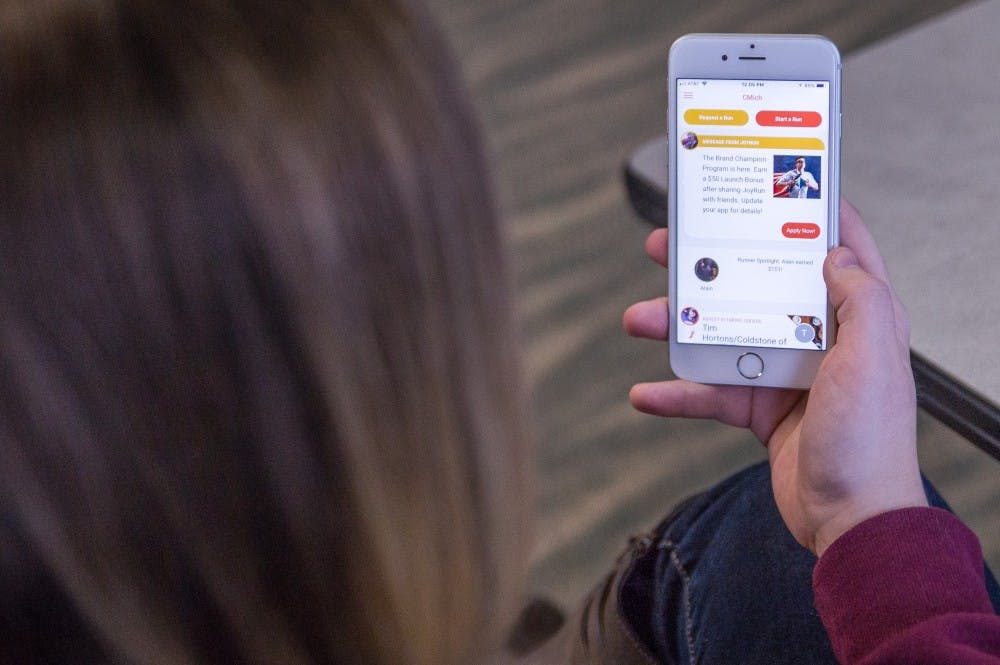 JoyRun, a food-running app based in Santa Clara, California, popped up at Central Michigan University last spring, providing a marketing and business opportunity for students and a simple way to earn money quickly.
CMU now ranks fourth out of about 60 other campuses in the country for its overall effectiveness with the app, said JoyRun campus growth lead Ben Walther, who is currently working with four other campuses across the country.
How it Works
JoyRun is a food-running service in the form of a free app for smartphones. Users can have a "runner" deliver their food from anywhere, at any time.
JoyRun also offers a loophole into ordering food and having it delivered from restaurants that don't have delivery services.
Anyone can sign on and request food, and anyone can do a run. This means if someone needs extra money and fast they can download the app, sign up as a runner and do a run all in the same day.
The user pays for their food through the app, the runner uses their own money to buy the food and JoyRun reimburses the runner the next day.
The runner earns money by setting a delivery fee up to $5 per order and can recieve tips, points and badges that amount to bonuses.
Grand Haven senior Grace Bolthouse has been working with JoyRun since it launched at CMU. Bolthouse has completed 232 runs and said the app is helping build her resume.
"It's been really cool getting to start with the company and getting to plan and be innovative in the sense of how are we going to get people to know about JoyRun," Bolthouse said.
Some of the perks for Bolthouse include the opportunity to build her credit every time she runs, meeting new people and establishing "regulars." She said it also boosts her confidence.
"I think you have to be confident in order to go up to people's doors and be like 'Hey, I'm Grace. Here's your food — enjoy,'" Bolthouse said.
Orders are not always guaranteed to be "picked up." However, as JoyRun gains popularity and users on campus, the more reliable it becomes.
JoyRun works similarly to the Uber app, in that it works best when more people are using it. One of the downfalls with a user generated app like JoyRun is the demand for runs and orders can become unbalanced — leaving some people without a way to get food or others failing to make money doing runs, said JoyRun market lead and Battle Creek junior PJ Brady.
"Essentially, the more people that have the app, the better it's going to work," Brady said. "Because there's going to be that much more traffic — ordering and running. It's all about the balance."
JoyRun at CMU
Brady attributes JoyRun's effectiveness at CMU in part to the layout of Mount Pleasant.
"It works really well in Mount Pleasant because all the restaurants are on one road," Brady said. "You don't have to get on a highway or do anything crazy. You just drive through town."
At CMU, JoyRun has a staff of about 15 people who work as marketers and campus leads to spread the word on campus and manage the app in the area. Brady and his teammates focus on building relationships with local businesses, such as The Cabin and O' Kelly's Sports Bar & Grill to bring discounts to JoyRun users.
As a marketing major, Brady loves the opportunity to be creative with spreading the word about JoyRun on campus. He recalls setting JoyRun pens on every desk before a class or slipping referral code cards under car windshields in parking lots.
"The more times that people see the brand, people see the logo, the more familiar they get with it, the more open they are to try the app," Brady said.
Cheboygan senior Ashley Nola discovered JoyRun last semester and has since been making money on a weekly basis with the app. She has completed 579 runs and has recently joined the CMU marketing team for a $10 hourly wage.
For January, Nola ranked fourth in the nation as an individual runner based on the points she has received. These points are awarded based on her "badges" that are given as customer ratings.
"I found (JoyRun) at a time when I had a terrible job and wanted to get out of it," Nola said. "I was looking for a second (job) and this became my full-blown job."
Share:
---