Baseball splits Opening Day games, starts season 1-1
---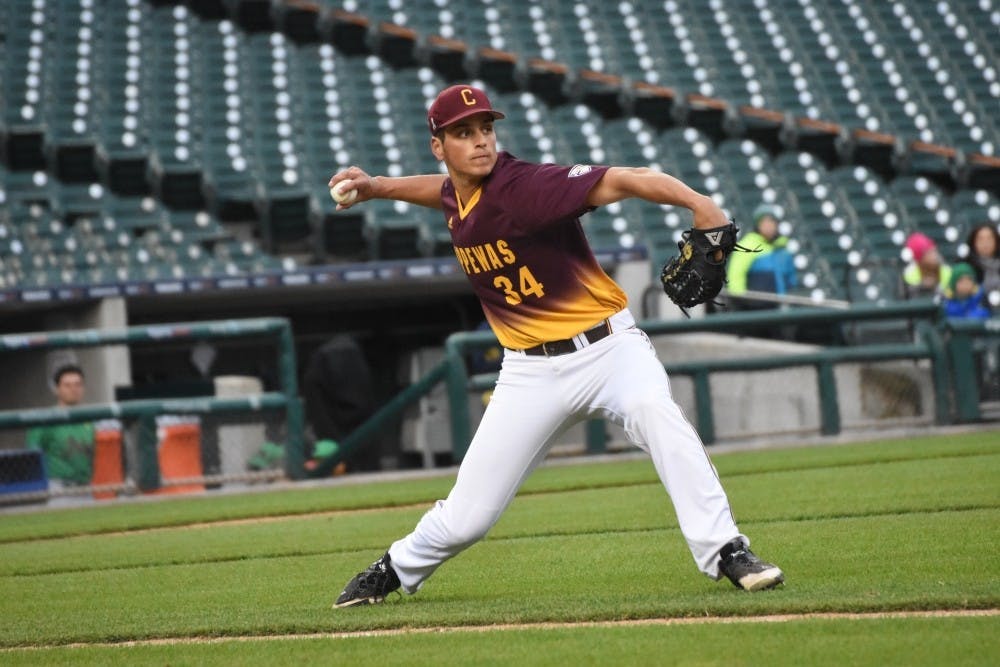 On Opening Day, the Central Michigan baseball team split against Stephen F. Austin and Texas-Rio Grande Valley on Feb. 16 in the Al Ogletree Classic.
The Chippewas (1-1) defeated Stephen F. Austin, 5-3, in the opener, but lost to UTRGV, 7-6, in extra innings. The games were played at Edinburg Stadium, which is on the campus of UTRGV.
Game 1: CMU 5, SFA 3
In Game 1 of the Friday doubleheader, CMU junior right-handed pitcher Michael Brettell pitched a career-high 10 strikeouts in seven innings of one-run, six-hit baseball.
Redshirt freshman catcher Griffin Lockwood-Powell delivered three hits in the first game of his college career. Sophomore outfielder Zach Gilles registered a single and a double.
The Chippewas found the scoreboard on free passes to first base. CMU sophomore infielder Zach Heeke was hit-by-pitch four times, which forced two total runs in. The Lumberjacks hit seven batters and walked nine in the two-run loss to CMU.
Following a clean eighth inning from sophomore left-hander Jake Raether, senior righty closer Colton Bradley came in for the ninth inning, but made things interesting first. He allowed a two-run double to SFA's Nick Daley, but with runners on the corners, Bradley got a strikeout to end the game.
Game 2: UTRGV 7, CMU 6
In Game 2 of the Friday doubleheader, CMU junior right-handed pitcher Dazon Cole was called upon in the ninth inning and took the loss in extra innings at Edinburg Stadium.
Cole allowed a two-out single to UTRGV sophomore outfielder Elijah Alexander, which scored senior infielder Austin Siener in the bottom of the 10th inning for a walk-off win.
The Chippewas took the game to extra innings in the top of the ninth on a two-out, two-run single off the bat of Lockwood-Powell, who tore it up for CMU on Opening Day.
Despite Lockwood-Powell's heroics, CMU's play of the game was made by Gilles. He finished with a single, double and home run in the fifth inning to tie the game, 3-3.
Sophomore left-handed pitcher Tyler Hankins earned the start for CMU and took the Chippewas five innings. Hankins gave up five runs (three earned) on eight hits, while striking out eight batters.
Next Game
Central Michigan turns to junior right-handed pitcher Pat Leatherman for the start at 4 p.m. on Feb. 17 against UTRGV at Edinburg Stadium. Last season, Leatherman went 7-4 with a 3.68 earned run average.
Share:
---