Make Waves for Flint showcases local artists, raises money for Flint
---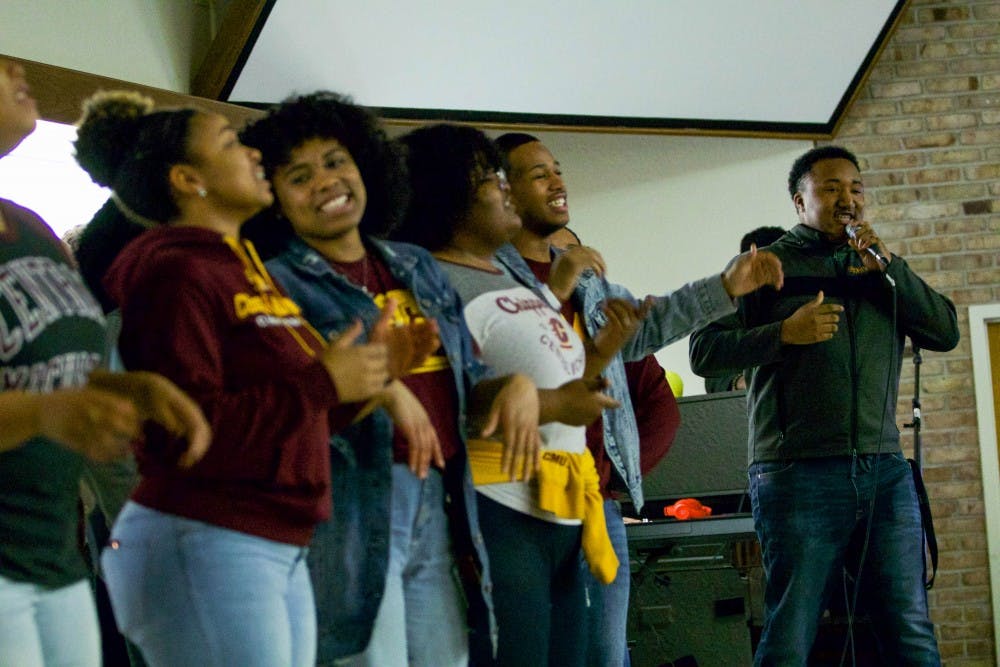 Make Waves for Flint featured poets, performers and dance to raise over $150 for Flint-area high schools on Feb. 23.
The event was put on by Justus League, a Registered Student Organization that promotes hip-hop education and puts on events to showcase local artists.
Detroit senior Ahsha Davis, president of Justus League, said she was happy with the turnout of around 60 people.
"This is not supposed to be a huge event at all," Davis said. "This is just people gathering together, ballroom hustling, having a good time, listening to some good music, good poetry, and having a good time together."
Justus League partnered with Pathways to Academic Student Success, an on-campus department that provides aid to first-generation students and Pell-Grant recipients, to get the donations to Flint-area high schools.
Flint junior Danielle Horton performed two poems onstage and was glad to see the event draw a crowd.
"I am from Flint, and honestly I support anything that is about Flint," Horton said. "I appreciate people from Flint coordinating something that's donating towards a good cause."
Halfway through the event, a brief intermission was held during which "Green Light" by John Legend was played and the audience was invited to dance onstage.
Detroit junior Kendall Holloway performed onstage as a keyboardist for Christ Central Choir, or C3. Holloway was glad to come to the event to show his support for Flint.
"C3 basically just came out and represented to show that we support all the Flint citizens who are trying to make it through the Flint Water Crisis," Holloway said. "We know they are struggling, and they have our full support."
This is the third year Justus League has put on the event and it's the biggest its ever been, Davis said.
"It definitely has grown a lot," she said. "This year it has definitely turned into something brand new."
Davis said she was glad Justus League was able to put on the event, and thinks putting it on will definitely have an impact on the Flint community.
"It was a blast today. It's just a great way to relieve stress and I feel like we accomplished so much," she said. "I definitely think the people who live in Flint and are a part of the community are grateful that we do this event."
Share:
---