Men's basketball seniors exit on high note in unique senior night
---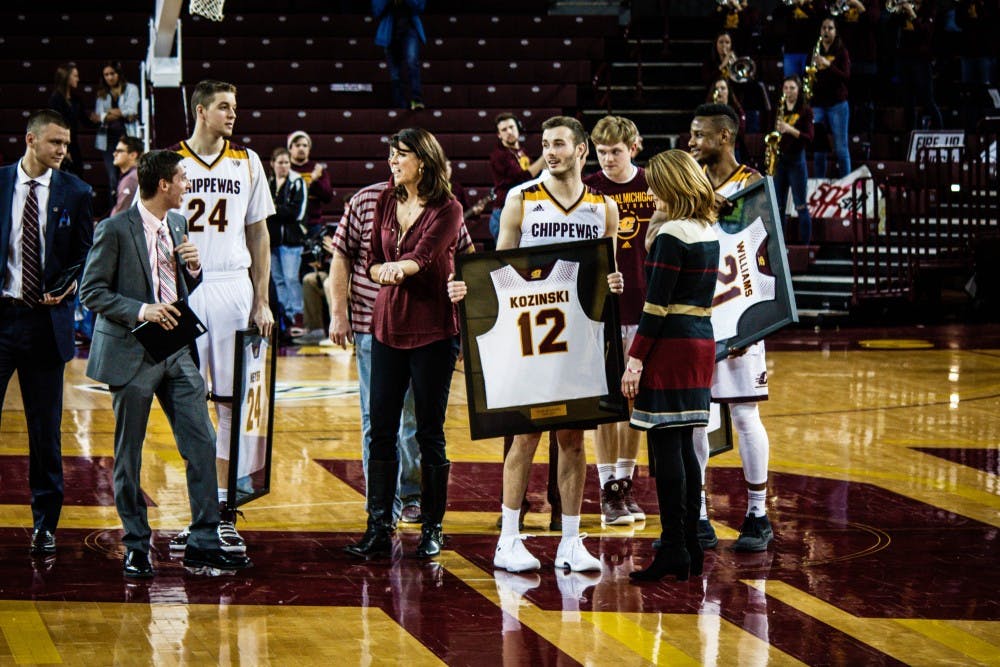 After nearly losing its senior night after a shooting on campus, the Central Michigan men's basketball 2017-18 class went out in different way.
While the normal senior night traditions involve being honored before the final home game of the regular season, CMU had to wait until after the game on March 6 due to it being a part of the Mid-American Conference Tournament.
The Chippewas (19-13, 8-11 MAC) defeated Bowling Green 81-77 in overtime and went out as the first senior class ever to host a MAC Tournament game at McGuirk Arena.
The senior class consisted of Luke Meyer, Cecil Williams, John McCarty and Josh Kozinski.
Meyer said knowing they had to earn this final home game put a chip on their shoulder when they beat Western Michigan on March 3 at Riepma Arena.
"Coming here and being able to say goodbye to these fans as we should was a really good feeling," Meyer said. "Going out with a win that advanced us in the tournament means even more."
Kozinski, who is the program's all-time 3-pointers-made record holder, said to play for CMU has been a blessing.
"It's been basketball 24/7 for the past five years," Kozinski said. "Luckily we've had great teammates and coaches over this stretch of years I've spent here. Basketball has meant everything to me and playing it (at CMU) was special."
Head coach Keno Davis said this senior class had as much good character and talent as any other one he has coached.
"It's been impressive how they have conducted themselves when we won championships and when we had tough times, it didn't matter they still represented CMU's community in the highest fashion," Davis said. "I'm always going to think of this group as champions as a whole."
Davis said each one of the seniors has their own unique roles that helped the program grow over the years.
"With Cecil's couple years, he gave a great effort to do everything right and with John McCarty's four years he was the unsung guy who grinds everyday at practice," Davis said. With Luke Meyer and Josh Kozinski, some of the things they did may have went unnoticed, but we don't win those championships without them."
Meyer said they may be done playing in Mount Pleasant, but there is still work to do.
"It's been a heck of a ride and without the fans and great people involved here it would be nothing, but we have more basketball to play," Meyer said. "We owe (Buffalo) one, and I think we are going to come out with that underdog attitude and surprise some people."
The Chippewas will travel to Cleveland, Ohio where the top-seeded Bulls await them for a noon tip on March 8 at Quicken Loans Arena.
Share:
---