Men's basketball earns first postseason victory since 2003
---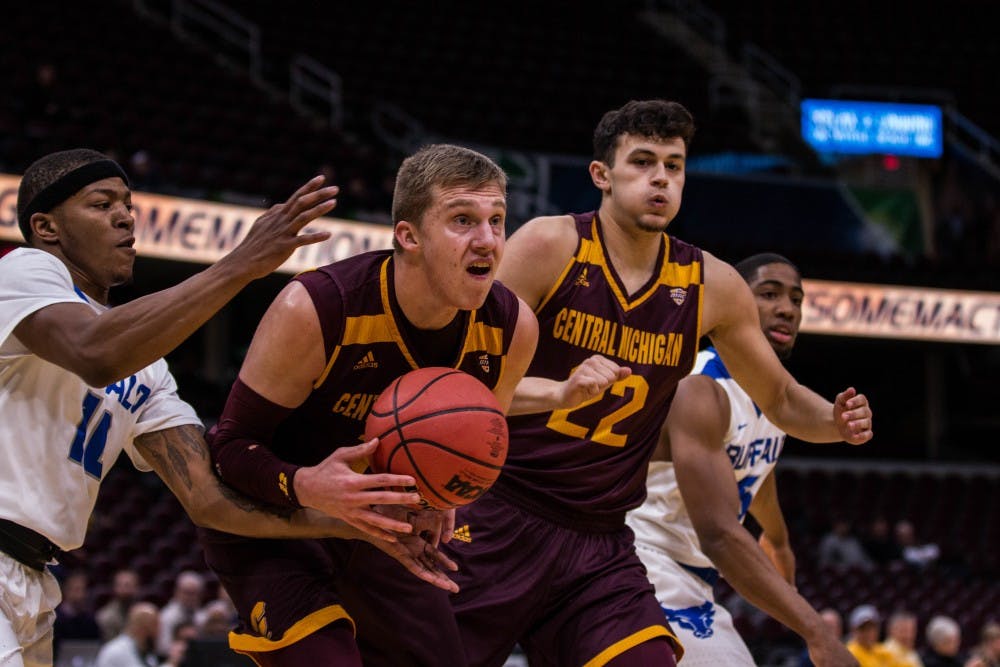 Luke Meyer hit a game-winning 3-pointer with just over a minute left against Fort Wayne to keep the men's basketball team's season alive in the College Insider Tournament.
The shot gave CMU a one-point lead and 94-89 win over Fort Wayne on March 12.
"I was focused on just taking a normal shot, I tried not to think so much," Meyer said. "It was a great pass from (Roundtree) to give me a good look and it felt good to silence the crowd when it went in."
It was the Chippewas' (20-14) first postseason win since 2003 against Creighton in the NCAA Tournament. It was Fort Wayne's first home loss since 2014.
The win earned CMU head coach Keno Davis a $5,000 bonus with the 20th win of the season. According to CMU athletics, he will donate it back to the university.
"I'm really excited about where the program is heading, with as much as we've won since I've been here I think our best basketball is still in front of us," Davis said. "I still want this season to continue as far as we can take it because this team deserves every opportunity."
After starting the game on back-to-back 3-pointers from Meyer and Roundtree, the Mastodons responded with a 10-2 run.
Redshirt freshman center Innocent Nwoko came in and hit a layup, followed by a sophomore forward David DiLeo 3-pointer. CMU regained the lead at 18-16 with 10:46 to play in the half.
The Chippewas extended the lead after Meyer and redshirt sophomore Corey Redman hit two more 3-pointers. It was 30-20 CMU with seven minutes remaining in the opening half.
Sophomore guard Kevin McKay and transfer guard Gavin Peppers added two more 3-pointers in the second half. CMU boasted a 60-56 lead with 14:28 remaining.
Mastodon senior forward Bryson Scott, who had a game-high 28 points, added another layup to pull FW within a point, 76-75, with just over six minutes left in regulation.
After CMU got ahead by six points, the Mastodons put together a 8-0 run. FW led 83-81 with 3:36 to go.
With four seconds remaining, Scott drove down the lane and forced contact but a charge was called. Senior forward Cecil Williams got in position to earn the call and ice the game.
CMU went 17-of-39 (43.6 percent) from three-point range. DiLeo led the team with 22 points and five rebounds. McKay scored 20 and Meyer finished with 18.
"The way we were running our offense helped us find guys who were open (for 3-pointers)," DiLeo said. "I think we have the confidence that everyone on this team can hit shots and luckily they were able to fall today."
The Chippewas don't know the exact date of their next game in the CIT. The quarterfinal rounds are set for March 22-25.
"This isn't the tournament we had our goals set for to open the season, but we want to keep winning and playing with a great group of guys," DiLeo said. "We don't want our seniors careers to end yet."
Share:
---