President George Ross receives new 4-year contract, pay raise
---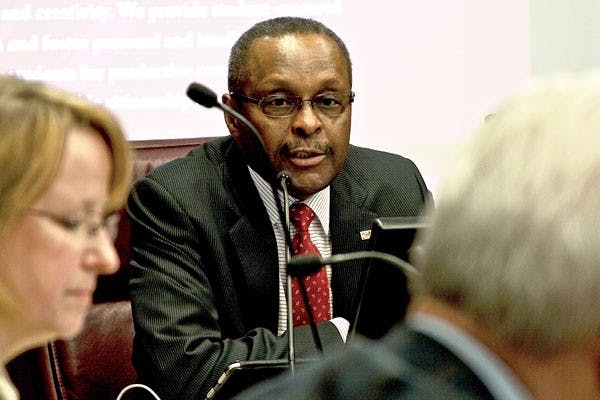 University President George Ross received a new four-year contract and a pay raise at Thursday's Board of Trustees meeting after three years of a presidency marked by a tumultuous relationship with faculty.
Ross' new contract, effective March 1, takes him through July 31, 2017, and gives him an annual salary of $364,000, up four percent from his current $350,000 salary.
Despite the pay raise, Ross is still the third-lowest paid university president in the Mid-American Conference, ahead of only Northern Illinois University President John Peters and Eastern Michigan University President Susan Martin.
Board of Trustees Chairman Brian Fannon said it is vital for Central Michigan University to have leadership continuity over the next several years as large projects such as the campus master plan and the proposed biosciences building come to fruition.
"All these major planning efforts are culminating, frankly, over the next couple years that will set the trajectory for CMU for the next five to 10 years," Fannon said. "... We need somebody to take that and keep everybody on task because; if you don't, it's just words."
Ross' new contract comes despite his rocky relationship with faculty. After spending much of the last academic year in a heated dispute with the Faculty Association over a new contract and battles over funding, he has yet to fully mend fences with faculty members.
A faculty survey obtained by Central Michigan Life in December found considerable dissatisfaction with Ross' tenure. Of the 245 faculty members who responded to the survey, 184 said they "disagreed" or "strongly disagreed" with Ross continuing as president.
Fannon said he likes what he sees out of Ross so far, especially when it comes to him overseeing long-term projects such as the College of Medicine and academic prioritization.
"On a personal note, I think what he's done over the last few years is admirable," Fannon said. "I personally have confidence in his ability to lead."
Trustee Sarah Opperman said the new contract is all about ensuring things get done in the near future.
"This contract, to me, represents the need to move forward and to move forward with the leadership that is put in place," she said.
Ross said progress on those projects would not be possible without the help of others.
"Nothing gets done at Central without the faculty, staff, students, alumni and this board," he said. "At the end of the day, it's a culmination of all their efforts."
The contract
The new contract was unanimously approved at the board meeting.
Most of the provisions in Ross' new contract are similar to the terms of his old contract, set to expire at the end of the month.
Ross' new salary is subject to review by the Board of Trustees but cannot be decreased. His pay will be reviewed annually by the board, and a formal review of Ross' performance will be performed every three years.
CMU will also continue to provide and maintain Ross' residence on Forest Lane in Mount Pleasant. He will be consulted about updating furniture in the "public areas" of his house and can spend up to $10,000 each year without approval from the board on furnishing those areas, which include the living room, kitchen, dining room, study and deck.
The university will provide Ross with a new automobile for both business and personal use. CMU will pay for auto insurance, fuel and repairs.
Travel and hotel expenses are also covered by CMU when Ross is on university business. The university pays for coach airfare, unless a flight exceeds seven hours, in which case Ross will be bumped up to business class.
Ross can resign from his position if he gives the Board of Trustees 120 days' written notice, except during the final six months of the contract, in which he cannot terminate it.
The Board of Trustees has the right to end Ross' contract for "good cause," including him not living up to his outlined duties as president, violating any portion of his contract, conducting a "serious crime" or being unwilling to perform his duties. The board can also end his contract if he is unable to perform due to health reasons.
He can also take "reasonable" time off for vacations and sickness when he sees fit after notifying the Board of Trustees.
New trustees unable to attend board meeting
Three trustees were not present at the meeting: Trustee Patricia Maryland, who had a scheduling conflict that the board has been aware of for six months, and the two newest trustees, Bill Weideman and Tricia Keith.
Weideman and Keith had to attend board meetings for Dow Chemical Co. and Blue Cross Blue Shield of Michigan, respectively. Both attended Wednesday's pre-meetings, and Fannon said they will be available for board meetings over the next two years.
Weideman and Keith were appointed by Gov. Rick Snyder earlier this year to replace former board chairman Sam Kottamasu and Trustee Marilyn French Hubbard, respectively.
Share:
---