Evangelical preacher shares story of conversion to atheism
---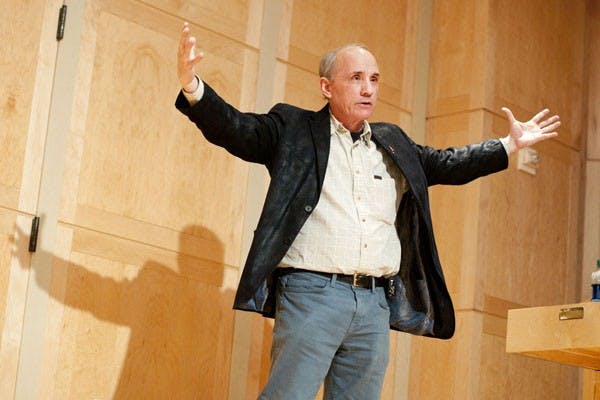 More than 25 students were in attendance to hear Dan Barker speak about his transition from evangelical preacher to atheist on Sunday night.
The speech and book signing, which took place in the auditorium of Charles V. Park Library, was put on by the Central Michigan University registered student organization Dogma-Free Society.
Barker is the co-president of the Freedom From Religion Foundation and the author of books on atheism like "Godless: How an Evangelical Preacher Became One of America's Leading Atheists" and "The Good Atheist: Living a Purpose-Filled Life Without God." One of the primary goals of his foundation is to support the separation of church and state in schools across the country.
"We're all free to believe what we like or not believe," Barker said. "But the government has to be neutral."
Barker was born into a fundamentalist Christian family. He started preaching at the age of 15 and later became a minister. He also composed Christian music, including several musicals.
Barker said his conversion to atheism took several years. After being exposed to more liberal views of religion and studying evolution, Barker realized that he no longer believed in 1983.
Graduate student Katie Krawetzke attended the speech because she was curious about Barker's story. A self-described deist, the Erie native said she appreciated Barker's tolerance toward religious people.
"While I don't consider myself religious, I respect (those who are religious) and their viewpoints," Krawetzke said. "His perspective is also that way."
Barker works with the Secular Student Alliance to give lectures at colleges. When Barker was booked to speak at Alma College, SSA also contacted Dogma-Free Society president Cory Kinne and arranged Sunday night's speech.
"We've been trying to get a speaker to come for a couple of years now," Kinne said. "Dan Barker was always at the top of our list. I really admire what I've read of his work."
According to The Isthmus, a Wisconsin-based newspaper, the Freedom From Religion Foundation was founded by Annie Laurie Gaylor, her mother Anne Gaylor and an unnamed friend in 1976 in Madison, Wisconsin. She met Barker while speaking on "The Oprah Winfrey Show" and they got married in 1987.
Lee Barnett and his wife, Dot, came from Lansing to hear Barker's speech and to buy a copy of his book, "The Good Atheist: Living a Purpose-Filled Life Without God." They have both been members of the Freedom from Religion Foundation for fifteen years.
"He injects a lot of humor into his delivery," Barnett said. "It's always educational, even enlightening."
When asked about the growth of the non-religious community in recent years, Barker said it is because of grassroots college movements and the new generation of freethinkers.
"Groups like ours are riding the wave," Barker said. "It's you, the young people, who created the wave."
Share:
---