University theatre performs first play of semester
---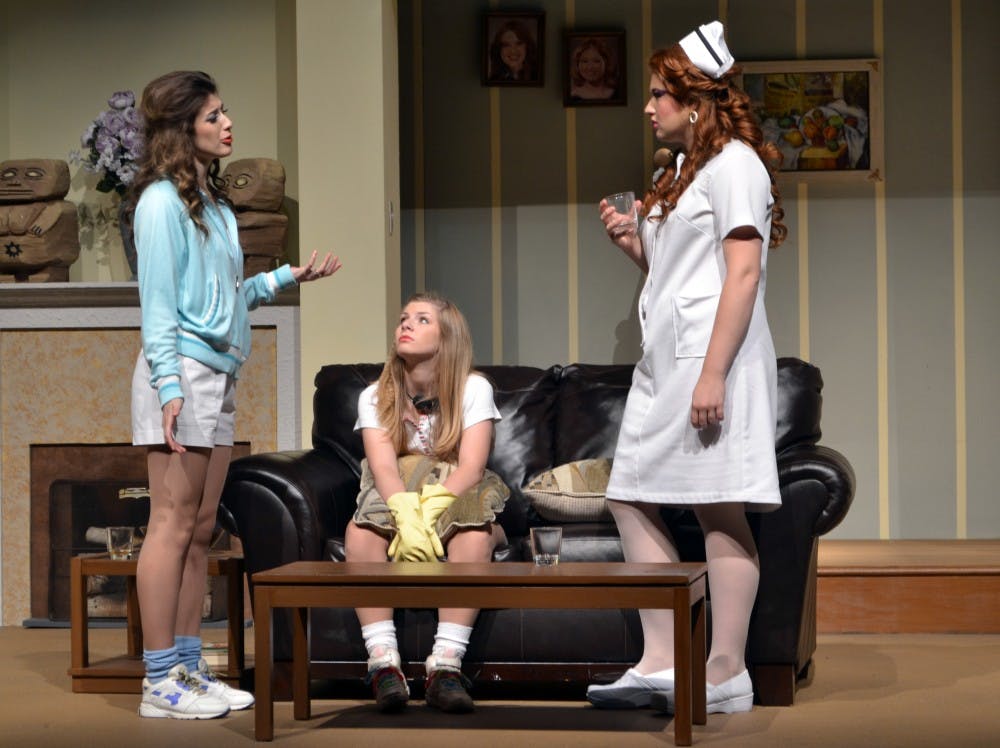 A total of six plays will be put on by University Theatre throughout the school year, which means about a play per month.
CMU's 2015 Summer Theatre Company kicked off the first performance of the season with the romantic comedy, "One Slight Hitch." The play was performed Sept. 9-13 in Bush Theatre, Moore Hall.
The romantic comedy "One Slight Hitch," was directed by Steve Berglund, and is about the approaching wedding day of the lead character, Courtney.
Everyone expects her wedding and the marriage to be perfect, especially Courtney's mother. However, on the day of the wedding an unexpected, uninvited guest rings on the bride-to-be's doorbell. As a result, Courtney's family becomes stuck in a situation they don't know how to get out of, allowing the storyline of the romantic comedy to unfold.
Colton Ranguette, a first year member of the summer theatre program and a senior at CMU, played "Harper" in "One Slight Hitch." He will also play the lead role in the upcoming production of "Oklahoma."
When asked if he related to his character, Ranguette said, "No, my character is annoying, but my friends say i'm not even acting. Comedy is definitely my favorite, nothing's better than hearing an audience laugh."
For senior Conor Hall, this is his third year being in the summer theatre program. He played "Ryan," portraying Courtney's hitch-hiker ex-boyfriend.
"The night I feel I have done a perfect performance or I feel that I'm done learning, is my last performance. I'm just happy to be here."
Audience member Abbie Schlitt said she enjoyed the performance and thought the play was well-written.
"This was my first time going to a play at CMU and I would definitely go to one again," said the sophomore. "I really enjoyed (the play). I wanted to see a scene-change but all the characters performed really well."
The summer program admits about 12 members after an audition and interview process, Berglund said. They create three plays that are faculty directed, but ran by students.
The theatre students were also able to perform three plays on Beaver Island and in Whitehall, Michigan this summer before returning back to CMU.
Share:
---