BOT NOTEBOOK: Freshman class has highest number of multicultural students
---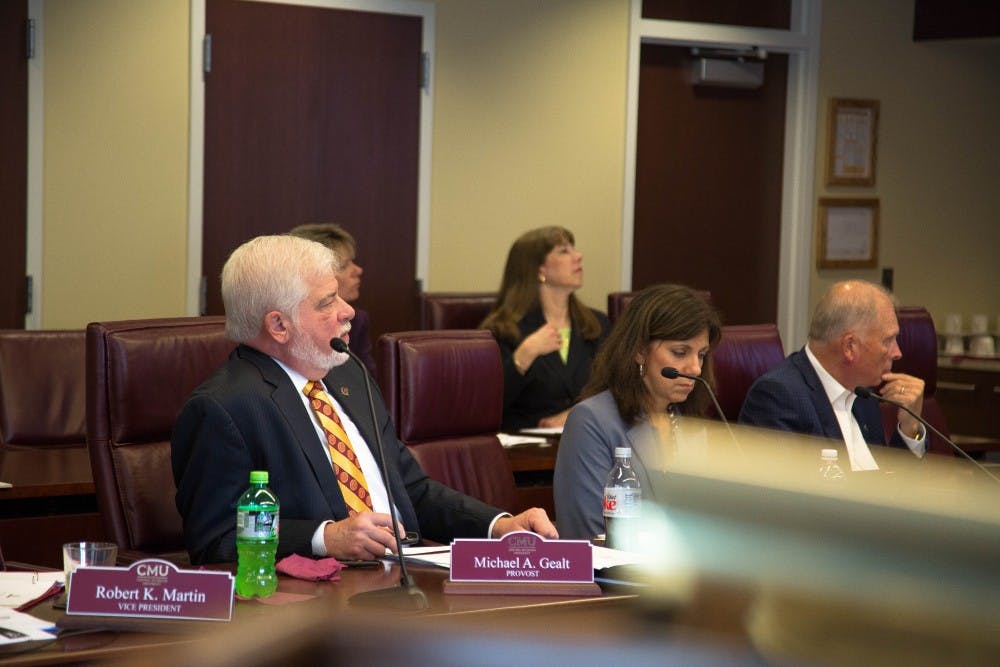 The Academic and Student Affairs Committee met Wednesday, Sept. 21 in the presidential conference room and discussed ideas to be voted on before the formal meeting on Sept. 22.
Provost Michael Gealt gave a presentation on the process for approving and removing academic programs; he also showed off some new programs that have recently been added or will offered in the future, as well as programs that were recently removed.
Programs added include:
Doctoral of Educational Leadership Program
Doctoral of Education and Technology Program
Cultural Resource Management Certificate
Electronic Sales Media
Master of Public Health
Master of Science and Engineering
Master of Applied Statistics and Analysis
Master of Health Administration
Programs removed include:
Food Service Administration
Industrial Safety
Industrial Education
Vehicle Engineering, Design and Technology
High School Chemistry Teaching
Industrial Management Technology
Global Justice
Programs in the process of approval include:
Fashion Merchandising and Design
Health Communication
Social Justice and Global Health
Master of Entrepreneurial Transactions
Gealt spoke about the process of creating or removing a program:
Faculty makes a proposal.
Department administration or council evaluates the proposal.
The academic planning council, interdisciplinary councils and the college curriculum committee discusse the change.
Academic Senate committees evaluate the proposal before the Senate votes on the process.
The Board of Trustees may get involved and vote on the proposal.
The Michigan Association of state Universities then approves or rejects the proposal.
When planning a new program, marketing analysis is taken into account to see if a program will be successful and useful in finding a career. The process can take anywhere from six months to several years.
"If there are issues that need to be resolved it can take long, and sometimes (new programs) never make it all the way, which is probably a good thing," Gealt said.
Enrollment
Vice President of Enrollment and Student Services Steven Johnson spoke about the University's enrollment numbers and challenges.
Enrollment is down 2.5 percent from last year, Johnson said. New freshmen exceeded last year's numbers, but transfer student enrollment is down. Typically, the University enrolls about 1,100 transfers. This year only 1,020 students transferred from community colleges.
Johnson blamed the lower number of transfer students on declining enrollment at community colleges across the state.
"Some of the larger community colleges which are significant pipelines have suffered double digit losses," said Johnson. "We are looking at alternative ways to attract and remain competitive in our community college program."
Global Campus enrollment is expected to be down from last year due to increasing competition, said Johnson.
This year's freshmen class has the highest multicultural and diversity enrollment for any previous incoming class.
Johnson added that sophomore, junior and senior retention is above the national average.
Prospective Graduates
The Board of Trustees will be asked to approve the prospective list of graduates at their regular board meeting. The total number of students slated to graduate is 1,429, this includes: 636 baccalaureates, 681 masters, 25 doctoral, 4 specialists and 83 graduate certificates.
Clarke Historical Library
The board has been asked to approve Jack Dempsey to serve on the Clarke Historical Library Board of Governors. Dempsey is a historian and award winning author with a focus on Civil War history.
Research
The Board will also be asked to accept a report from the Office of Research and Graduate studies showing that CMU's research brought in $2,215,398 in the fourth quarter and a total of $12,524,424 in 2016.
Public Charter School Academies
The board has been asked to recognize changes in Michigan law that affect the University's ability to authorize charter schools. The University will have to apply to a national accreditation board if it wants to start any new public academies.
Share:
---