Football to battle EMU for seventh win in final game of season
---
After the Central Michigan football team snapped its three-game losing streak and earned its sixth win of the season last week, it will head to Ypsilanti to play Eastern Michigan on Tuesday. The Chippewas are looking to turn a bowl game appearance from a probability to a certainty.
Despite carrying a bowl eligible 6-5 overall record following CMU's 27-20 victory against Ohio last Tuesday night at Kelly/Shorts Stadium, a bowl game selection is not guaranteed.
In last week's postgame press conference, junior defensive end Joe Ostman said the team understands it needs to pick up a seventh win Tuesday.
Also at 6-5, the Eagles (3-4 Mid-American Conference) enter the matchup a week removed from a 31-24 defeat to Northern Illinois. The Eagles won just one game a season ago.
"(EMU) may be the most improved team in college football," head coach John Bonamego said. "They've done a fantastic job this season."
EMU's offense ranks third in the MAC in points scored, led by junior quarterback Brogan Roback. Through 11 games, Roback has passed for more than 2,000 yards and 14 touchdowns on 57.8 percent passing accuracy.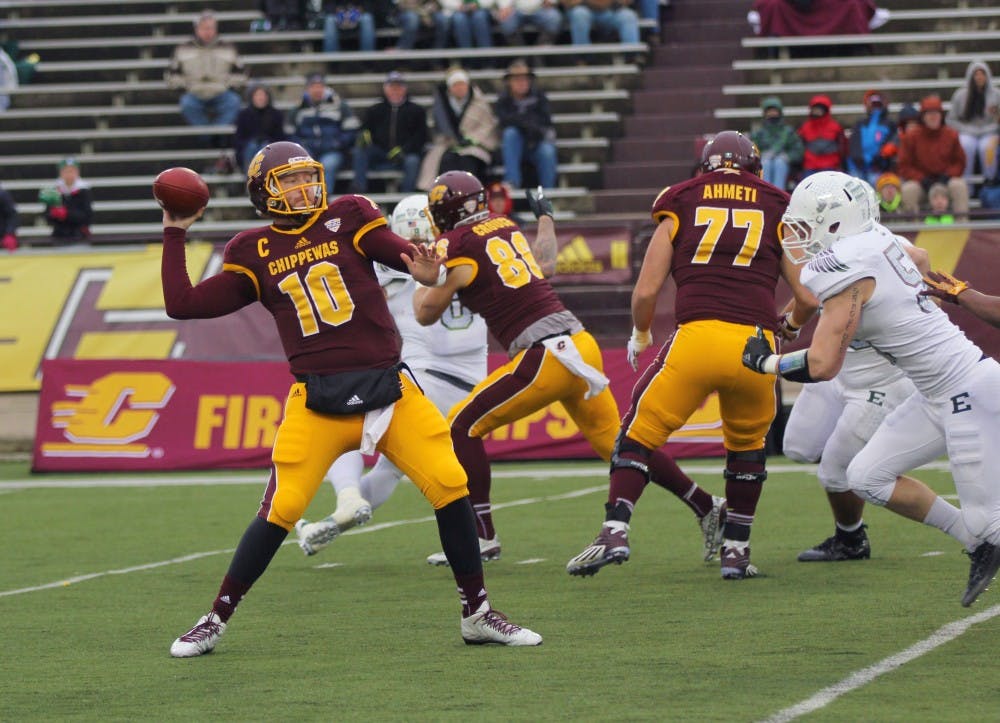 "(Roback) is a good passer that they will take shots down the field with," Bonamego said. "But they also do a good job getting the ball out quick so it's hard to get hits on him. It will be a good matchup for us."
The Chippewas are coming into the game with momentum coming off of a victory on Senior Night, which has led to a good week of practice, Bonamego said.
CMU's leading rusher Devon Spalding is expected to return from injury this week in limited capacity.
The junior running back has been held out of the last two games with a shoulder injury, but returned to practice this week.
True freshman running back Johnathan Ward is also back from injury, but isn't at full strength yet, Bonamego said.
Kickoff for the EMU game is scheduled for 7 p.m. Tuesday in Rynearson Stadium. The game will be televised on ESPN3.
Share:
---