Hope after Hurricane Harvey: Former football player aids rescue effort
---
Houston Texans defensive end JJ Watt has grabbed national headlines by helping raise $27 million through his YouCaring crowdfunding campaign to help Texas residents affected by Hurricane Harvey. Watt, who played tight end for the Chippewas in 2007, is not the only former football player helping out in the Houston area.
Alex Fine, a former defensive back for the Chippewas, graduated in 2015. He started a personal training company, Alex Fine Performance, for athletes and celebrities. According to his website, clients of the Los Angeles-based company include actress Jennifer Aniston and actor Terry Crews.
The Cincinnati, Ohio native traveled to Texas last week to lend a hand. With the help of New York Giants wide receiver Odell Beckham Jr., Fine and other volunteers helped 30 elderly people who were stranded in sewage at a nursing home.
Fine, 24, has teamed up with former U.S. Army Green Beret and NFL long snapper Nate Boyer for a food drive through Boyer's foundation. While people in the Houston area recover from Hurricane Harvey, Fine stressed the importance of continuing to donate as the region will take years to rebuild.
CM Life: What happened that made you want to go to Houston?
Fine: I heard they needed people down in Houston in a boat to rescue people that were flooded and trapped. I booked a ticket to Houston and it got cancelled. (On Aug. 29) I booked a ticket to Austin, Texas, rented a car and drove into Houston. Some of the Dallas Cowboys posted something on their Instagram story saying I was out there if anyone needed help. A couple people messaged me in Houston saying they needed baby food and diapers so I picked that up in Austin and drove it to Houston and drove around looking for people if they needed help.
(On Aug. 30) at about 5 a.m. I was watching the news and they said that in a city two hours outside of Houston called Port Arthur, mysterious floods were happening and they needed people in boats. I got in my car and I was driving and everything was completely flooded, probably about five-or-six feet. Luckily, I rented a four-by-four wheel truck and the cops actually blocked off everything – no one could really drive into Port Arthur from Houston because everything was so bad. I said I was with an emergency vehicle and they let me go ahead on my own caution. I got into Port Arthur at 8 a.m. I brought a wet suit with me and put it on. I met these guys that had a boat. They had a pretty big boat and they let me hop on and join in with them – they were from Ohio as well. We were probably the first or second people out on the water in Port Arthur. We just started driving around.
Odell Beckham Jr. actually posted something saying I was in (Port Arthur). All these people started messaging me and a lot of them were talking about this nursing home right by us. We ended up finding it and there were 120 people in this nursing home. The sewage broke and there was sewage all throughout and there was no electricity. We started putting wheelchairs and people in our boat and probably about five people at a time, we just kept going back and forth. We got about 30 of them and another boat started showing up. I kept getting text messages about an apartment complex saying there was a baby and a kid stranded. We went over there, about a mile. We grabbed them and kept making rounds back-and-forth until everything was all good.
What made you want to buy that ticket and go from Los Angeles out to the Houston area?
It was just a gut feeling that I needed to be down here. I was in L.A. the weekend before and I was looking for ways to volunteer. There's a lot of options – it's just a long process to even volunteer. For the Boys & Girls Club, you have to go through a rigorous process just to even help out. When I saw Houston needed help, I took it as my calling to come out here. I called my mom and told her this was something I need to do. She supported it. The next day, I was out to Houston.
What was the scene like when you arrived?
The scene is a thousand times worse than you would ever expect. It's just the worst thing you could possibly ever see. It's so bad because people are so helpless, and they're trapped in their homes. The elderly and the little kids have no food or water. A lot of the elderly have ventilation machines and when they were standing in sewage inside the nursing home, or they were in the wheelchairs and couldn't move, most of them couldn't even talk, it's just something you can't paint a picture of through media or through video.
How high was the water?
When I got into Houston, the water got up to 20-25 feet in some areas. You just see all these cars and the windows are just busted up because they had to break out of their own cars. I saw (a person use) their headrest because they had to use their headrest to break open their window. Even driving, you cannot see what is ahead of you far at night. You've got to just drive slow because you could be running into 20 feet of water. Where we were in Port Arthur, it was probably between 6 or 7 feet.
Was there a certain connection you had with the others from Ohio in the boat?
I didn't know they were from Ohio until halfway through. They saw a tattoo on my arm. We all just laughed. It's pretty funny that we all ended up in boat in Houston. They were older guys and they just drove 24 hours down to help. They brought their own boat and truck. We stayed out in the water for probably 10 hours.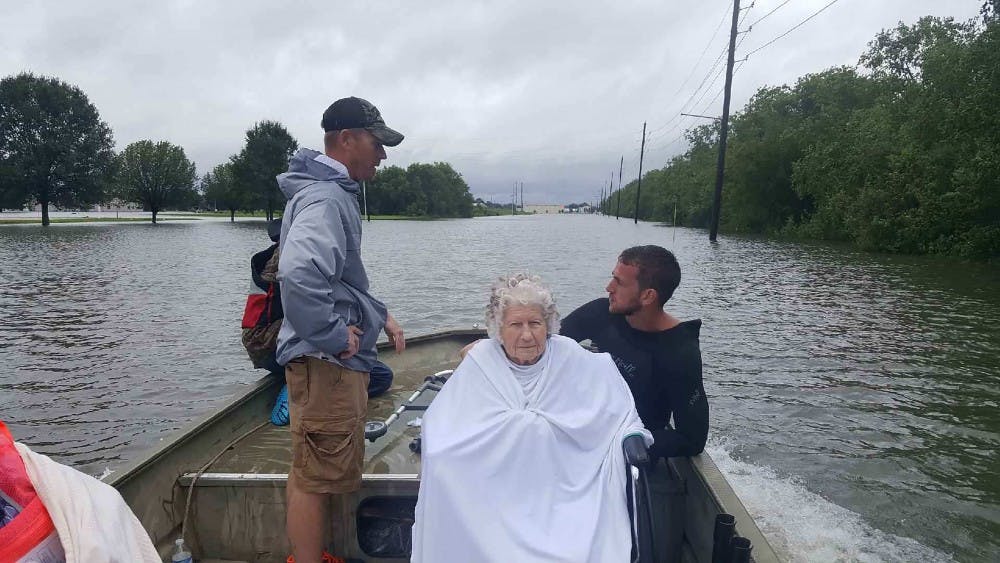 What was it like rescuing the senior citizens?
Coast Guard went in there initially and they tried to organize everything but, to be honest, they weren't really any help. We were just grabbing them. There wasn't any specific order – if you were in a wheelchair, we were putting you in a boat first. If you could walk, we'll come back for you.
There were people coughing up blood on themselves and people (vomiting) because of the smell. Almost every one of them was crying. A lot of them had dementia. It was pretty horrific. For the most part, I think they all made it back to the safety zone. When we dropped them back at the safety zone, it was another process for them to get on the bus to get transported somewhere else. For most of them, we put beds in our boat because they couldn't even get out of bed. For them to get transported again, it's just a rough road for them.
How long did it take to get everybody out of there and to the safety zone?
For all of them, it probably it took about five to six hours. The safety zone was a mile away and you're running over things you're not supposed to. We were hitting stop signs that were buried. We're hitting fire hydrants. You've got to watch out for snakes. It's only a mile away but it probably took closer to 30 minutes.
Who else did you assist?
We went to this apartment complex. It was low income. They didn't want to leave their belongings. They didn't want to leave their homes. This girl said to help get her brother and her uncle out because they didn't want to leave. I had to tell them they were going to be stuck there with no electricity, no water and no car. They can't go anywhere. All the cars were just flooded. We had to convince them. They couldn't bring many things because we had a bunch of people in the boat. It was pretty heartbreaking for them because some of their family members decided to stay with the house, because they were on the second level. It was pretty rough.
Would you encourage anybody who is interested to come down?
I'll never not encourage anyone to help but they also have to be completely invested in it. If you're completely invested in it, then I would 100 percent suggest you come down, whether it's unloading boxes, helping out at the shelters, whatever it may be. On the side of getting in the water, I'll suggest that to those who are completely invested in it. It's something that's hard to prepare for.
The main thing is to for people to continue to help. That's the biggest thing. All these people just lost everything they owned possession-wise. It's going to take 10 to 15 years to rebuild this city. It's just sad how everything has turned out.
People should start looking to work with organizations like the American Red Cross or something on your own and helping out. Everyone here is so grateful for the volunteers. The love and support that everyone gives you here is amazing. They just lost everything they own and they still have more strength than anyone I've ever seen.
Share:
---