O'Neil, Aguillon keep pace as season progresses
---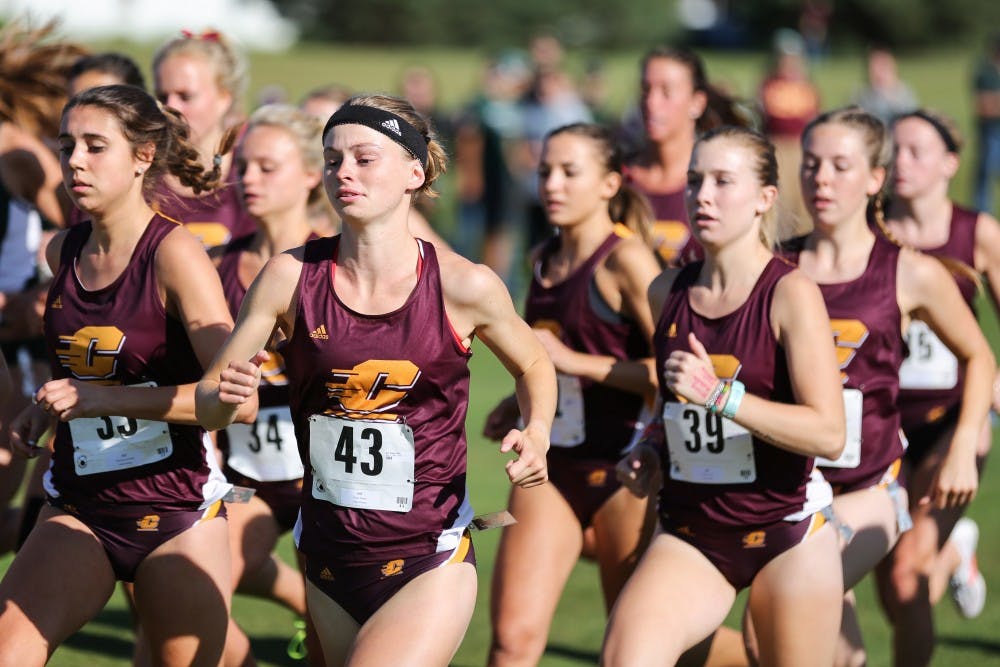 Now two weeks into the Central Michigan cross country season, junior Megan O'Neil and senior Taylor Aguillon continued their momentum in last Friday's Michigan State University Spartan Invitational.
The duo finished second and third in the Chippewas' first home meet on Sept. 1, with Aguillon narrowly edging out O'Neil. They finished back-to-back again in Friday's meet, with O'Neil beating out Aguillon for sixth and seventh, respectively.
O'Neil finished the 6k in 21:52.7. Aguillon finished in 21:57.5.
"Up front, we're really good," head coach Jenny Swieton said. "I'd like to see us close the gap behind the top three."
The third CMU finisher last weekend was senior Hannah Davis, who finsihed 23rd overall in 22:32.2. The next Chippewa, junior Samanth Allmacher, finished in 24:07.0 to take 73rd in the meet.
On the men's team, three Chippewas took home top 20 honors.
After taking the first two spots in the season-opener, sophomore Bransen Stimpfel (first) and freshman Logan Kleam (second) switched spots last weekend. Kleam finished in 25:38.3 for 15th, while Stimpfel trailed by 11 seconds, taking 20th at 25:49.3.
Sophomore Mark Beckman (25:55.4) took 22nd, with freshman Conor Naughton (26:10.8, 31st) and sophomore Luke Anderson (26:16.8, 35th) also falling in the top 50.
No team scores were kept.
Men's coach Matt Kaczor said at the beginning of the season that he was happy with the short distance among his top five runners, adding that he liked the hunger the competitiveness added between them.
Kaczor also said that, while he was happy with his team's work thus far, they're still in an "experimental phase," and that they'll continue to test more ideas and strategies in meets to come.
The team's next meet won't come until Sept. 30 when CMU heads to Kentucky for the Greater Louisville Classic.
The Louisville meet is one of only three remaining competitions before the MAC Championships in Ohio, giving Kaczor and Swieton just over a month to prepare their teams.
Both coaches have stressed the idea of "progression over perfection" since the beginning of the season. Swieton, a newcomer this year, said she knows her runners have the ability necessary, but some of them just need as much confidence in themselves as she has in them.
The men will start at 9:30 a.m. in Louisville. The women take off at 10:15 a.m.
Share:
---