Rapid Reaction: Miami (Ohio) 31, Central Michigan 14
---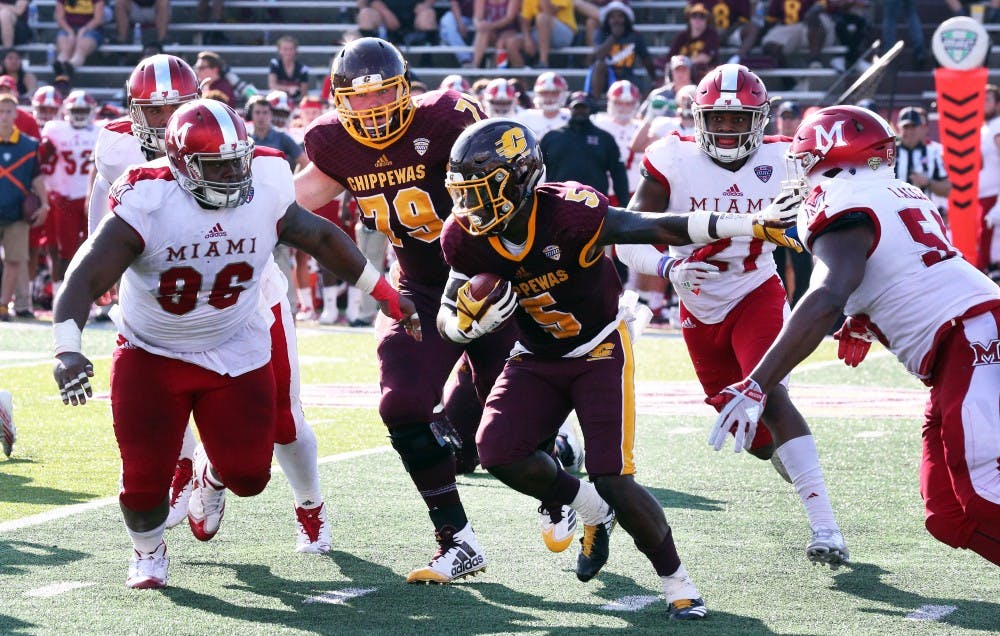 Missed opportunities, mistakes and overall inconsistency was the downfall for the Central Michigan football team Saturday.
The Chippewas were defeated 31-14 by the Miami (Ohio) RedHawks in the Mid-American Conference opener at Kelly/Shorts Stadium.
With the loss, CMU drops to 2-2 on the season and 0-1 in MAC play.
How It Happened
The RedHawks stormed 75 yards downfield for a touchdown on their opening drive and never looked back on their way to nearly 400 yards of total offense on the day.
CMU, on the other hand, couldn't get out of its own way once again and struggled to sustain drives.
Graduate transfer quarterback Shane Morris completed 15-of-33 passes for 195 yards and a touchdown, but a red zone interception in the third quarter doomed any momentum the Chippewas had.
Morris had two interceptions on the afternoon and was replaced by redshirt freshman Tony Poljan in the fourth quarter.
Trailing 14-0, Morris scored on a two-yard touchdown run in the second quarter and found senior wide receiver Eric Cooper for a 28-yard score before halftime.
Overthrows, dropped passes and costly penalties were the story of CMU's offense the rest of the way.
Sound familiar?
After scoring on a six-yard rushing score on the opening drive, Miami quarterback Gus Ragland beat the Chippewas' secondary with his arm as he threw for 217 yards and two touchdowns.
Ragland found tight end Quentin Hardy for a three-yard touchdown with 1:19 left in the first quarter before hitting wide receiver Sam Martin for a 50-yard score. Running back Kenny Young capped a big first half for the RedHawks with a 31-yard touchdown run to lead 28-14.
The CMU running game was also once again non-existent as sophomore running back Jonathan Ward lead Central Michigan with only 56 yards on 22 carries. Morris was second with 33 yards on seven rushes.
What's Next
The Chippewas head to Boston College next Saturday to take on the Eagles. Kickoff is scheduled for 1 p.m.
Share:
---