Akron tops Western Michigan, remains No. 1 in MAC East Division
---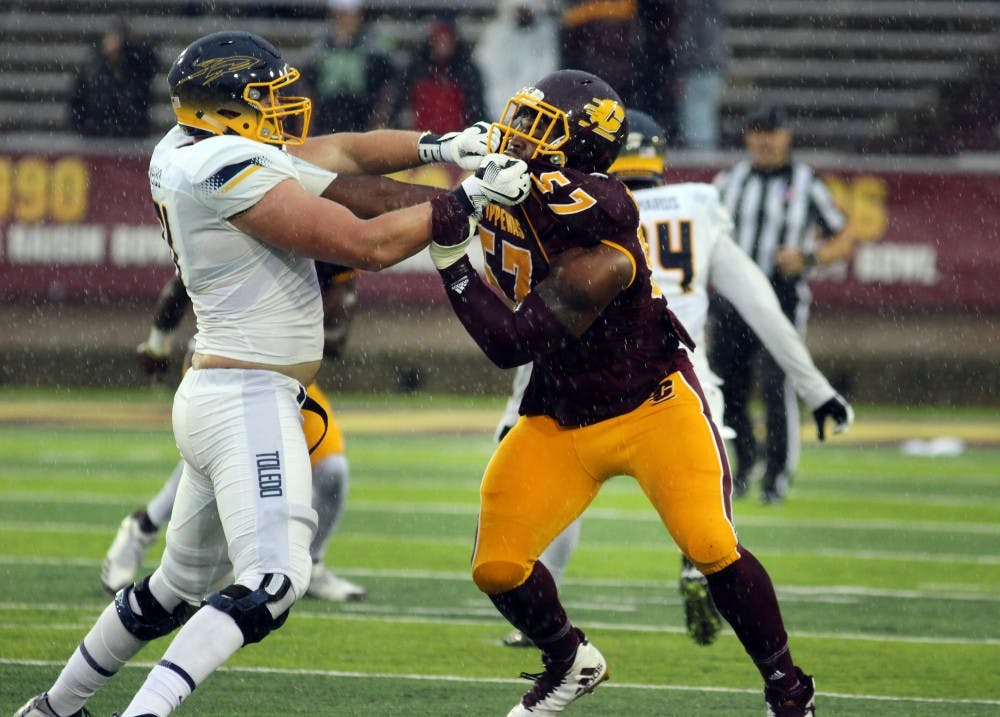 Four Mid-American Conference games were decided by one score this week, as one of those games knocked off the top team in the MAC West Division.
Despite a late comeback, Army held off Eastern Michigan, 28-27. Kent State defeated Miami (Ohio) by three points and Northern Illinois topped Buffalo by one point.
Akron bounced Western Michigan off its top spot in the MAC West Division with a 14-13 win at Waldo Stadium. The Zips are still in first in the MAC East Division.
Top MAC Games
Akron 14, Western Michigan 13
Akron (4-3, 3-0) owned a 14-3 lead over Western Michigan (4-3, 2-1) at halftime. The Broncos threatened to make a comeback with 10 points in the fourth quarter, but the Zips shut down the final drive of Western Michigan to secure the victory.
Western Michigan earned 426 yards compared to just 215 for Akron, but the Zips were able to get touchdowns from senior running back Manny Morgan and quarterback Thomas Woodson. Meanwhile, the Broncos registered just one touchdown on a connection between Jon Wassink and D'Wayne Eskridge.
The win kept Akron at the top of the MAC East and dropped Western Michigan to second place in the MAC West.
Ohio 48, Bowling Green 30
With 3:41 left in the third quarter, Bowling Green (1-6, 1-2) owned a two-point lead. Ohio (5-2, 2-1) went on to score 27 points in the last 15 minutes of the game to defeat the Falcons.
Ohio's running back tandem of Nathan Rourke and A.J. Ouellette hurt Bowling Green. Rourke carried the ball eight times for 143 yards and three touchdowns, while Ouellette managed 24 carries for 123 yards and two scores.
Army 28, Eastern Michigan 27
EMU (2-4, 0-2) quarterback Brogan Roback put the Eagles within one point of Army on an eight-yard fade pass to Sergio Bailey in the corner of the end zone for a touchdown.
With time running out, Eastern Michigan decided to go for the win and try two-point conversion. Bailey flipped the ball to Ian Eriksen, who was hit by Army junior safety James Gibson and stopped just inches short of the goal line.
Army finished with no passing yards and 61 total carries for 413 yards and four touchdowns. Ahmad Bradshaw led the run game for the Black Knights with 19 carries for 171 yards and a score.
Other MAC Scores
Toledo 30, Central Michigan 10
Kent State 17, Miami (Ohio) 14
Northern Illinois 14, Buffalo 13
Where CMU Stands
Toledo defeated Central Michigan with the run game, which tallied 310 rushing yards. The Chippewas (3-4, 1-2) are back in the losing column in overall and conference standings.
"When you look at the MAC, it's hard to go down two games and end up in the championship game," CMU head coach John Bonamego said. "That's just the truth and anything different is just a fantasy. The challenge is we have to come in tomorrow and realize we have a game next week."
Graduate transfer quarterback Shane Morris was 17-of-37 for 182 yards, one touchdown and two interceptions in the loss. The Chippewas tallied just 62 rushing yards.
The Rockets (5-1, 2-0) got 23 carries for 145 yards and two touchdowns from Terry Swanson, a senior running back.
CMU will look to even up its MAC record against Ball State at 3 p.m. Saturday, Oct. 21 at Scheumann Stadium.
"There's no time to feel sorry for ourselves," Bonamego said. "We have to get back to work."
Share:
---