College of Medicine signs partnership with Grand Valley State University
---
GVSU students to be offered early assurance with CMED
---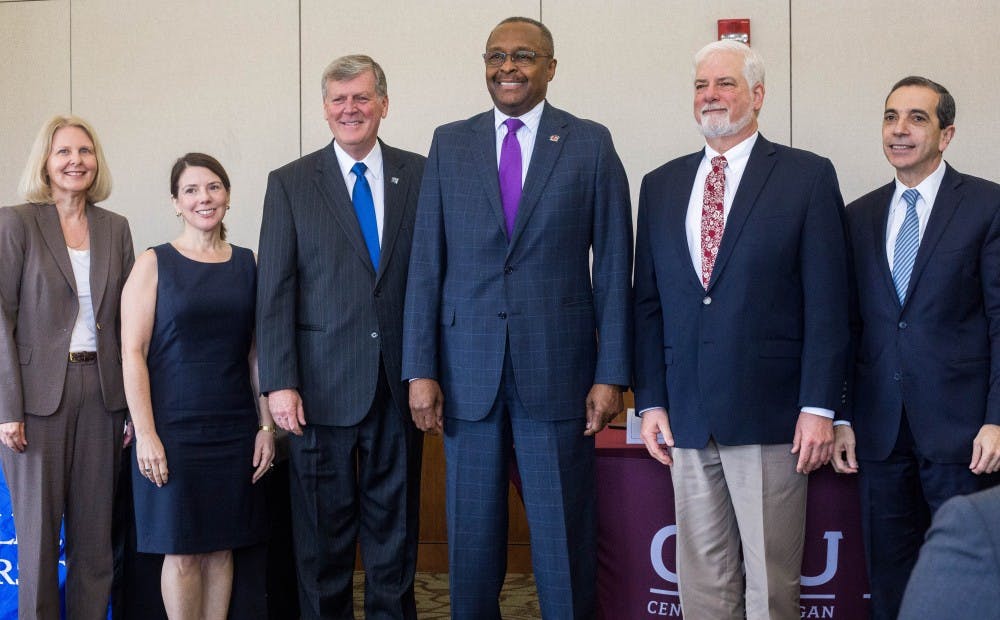 A new partnership agreement will give pre-medicine students from Grand Valley State University a fast track to Central Michigan University's College of Medicine.
CMED receives more than 7,000 applicants each year and five of the 104 available positions will be reserved for GVSU premedical students. The agreement will provide GVSU students with waived application fees and place them on an earlier admissions timeline.
A formal signing of the agreement between the universities took place Oct. 19 in the CMED Building.
Provost Michael Gealt said similar plans are in place with Albion College and Saginaw Valley State University.
"Our goal is to have a number of these because we really do want to have students that are from Michigan (and) are educated (in) Michigan all the way through their medical learning and residency to be a provider here in the state," Gealt said.
President George Ross said the partnership comes from a shared goal to provide physicians in underserved communities across Michigan.
"It's historic — it's a continuation of CMU's commitment to the state of Michigan," Ross said.
Underserved populations reside in both rural and urban areas, Gealt said.
"Rural areas tend to have very few choices in medical providers and it's because the population density is so low," Gealt said. "Underserved populations in urban areas tend to have few providers because the populations tend to not have the dollars that would serve a vast medical enterprise."
Gealt said providing an early assurance program to GVSU students will allow CMED to provide the best medical care for Michiganders throughout the state.
GVSU President Thomas Haas said he is thrilled for the new opportunity granted to his students.
"I saw that it'd be a good fit," Haas said in regarding the universities' compatibility with one another. "We had our faculties and our staffs put together what I think is a really good model of collaboration for creating pathways for students from Grand Valley."
First-year medical student Shelby Falkenhagen, a GVSU alumnae, first visited CMU while touring undergraduate programs with her younger sister.
GVSU shouldn't be punished for not having a medical school, she said, and the new program will provide students like her with a place to continue learning.
"Grand Valley really prepared me to come to medical school," Falkenhagen said. "The classes there are very relevant to what I'm doing now and the professors were amazing."
The partnership also creates opportunities for GVSU pre-med students to interact with CMU medical students.
"I am so thrilled we're providing an opportunity and a pathway for some very, very talented students," Haas said.
Share:
---