Creator of CMU seal discusses the design that has lasted decades
---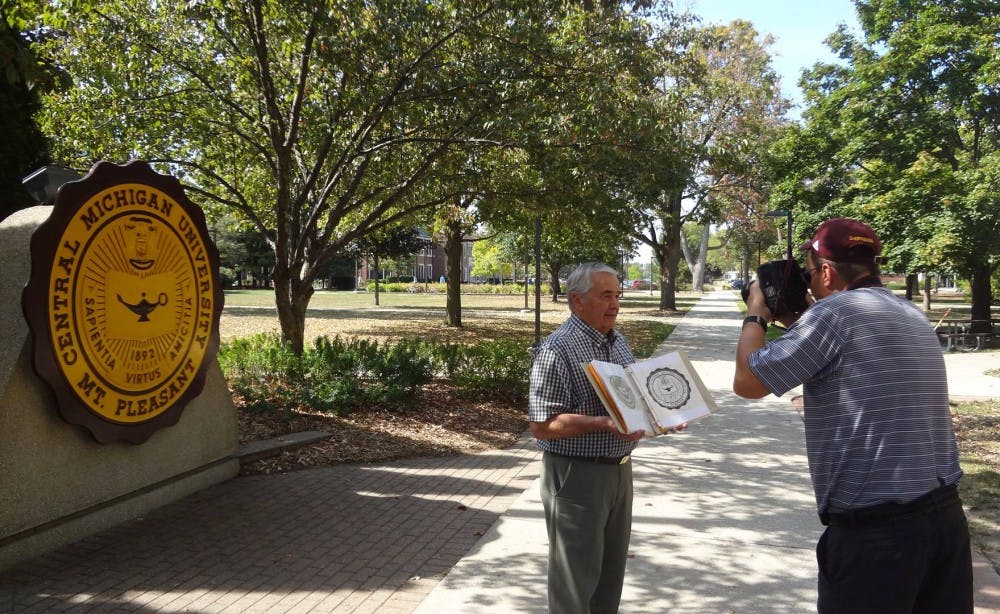 It was a student and a pen that created an iconic piece of Central Michigan University.
And it only cost $35.
Lyman "Pete" Ketzler, was a young art and design student in the 1950s who sat in his dorm room in Barnes Hall and drew the sketches that would soon become the university's the official seal.
Ketzler, was a freshman from Flint during the spring semester of 1953. While studying visual arts, he received news from one of his instructors that he was recommended to President Charles Anspach to design the official seal of CMU.
"It was very exciting to be meeting with the university's president when you weren't in any trouble," Ketzler said.
Ketzler does not receive any royalties when the seal is used in marketing.
The design measurements, coordinates and other characteristics were drawn up with just pen and ink.
"You would use pencil to begin with and then transfer over to ink. Everything at the time was dependent on hand and skill," he said.
Ketzler enjoyed working and always had a strong desire to solve artistic problems, he said. He took classes on ceramics, painting and drawing while attending CMU.
During his career, Ketzler worked to master his skills with colored pencils, markers, chalk and a paint brush.
He said his devotion to visual arts made it difficult for him to succeed in other subjects he was required to study at the university.
"I was always lacking in academics which really made my time at Central more of a challenge," he said. "All my life, I always knew I wanted to draw. Quite frankly, that's all I ever wanted to do."
He designed insignia and promotions for the Ski Club, Barnes Hall Council, Boosters Club and the Campus Vets. He also crafted posters for the entertainment programs hosted by the student activities committee at CMU.
"I love being successful at creating things that are very visually appealing to those that look at them," he said.
Ketzler said he does not completely remember his discussion with then President Charles Anspach from decades ago, however, he remembers paying close attention to the president's vision for the seal.
He said Anspach wanted the seal to embody the university's values and character while also having a crisp design that met a certain standard of elegance.
Ketzler began putting together sketches after meeting with the president until one of his designs was selected by Anspach and the admissions committee.
After being submitted to the State Board of Education, the design was approved and archived as the university's official seal in January of 1954.
Sixty-three years after the seal was approved, Ketzler said he would not change anything about it.
"I was designing to appeal to my employer," Ketzler said. "Looking back at the experience, I probably would do the same thing."
While the construction of the seal was in progress, conscription for the Korean War had already begun and the U.S. military was in search of soldiers to send overseas.
"I had been looking to transfer to the Art Center College of Design near Los Angeles. I always wanted to focus on commercial art and major in industrial design, but I didn't have the money to pursue it," Ketzler said, explaining that he volunteered for the draft to earn the money to attend his dream school.
Ketzler was an enlisted member of the U.S. Army from 1954-56. Afterward, he earned enough money to enroll in the Art Center College of Design in Pasadena, California. He graduated with a degree in industrial design and worked in the design group for General Motors.
"After all my design work with General Motors that has been approved and continues to last, there is something so humbling about the seal," he said. "I can still return to how significantly exciting it was to be having the experience."
Sherry Knight, the associate vice president of University Communications, said the seal is the most original and celebrated icon at the university.
Knight said the seal is the president's personal insignia and is used during commencement ceremonies, major functions and during select occasions regarding admissions.
"It is where students first get their photo taken in the beginning of their freshman year and where they return to for their senior year," Knight said. "They also take photos there countless times in between to capture very picturesque moments at the university."
Ketzler said he enjoys knowing he created something that will survive long after his lifetime.
"It is very humbling to know that I have designed something that will last long beyond my life time," he said. "That's very exciting."
Share:
---