Division III hockey pulls away from Western Michigan, 9-2
---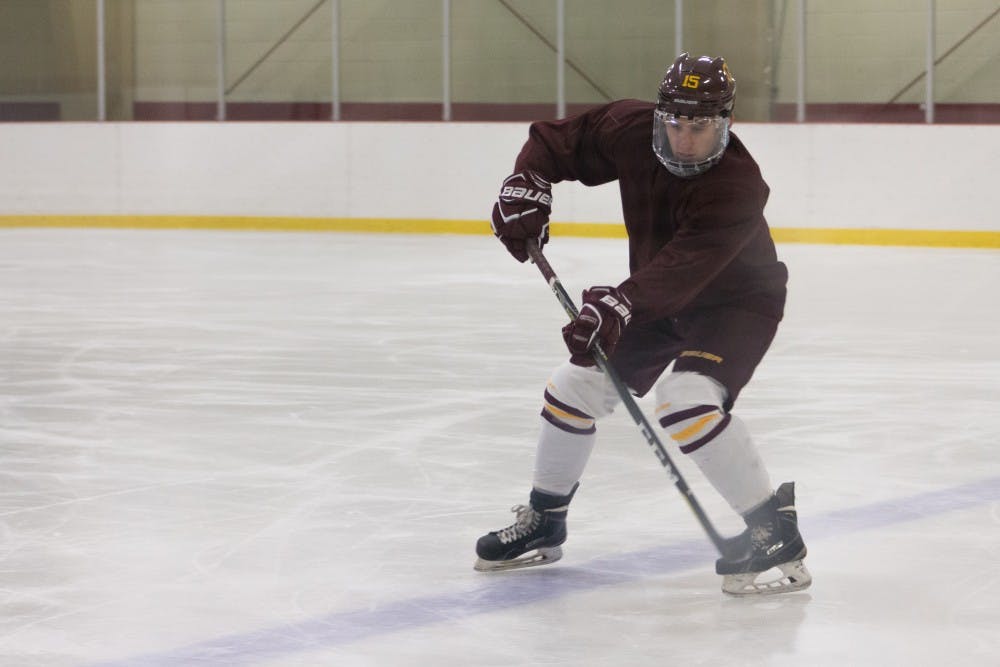 The Central Michigan University Division III men's hockey team came out slow against Western Michigan University Friday night, but won the game 9-2, handing the Broncos their eighth straight loss of the season.
The Chippewas are looking to come out stronger and faster each game, according to head coach James Cadzow.
"It's been our achilles heel all year that we come out slow," Cadzow said. "It was very far from our best game, and it was pretty close to our worse game."
CMU scored in the first period by freshman forward Jordan Wadge, putting the Chippewas on the board first. He was assisted by sophomore forward Lawrence Rowe.
"It felt good to get a goal right away," Wadge said. "It wasn't a very good shot, but it went right in. It was my first goal in a while for me, so it felt good to get that tonight."
After Wadge put the puck in the net at the 16:21 mark of the first period, both CMU and WMU would stay quiet with most shots on net coming from CMU, until WMU would get a shot up and score from forward Nino Romita.
When the second period started, CMU came out hot and graduate forward Nathan Allgaier scored within the first minute to take the lead.
As the game continued into the second period, CMU would continue putting shots on goal, but none quite made it in until the 10:59 mark when senior captain James Gleason would be assisted by freshman forward Philip Fazio to score and give the Chippewas a 3-1 lead.
While the Broncos would score with 6:12 left in the third period by forward Ryan Sutcliffe, the Chippewas would pull away from WMU and score six times in the third period. These were by junior forward Daniel Sutherland at 14:36, Jason Pischke at 12:10, Gleason at 5:58, senior forward Nick Wink at 5:41, sophomore defensive men Brennan Martin at 5:03, and sophomore forward Shane Agnello at 1:59.
The team will play WMU at 1:30 p.m. at the Isabella Ice Arena for the second part of their two-game series this weekend.
Cadzow is looking to see how they can use this game and the next as learning experiences.
"We're capable of playing with anyone in the country, so it's very frustrating when you don't play your best in a game like tonight," Cadzow said. "A win is a win, we'll be better for having played this game just like all the others and we'll learn from our mistakes. So we just have to stay hungry and some energy to play another time on the ice."
Share:
---