Harvard historian discusses biographies, gender
---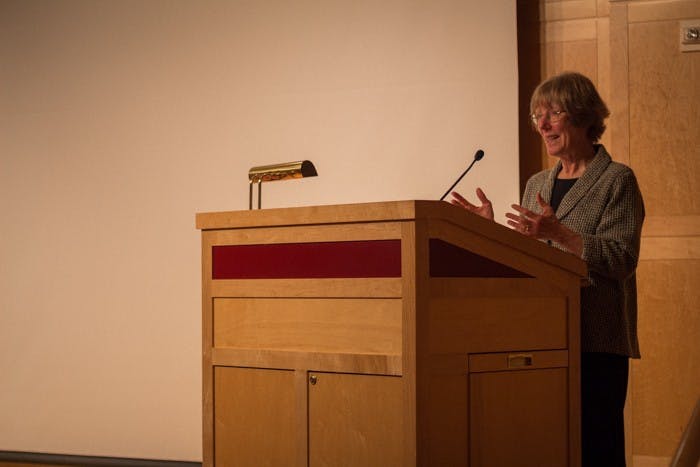 Susan Ware from Harvard University said her biggest passion is delivering women's history to a large, diverse audience through the biographies she crafts.
Ware visited Central Michigan University Nov. 2 in the Charles V. Park Library Auditorium as part of the 2017 William T. Bulger Lecture series to speak on feminism and female representation in the biography genre.
Ware is the general editor of the American National Biography (ANB), which is a biographical encyclopedia. She is also the Honorary Women's Suffrage Centennial Historian of the Schlesinger Library at the Radcliffe Institute for Advanced Study at Harvard University.
"If you are going to have another person literally living in your house, which is what it feels like when you're in midst of a biography, then you need to feel some kind of connection or link with you subject," Ware said, explaining the spark she has ignited with her numerous female, historical subjects.
Some of Ware's biographies include "Still Missing: Amelia Earhart and the Search for Modern Feminism" and her 2011 monograph "Game, Set, Match: Billie Jean King and the Revolution in Women's Sports."
Ware said her identity as a biographer has stuck with her for decades and is very meaningful to her.
Too often readers judge a biography based on who it's about rather than the efforts it took to compile it, Ware said. She said this practice is a disservice to the genre.
"If I could wave a magic wand over the field of biographies as a whole the first thing I would do is cut almost every biography in half," she said, adding another conflict with biographies comes between the time it takes to read one and the time available to readers.
She said length can do a disservice to biographies because too often readers may attain the misconception they do not have the time to engage in the life of the individual in subject.
Ware said a theme she fights for is the deliverance of biographies on women. She explains these pieces as a feminist genre of biographies is equally as needed in 2017 as it was in the 1960s through the 1970s.
Ware said she was headstrong on investigating the appearance of women in the American National Biography when she applied for the position of general editor in 2012. She discovered fewer than 18 percent of more than 19,000 entries featured women.
"We need to look no further than the American National Biography to show how far we still are from anything approaching gender parity when it comes to biography," she said.
Share:
---