Rapid Reaction: Central Michigan 42, Kent State 23
---
High-scoring first half lifts football over Kent State
---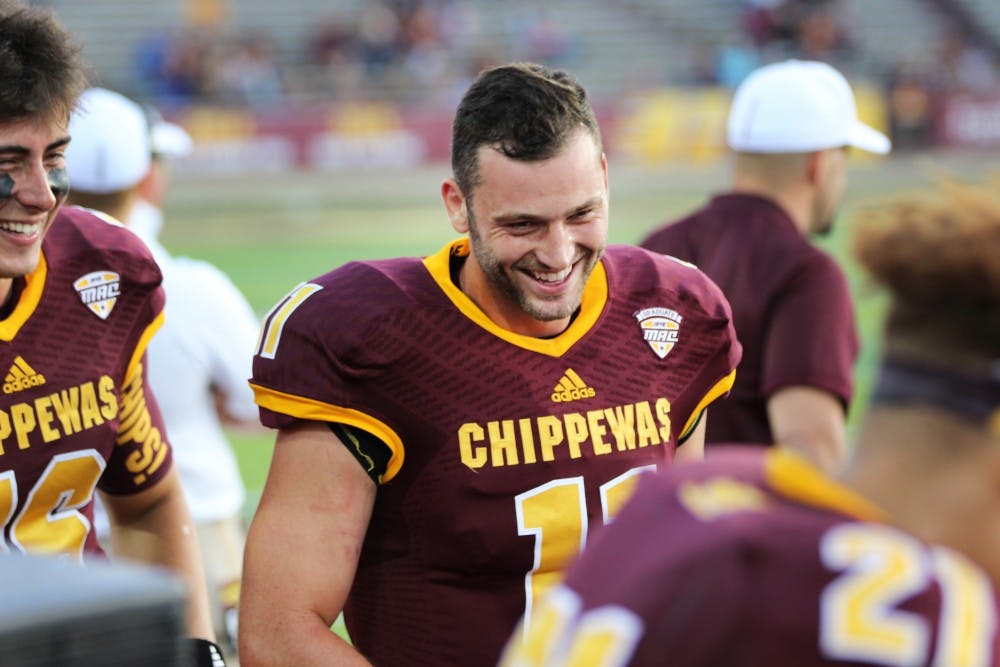 Senior wide receiver Corey Willis caught a 53-yard touchdown pass early in the fourth quarter to seal Central Michigan football's win against Kent State Tuesday in Dix Stadium.
Sophomore running back Romello Ross added a 2-yard rushing touchdown with two minutes left after the CMU defense forced KSU to turn the ball over on downs.
CMU (7-4) escaped Kent, Ohio with a victory after KSU (2-9) threatened late in the fourth quarter. CMU's defense held and the Chippewas won, 42-23.
By halftime, Chippewa sophomore running back Jerrod Davis had returned three kickoffs for a total of 191 yards and one touchdown. Davis gave the CMU offense good field position on each of his four returns.
Summary
Following a KSU field goal, Davis returned the kickoff for a 98-yard touchdown. It was CMU's first kickoff return since 2013.
On the following drive, graduate transfer quarterback Shane Morris completed deep passes to senior tight end Tyler Conklin and backup quarterback Tony Poljan to set up sophomore running back Jonathan Ward's 12-yard rushing touchdown.
Morris threw his first touchdown pass of the game to score CMU's third touchdown. Senior wide receiver Mark Chapman caught a 32-yard touchdown on a slant route to extend the lead.
KSU and CMU traded touchdowns in the final minutes of the first half. KSU quarterback George Bollas threw two touchdowns and CMU's Poljan ran one in for his first career score.
Davis had another big return and Chapman caught a 33-yard pass to set up the Chippewas in scoring position before the half. Kicker Michael Armstrong missed a 30-yard field goal which had a chance to extend CMU's lead to 14.
After a scoreless third quarter, Kent State opened the fourth with a 57-yard rushing touchdown up the right side. KSU failed to convert the two-point conversion attempt.
Morris hit senior wide receiver Corey Willis for a 53-yard passing touchdown with 12 minutes left in the fourth quarter — pushing the lead to 12 points and sealing the win for the Chippewas.
KSU threatened to score with about four minutes left, however the Golden Flashes couldn't add points to close the gap.
Ross added a 2-yard rushing touchdown to extend the lead after KSU went for it on fourth down and could not convert.
The Chippewas take on NIU on Nov. 24 in Kelly/Shorts Stadium. Kickoff time has yet to be announced. The game will be aired on ESPNU.
Share:
---