Lack of legislation during Student Government Association's fall semester
---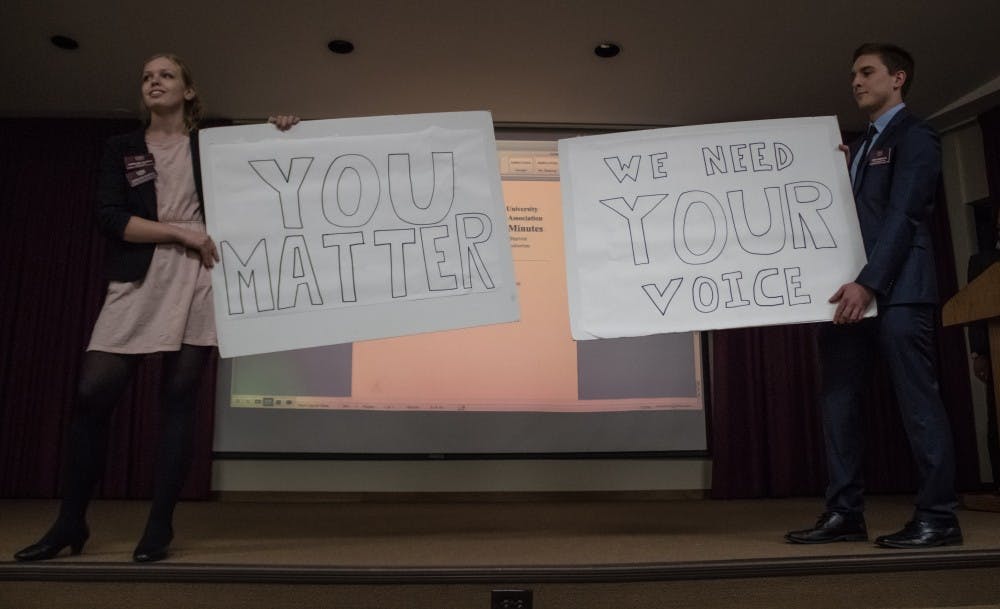 The Student Government Association has not addressed any new legislation this semester. During the fall semester in 2016, the organization passed two.
The legislation passed created an academic orientation for veterans and recognized Indigenous Peoples' Day in place of Columbus Day. The two are pending action from the university.
As of the SGA Nov. 20 General Board meeting in the Bovee University Center Auditorium, legislation has been discussed, but no written proposals have been brought to General Board.
Brianna McCrary, chair of the Diversity Committee, said the committee is reviewing past legislation, hoping to inspire proposals from committee members. Similarly, Morgan Clark, Academic Affairs Committee chair, reported the committee is currently revising legislation set to be proposed by the end of this semester.
SGA Vice President Derek Sturvist said this year's approach to creating change on campus is project-based. This translates to a responsibility placed on committees to plan events and reach out to the campus community.
"(It isn't) a 'no legislation' approach," Sturvist said. "(SGA is) just making sure the legislation that comes through can be more actively brought to fruition."
In the 13 weeks classes have been in session, eight committee projects have taken place on campus.
Governmental Affairs Committee hosted the Local Candidates Forum. The committee partnered with RevCMU and brought a mobile Secretary of State to campus to promote state voter registration for students.
Diversity Committee held a "Culture Not A Costume" campaign in October as well as Diversity Week Nov. 6-9. The week consisted of "Rain-Dou-Cider," an event aimed at educating students on LGBTQ+ issues; "Courageous Conversations," a panel that provided discussion on race, religion, and gender; and "Speak Your Peace," an open-mic for individuals to share creative expression of their perspectives on social justice issues.
Spirits and Traditions committee organized a Spirit Week from Nov. 13-17, while the RSO Growth and Development Committee held a "RSO and Grow" event, created to help RSOs looking to generate and retain membership to their organizations.
During the General Board meeting, Senate Leader Caroline Murray and Senate Pro Tempore Jake Hendricks advertised the upcoming Student Body Town Hall, which will take place Nov. 29 in the Charles V. Park Library Auditorium.
"I'm here to remind you of something you often forget. Not because you're forgetful," Murray said. "But because you aren't told it enough. You matter."
Murray urged members to voice their opinions during the Town Hall, noting input from each person's individual experiences will help improve the university.
Following Thanksgiving break, three weeks remain in the fall semester for the proposal, amendment and passing of SGA legislation.
Share:
---