Freshman Beachler reflects on high school success
---
It didn't matter what the record was at Lowell High School, you name it and current Central Michigan basketball freshman guard Matt Beachler owned it.
Career points and points in a game, 3-pointers and 3-pointers in a single game, career steals and steals in a single game and consecutive starts all belong to the Lowell native at his hometown high school.
Even with all of those past accomplishments, Beachler said the college basketball scene has still been a tough adjustment.
"The speed from high school to college basketball is so much different," Beachler said. "All of the different concepts in college basketball are so much different than high school and I'm still learning."
One of those learning curves Beachler is currently adjusting to is coming off the bench rather than being a starter.
In high school, Beachler was a four-year varsity starter. As a CMU freshman, he didn't expect to continue that trend with the Chippewas right away.
"You don't expect to have it handed to you coming in," Beachler said. "You work hard and grind it out so you get to play and I just try to help my team win in anyway I can."
Working hard is something that his father and current Lowell head coach, Phil Beachler, said Matt has done on the court his entire life.
"When Matt was asked to play varsity as a freshman I told him he already has the talent to be as good as these guys, but the physicality is where they have him beat," Phil said. "He really took that to heart and worked hard on his body and got stronger and faster to where he is now."
However, the work ethic Matt showed didn't just start in high school, Phil said.
"Ever since he was a little kid he's always had a basketball in his hand," Phil said. "He always had people he looked up to like Kobe Bryant and Michael Jordan that made him like watching the game.
"We just kept rolling with it, instead of kicking or throwing the ball, Matt chose to bounce it."
When it came to deciding where Matt wanted to attend school, he had some choices.
He visited Michigan, Michigan State and Northwestern. He also received offers from Akron and Kent State who are also in the Mid-American Conference.
Phil's mother and wife went to CMU, but Phil believes the coaching staff led Matt to his decision.
"He just really felt comfortable with the coaches at CMU. They were following him around for three years," Phil said. "You'd look up and see Keno (Davis) or Kevin (Gamble) and they always supported Matt, I think it was huge and sent a message to him."
Matt's former coach Kyle Carhart said it was no surprise that Matt was ready for college basketball.
"His work ethic was the first sign but his ability to play positions from point guard all the way to the power forward is what makes him different," Carhart said. "By the time he was a junior, he developed into a player that can play at all facets of the game."
Davis, the head coach at CMU, said Matt has developed great since he arrived on campus in the summer and it's showing in regular season games.
"Every time he steps on the court, (Matt's) getting better and better," Davis said. "He's going to fight these guys on our team for minutes all year because that's the player he is."
Matt said senior guard Josh Kozinski helped guide him.
"All of (my teammates) help me a lot, but it's Josh (Kozinski) in particular that helps me a lot because he plays my position," Matt said. "He's probably the closest thing I've ever had to a coach on the floor."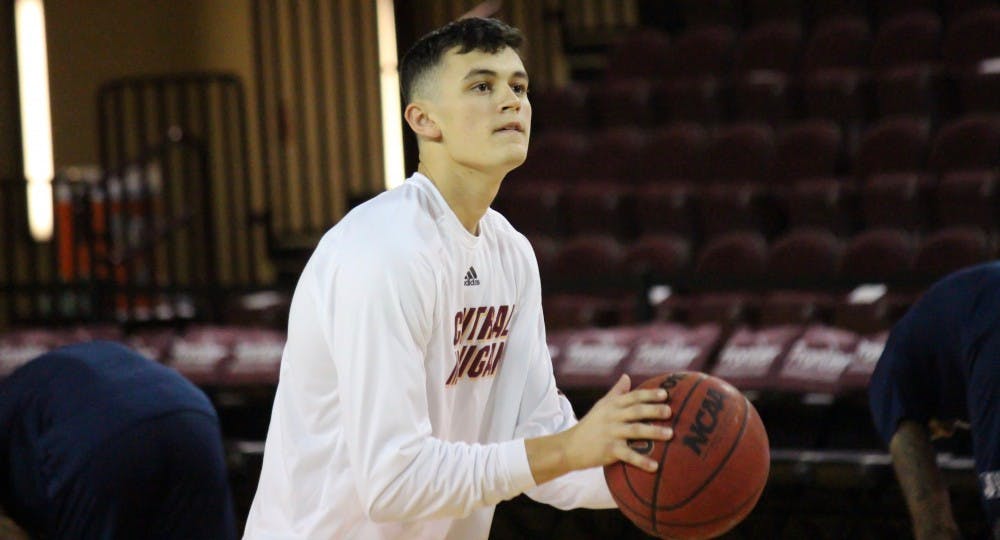 Kozinski said even as a veteran, there are traits that Matt posses he "wishes" he had.
"It's great to have Beachler along with us, he's a great shooter and I wish I had his athleticism," Kozinski said. "He wants to learn a lot and always has questions for me, but the biggest difference is he is willing to accept them instead of being hard-headed and shunning them.
"I think he was more college ready than most freshman, he's showed it from the weight room to the court with his maturity."
Share:
---