Early season grades for men's basketball
---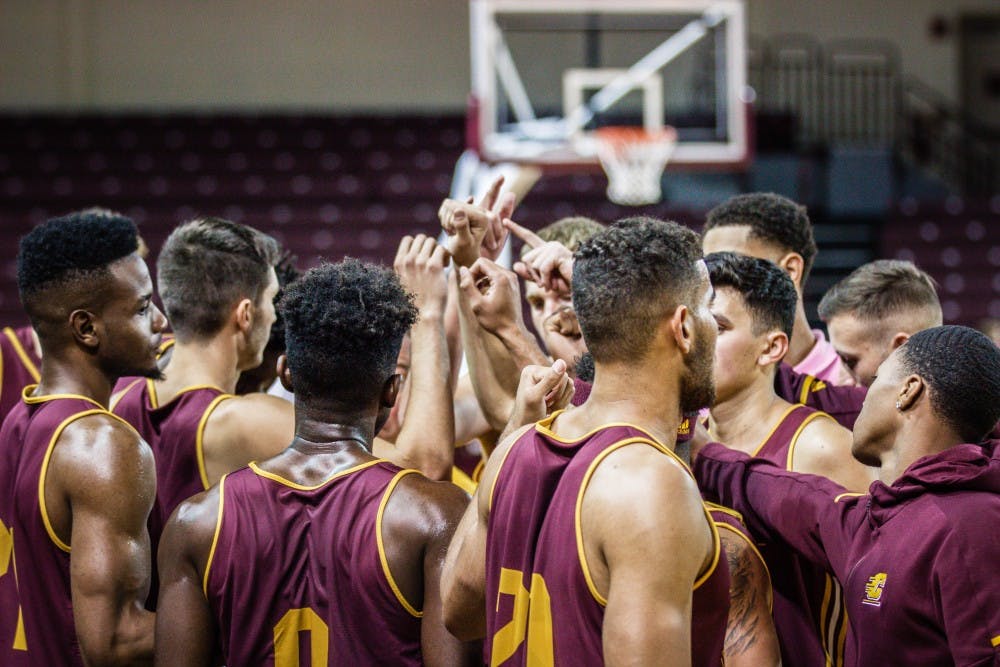 After being picked to finish last in the Mid-American Conference West Division, the Central Michigan men's basketball team has opened the season with a 6-1 record.
CMU's only loss came to Big Ten Conference opponent Michigan and it has a Great Alaskan Shootout championship title already under it's belt.
With that being said, here's a look at beat writer's Andrew McDonald and Evan Petzold's early season grades.
Shooting
Andrew: As an offensive team, with team being the key word, I think it's hard to argue against the Chippewas looking better this season than they did in the 2016-17 season. CMU is shooting over 46 percent from the field and over 36 percent from 3-point distance, both better totals than they finished with a year ago. Losing star guards Marcus Keene and Braylon Rayson was a lot of points to replace, but CMU's ball movement has led to much better opportunities for open shots and giving other players on the team opportunities. Not to mention CMU is shooting over 81 percent from the free throw line and has already got there for 134 attempts this season.
Grade: A-
Evan: Shawn Roundtree, David DiLeo, Cecil Williams, Kevin McKay, and Gavin Peppers are a few of the players who can score at will. Roundtree has proved himself as the main scorer on the team in his first season with the Chippewas. Even as a transfer, Peppers has continued to find himself driving to the basket and scoring. I think the only aspect where CMU could improve on is getting better looks. At times this season, CMU has tossed up questionable shots.
Grade: B+
Rebounding
Andrew: As a team, CMU is out-rebounding it's opponents 36.6-31.6 boards per contest and overall on the season with a 256-221 rebounding advantage. However, CMU could definitely improve on the offensive glass where they only have 63 boards on the season. Creating more second chance points can go a long way, especially on a tough shooting night. If they can get that number up, it only makes this team more of a fear for MAC opponents.
Grade: B
Evan: Coming into the season, head coach Keno Davis knew his team would have to pick it up defensively and on the boards. Davis' plan to help CMU improve in the rebounding aspect of the game has shown through the first seven games of the season, as the Chippewas even out-rebounded Michigan 34-27 in a seven-point loss. CMU has four players averaging over five rebounds per game in DiLeo, Williams, McKay and Meyer. DiLeo leads the way on the boards with 6.9 rebounds per game. The team is going in the right direction in the rebounding game, but just needs to remain focused on winning the rebounding battle night in and night out.
Grade: B+
Defense
Andrew: The Chippewas have held it's opponents to just 62.3 points per game this season and have forced 93 turnovers from it's opponents. As Davis has said many times, "A lot of our guys want to be great defenders" and you can really tell. They are also out-rebounding opponents by more than 40 on the defensive glass, and have 24 blocks this year.
Grade: A
Evan: On the defensive side of the ball, CMU has been near perfect. Following the losses of Keene and Rayson, the Chippewas were practically forced to become a stronger defensive team. CMU isn't going to put up 100 points here and there. Instead, the Chippewas focus on locking teams up with exquisite defense. In my opinion, McKay is CMU's Defensive Player of the Year so far, positing 7.9 points, 5.9 rebounds, 1.6 assists, 1.6 steals and 0.4 blocks in an average of 23.6 minutes per game.
Grade: A
Overall
Andrew: I think it goes without question to say that CMU has exceeded expectations to open the 2017-18 campaign. If they can continue to have a consistent flow on offense while limiting the turnovers and getting to the free throw line where they are shooting well, combined with the hard-nosed defense they've shown, this team will be competing for a MAC West title rather than the bottom slot.
Grade: A-
Evan: CMU's only loss of the season is a close loss to Michigan after being predicted to finished dead last in the MAC West. While the team still has a lot to prove, I think the Chippewas are further along than anyone expected coming into the year. CMU has an up-tempo defense, which translates directly into offense. The boys from Mount Pleasant could make some noise in the MAC this year.
Grade: A
Share:
---