Brettell, Hankins lead starting pitchers in 2018 baseball season
---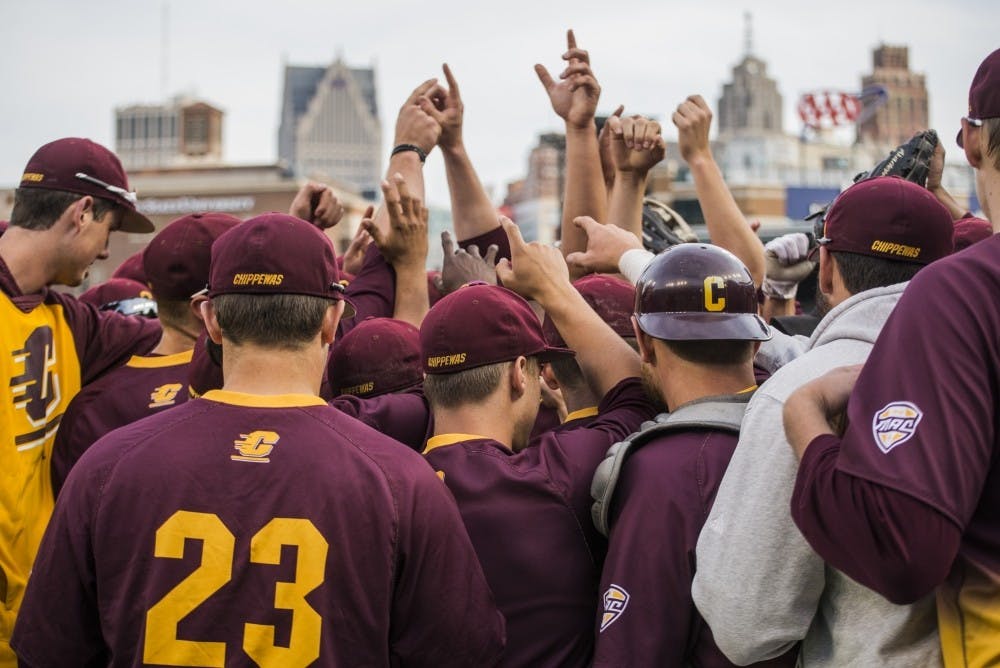 After winning the 2017 Mid-American Conference West Division regular season title, the Central Michigan baseball team lost a heartbreaker in the conference tournament semifinal.
With one out in the ninth-inning, Eastern Michigan's Max Schuemann hit a two-run home run allowing the Eagles to later push across two runs in the 10th inning. EMU sent the Chippewas home empty handed.
Head coach Steve Jaksa has hopes of winning the MAC regular season and tournament championship.
"I've been doing this long enough," Jaksa said. "For me, it's about understanding we have to be ready to play. Historically, we've done that pretty well and I expect the same this season.
"The guys who went through that (moment) realize how competitive it was and how to show up on the winning side."
Coming into the 2018 season, the Chippewas have high expectations. Those expectations do not bother junior starting right-handed pitcher Michael Brettell.
"We have a good team this year," Brettell said. "We are just looking to go out and compete, win the MAC West and win the MAC Tournament."
Brettell brings 90-94 miles per hour on his power sinker to the table, along with a changeup, slider and splitter. He is expected lead the starting pitchers in Mount Pleasant this season.
"For me, I just know I have to go out and execute every inning and every pitch," Brettell said. "I need to do my job, have my defense work behind me and have my offense putting runs on the board. It's a team effort."
Jaksa has three of his four starting pitchers set for the first weekend of action, as CMU will play four games against Stephen F. Austin and University of Texas Rio Grande Valley.
Brettell and sophomore left-handed pitcher Tyler Hankins will start the season on the mound with a double-header against SFA and UTRGV on Feb. 16. The duo will be followed up by junior right-hander Pat Leatherman.
The fourth pitcher has yet to be determined, Jaksa said.
"Leatherman is going to throw on Saturday or Sunday, but we haven't determined which game," Jaksa said. "Our other pitcher is TBD, but hopefully he throws really well. Part of that will be predicated on who we have to use early on."
Junior right-handed pitcher Dazon Cole started some games last season, but may be making a transition to the bullpen, even though the fourth starting pitcher has yet to be determined.
"I think I'll fit in there well," Cole said. "We have Colton (Bradley) as a closer and a couple of relievers already there. Being another extra guy in the bullpen will help us out a lot."
Up the middle, junior Jason Sullivan will man the second base position and freshman Jordan Patty will play shortstop. Sophomore Reed Adams will hold down third base, along with sophomore Zach Heeke.
Junior Evan Kratt, listed as a catcher, will be used as a utility player in the infield. Jaksa said he could see him playing third base, second base, first base and catcher throughout the season.
The outfield will be made up of multiple players, including junior Daniel Robinson, sophomore Zach Gilles, Cole, junior Jacob Crum, and junior Ty Rollin.
"We have some depth out there," Jaksa said. "For the freshman, we will have guys that are there. For example, Griffin Lockwood-Powell will get some playing time behind the plate or at first base."
The Chippewas have a few new faces in Patty, outfielder Gaoshua Williams, left-handed pitcher Brandon Reed, left-handed pitcher Garrett Nicholson, right-handed pitcher Logan Buczkowski, infielder Chase Patterson, right-handed pitcher Michael Madura, catcher and infielder Zavier Warren and catcher Michael Radle.
"There are a core group of freshman that will play," Jaksa said. "We have some plans at getting some guys playing time because they have earned it. It's just a matter of time. Some will be there sooner than others."
Along with the freshman, CMU will feature two transfers in junior lefty Tyler Brown from Galveston College and junior outfielder Jacob Crum from Lansing Community College.
"It's going to be a fun season," Crum said. "We have a lot of good players and a lot of good arms. We have raw talent and should be able to steal the MAC really easily."
Jaksa's squad has just two seniors – left-handed pitcher Braxton Markle and right-hander Colton Bradley – but that is not a concern to the 16-year Chippewa head coach.
"I don't really talk about youth," Jaksa said. "They have to be ready to play. There will be new challenges, but we feel comfortable in their abilities. The more they play in those tough situations, the more they learn and improve.
"The biggest thing is knowing how to bounce back and remain confident."
CMU has not made it to the NCAA Tournament since 1995, however, the team has donned conference regular season titles twice in the last three years.
"There's going to be some excitement in what we can show people this year," Jaksa said. "This team has some guys that can play to our style."
Share:
---