Campus police looking for ways to simplify parking as violations increase
---
For the third consecutive semester, the number of parking violations on campus has risen, with 14,257 citations being issued in Fall 2017.
This is an increase of 2,027 tickets since Spring 2017.
The fall semester is generally busier than the spring when it comes to citations and the rise was expected, said Capt. Fred Harris, the officer in charge of Parking Services at the Central Michigan Police Department.
The most common violation last semester was failure to display a permit. Meter violations and parking in a restricted area were the second and third most common violations, Harris said.
There are 9,627 student vehicles registered on campus and 2,477 faculty or staff vehicles registered. Parking Services sold 8,665 permits to students and 2,395 permits to faculty or staff.
The CMUPD is only trying to make sure parking on-campus works smoothly and isn't concerned with how much revenue is or isn't made through parking enforcement, Harris said.
"Our objective is not to mess with people, it's just to maintain some type of parking management so it's not chaotic out there," Harris said. "I could care less if we lost half of our revenue because it would mean that more people are complying with the rules."
Total parking revenue last semester was $2.34 million, with $1.9 million coming from the sale of parking permits. More than $263,000 was from parking violation fines, with more than $80,000 coming from parking meters (including payments made on the Pango app, which allows students to pay from their phone instead of using quarters).
The most common areas for citations are Lot 3 near Ronan Hall, Lot 4 near Wightman Hall, Lot 56 near the Education and Human Services building and Lot 62 West near the Student Activity Center.
The most common citations in these areas are for expired meters or for parking with the wrong permit.
The CMUPD is brainstorming ways to make parking simpler for everyone, Harris said. It's looking into systems that go just by registered license plates and could do away with physical permits altogether as well as a system that would allow students to see which spaces are available in a lot.
"Our objective is to introduce some further technology, just to make it easier," Harris said. "I'd like to do away with physical permits and just go by license plates."
The CMUPD will be attending a vendor conference in June to try to find systems that would fit the needs of CMU. Harris said these plans are still in their early stages, and he wouldn't expect to see any changes for at least a year.
"This is important enough to the university and our community that we don't want to jump too quick," he said.
Also being considered for next year is a change to one permit for residential lots instead of three.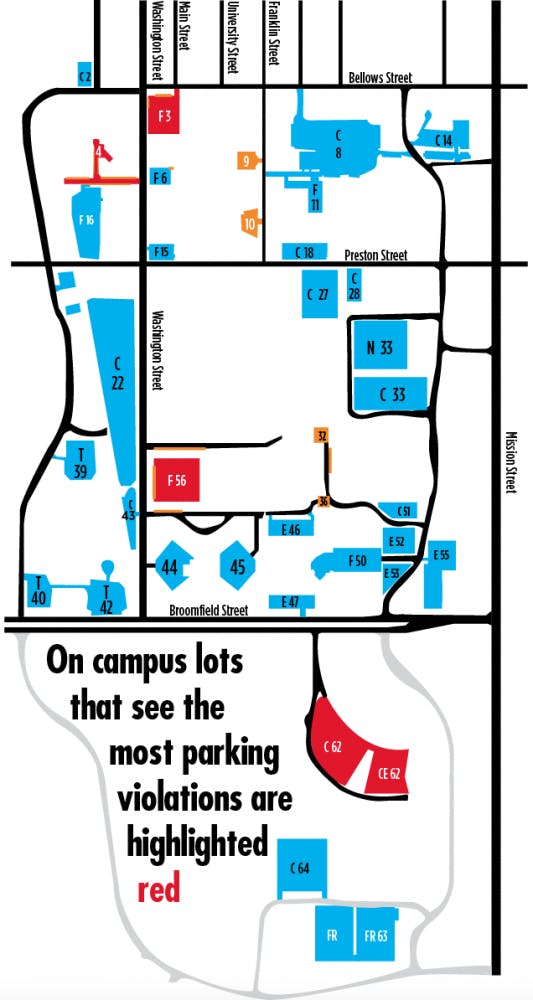 "We're going to simplify that a little more this fall by probably changing those three residential hall lot areas to one color permit," Harris said. "People will certainly try to park near their resident hall, but if that's full then they will know that they can jump to one of the other two lots."
The CMUPD met with the Student Government Association earlier this semester to discuss how parking on campus could be made simpler for students and will meet again soon, Harris said.
Captain Fred Harris has been in charge of parking services since last March, when the previous Parking Services Manager Kimberly Speet retired. The CMUPD is trying to make changes in the parking enforcement philosophies in order to make policies more convenient and lenient, he said.
"(Parking Services has) never given as many voids as they probably have this semester," Harris said.
Even with the CMUPD efforts to alleviate student frustrations, some students feel not enough is being done.
Saginaw freshman McKenzie Deitsch believes there isn't enough parking space as would be necessary for a campus of CMU's size.
"There are a lot of locations where a parking garage would come in handy," Deitsch said. "A lot of people on Twitter talk about how a parking garage could save a lot of people from parking super far away from where they need to be."
Grand Rapids freshman Jenna Zelasko agreed that a parking structure would be helpful and believes if there were more lots distributed across campus, it could help ease student frustrations with parking.
"I have a freshman parking pass, so I park all the way (Kelly/Shorts) Stadium and I live in Barnes (Hall)," Zelasko said. "It's quite the hike. There should be more lots geographically closer (to where students live), or some sort of structure."
Harris said idea that permits for residential lots are oversold is not true, however more permits are sold than there are spaces for the commuter lots. Normally this doesn't cause much issue because students who commute to campus come at different times, but it can be problematic during times like finals week when students are coming to campus to study, Harris said.
"It does get choked during finals week," Harris said. "We feel that pain. We do sell more permits than the amount of spaces (because commuter students are on campus at different times). Otherwise I think people would be upset because they would be driving around and they would see a whole lot of empty spaces all the time."
Harris has heard students suggest a parking structure on campus, but said that there is enough parking on campus.
"We do have enough parking on campus. It's just not convenient parking all the time," Harris said.
Share:
---