SGA leadership looks to improve communication with student body
---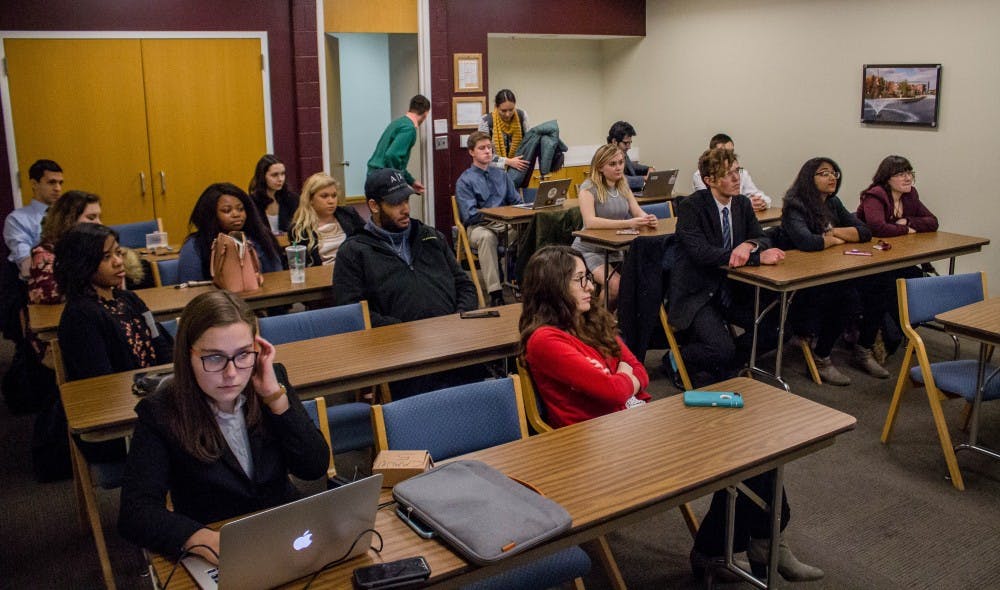 Student Government Association leaders are attempting to reach out to the student body, but the leaders feel they may not be receiving a response.
Less than half of the Registered Student Organizations on campus are represented at regular meetings. The Fall 2017 semester's Student Body Town Hall Meeting garnered 40 attendees and the organization has recognized students' indifference.
SGA President Anna Owens said students need to decide if paying attention to student government is worth their time.
"One of the barriers (we have) is reaching everybody," Owens said. "You know, priorities — you're a student first. Most peoples' priority is to go to class, do homework (and to be) working. They have to be able to afford it."
While it is leadership's job to teach students about resources SGA can provide, Vice President Derek Sturvist said they cannot force students to get involved.
"(Students) all have their own lives," he said. "Who knows? Maybe they're working two jobs to pay for school."
House Leader Drake Smarch said while the SGA senate has a GroupMe for its discussions, it would be counterintuitive to create a GroupMe for the more than 200 representatives he oversees.
"Communicating our standards for general members comes in the form of emails from (Membership Director JiJi Lee), while our expectations and our standards for cabinet members are expressed at our weekly board meetings," Smarch said.
Sturvist said although there will occasionally be an RSO representative who is passionate about SGA, general members don't usually see the importance of what they're doing at meetings.
"They're normally there because they want to do something good for their RSO," he said.
In order to be eligible for funding available through the Student Budget Allocation Committee, representatives must attend meetings.
Owens said cancelling meetings isn't an option. Discussion revolves around reviewing the previous week's meeting, planning the next and receiving updates from cabinet members.
"Trying to pick a meeting time for 24 people (is) really difficult," Owens said. "Our cabinet is made up of some of the most involved people on campus. Point blank — we are all involved in other things."
In personal meetings with leadership, Owens was told to "respond faster." She said she has recognized that downfall in her own communication, adding that she can get an email, a text and a call before responding to the original message.
Owens said the Facebook live stream of last semester's Student Body Town Hall reached 1,416 people while only 40 people physically showed up to the event.
"We've gotten the best turnout on Facebook live events," Owens said. "We're going to see if that can shift things a little bit."
Share:
---