Police say James Eric Davis Jr. is under hospital care after capture
---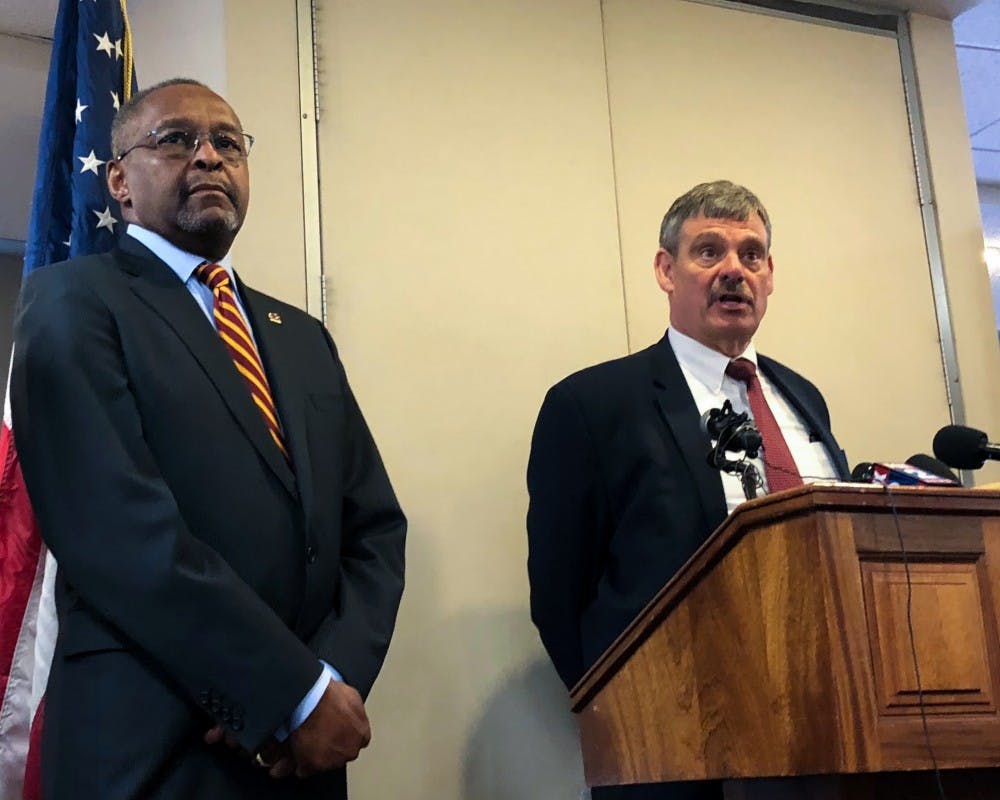 James Eric Davis Jr., the 19-year-old suspect in the double homicide that occurred yesterday on Central Michigan University's campus, is under hospital care and in custody after being apprehended early this morning, according to police.
After a manhunt that included more than 100 officers from multiple local, state and federal agencies, Central Michigan University Police Chief Bill Yeagley said "the danger our community has experience in the last 24 hours or so is now over."
Campus and community leaders convened March 3 for a press conference in the Bovee University Center to discuss the events of the previous day.
Police believe Davis Jr. shot and killed his parents — James Eric Davis Sr. and Diva Jeneen Davis — in a domestic situation at about 8:30 a.m. March 2 on the fourth floor of Campbell Hall.
At about 12:15 a.m. today, CMUPD received a tip from a train that was heading down the railroad tracks near campus. The operator of the train noticed a subject standing out near the railroad tracks and notified police. CMU police were on scene within two minutes and took Davis Jr. into custody. Yeagley said Davis Jr. appeared to be hypothermic.
"He was clearly cold and life was not making sense to him at that moment," Yeagley said.
No questions were asked of Davis Jr. other than if he was OK, Yeagley said. Police said Davis Jr. will be transported to the Isabella County Jail after his hospital stay.
Yeagley said there is photo and video surveillance and witness testimony that Davis Jr. carried his father's registered gun from the residence hall parking lot to the dorm room. Police say he then shot and killed his parents.
"It's very difficult to say on our campus that two people were killed," Yeagley said.
Davis Jr. fled the scene, and was last seen heading northbound wearing a dark hoodie and mustard jean pants, police said. He also may have discarded some clothes while on the run.
Lt. Larry Klaus of the CMUPD said March 2 that police made contact with Davis Jr. the evening of March 1 regarding a "drug-related type incident, an overdose or a bad reaction to drugs." He was released from a local hospital Friday morning.
Yeagley said police interaction with Davis Jr. started at about 9:45 p.m. March 1. Davis Jr. approached a community police officer in the residence hall, frightened someone with a gun was trying to hurt him.
"Everything was extremely vague," Yeagley said regarding Davis Jr.'s concerns at the time.
Police located the person Davis Jr. said he found threatening, Yeagley said. Davis Jr. said the person had committed and was wanted for a murder. However, elevator video footage even showed Davis Jr. and the individual in an elevator laughing harmlessly together, Yeagley. Additionally, police found the individual had no registered weapon, Yeagley said.
Police told Davis the unnamed individual did not pose a risk, Yeagley said. Davis Jr. left the community police office and said he was leaving the residence hall in the morning.
At about 1:15 a.m. March 2, Yeagley said police encountered Davis Jr. again with suitcases and bags in a hallway. Yeagley said Davis Jr.'s behavior and speech were illogical. Officers spoke to Davis Jr.'s parents on the phone, Yeagley said. The parents were going to pick Davis Jr. up immediately. Yeagley said Davis Jr. was then taken to a local hospital.
Davis Jr.'s parents picked him up from the hospital Friday morning, and brought him to Campbell Hall. Yeagley said video and photo surveillance and witness testimony revealed Davis Jr. grabbed his father's registered gun from the residence hall parking lot and walked into the residence hall.
When he walked back inside, he shot and killed his father and his mother in his dorm room, police believe. He then left on foot and ran north on the railroad track. The last time police saw Davis Jr. on surveillance was in the area of Cherry Street, Yeagley said.
Yeagley said a weapon was recovered at the crime scene. Michigan State Police processed it at the crime lab.
"The investigation has many, many more hours and much more in front of it," Yeagley said.
Yeagley added despite Davis Sr. being a part-time police officer in Illinois, having the gun on campus was a violation of CMU's weapons policy. It did not transfer over because he was a police officer, Yeagley said. Police did not disclose whether or not it was a police gun.
Davis Jr. is a 19-year-old sophomore from Plainfield, Illinois.
CMU President George Ross expressed his condolences to the Davis family. While he spoke, it was clear Ross was fighting to hold back emotions.
"We were traumatized yesterday," Ross said. "With that, I want to commend our law enforcement officers from all the various agencies. I want to commend the faculty and staff of this campus."
Ross said the university will redouble its efforts to make the campus safe. Additional staff will also be available for the Counseling Center after spring break.
"We're not done yet," Ross said. "There were thousands of people on our campus yesterday. They are going to remember this for the rest of their lives."
Ross also publicly thanked Gov. Rick Snyder for placing state police on campus to assist with the efforts.
"I pray that we move forward as a friendly, peaceful, welcoming community as we've always done," Ross said.
More than 100 officers from local, state and federal police agencies searched for the suspect after the shooting. Mount Pleasant Department of Public Safety Director Paul Lauria said once Davis Jr. was in the city's jurisdiction, a perimeter was set up along the railroad tracks and Mill Pond Park north of campus. A command center came up with a plan to search for the suspect, Lauria said.
Mount Pleasant Public Schools were put on lockdown. Officers were stationed at the schools when parents picked up their children.
Later in the evening, police scrapped the perimeter and rotated rolling patrols in the area, Lauria said.
"As the DPS, our community is trying to get back to normal. I ask everybody to respect that," Lauria said.
Mount Pleasant Mayor Allison Quast-Lents encouraged Mount Pleasant residents to return to normal activities. A Central Alert issued at about 10 a.m. March 3 stated all campus operations had now resumed.
A criminal investigation is still ongoing and more interviews will be conducted, Yeagley said.
Like Ross, Yeagley also seemed emotionally strained by the events, and his voice quivered as he announced that Davis Jr. had shot his parents. Yeagley said he was traveling to Detroit from Florida and the talk of the flight was the situation at CMU. He said he was pleased with how law enforcement dealt with what happened.
"We came together very rapidly for one purpose: to maintain safety in our community," Yeagley said.
Share:
---